It's fair to say we were absolutely spoiled with racing games in 2017, in what was a landmark year for the genre. In the space of just one month, we witnessed three contenders from major franchises jostle for position in a spectacular race to the finish line. After a long four year wait, Gran Turismo made its belated debut on PS4 with the release of the online eSports-focused Gran Turismo Sport, but it faced stiff competition from its Xbox rival franchise. Forza Motorsport 7 boasted the most comprehensive car selection of any racing game released this generation, as well as crisp 4K graphics and a new, more engrossing career mode.
Taking on these two racing game goliaths was Slightly Mad Studios' racing simulation Project CARS 2. As the least established IP, Project CARS 2 was the ambitious underdog with huge potential, promising to be most authentic racing simulation ever made with a diverse variety of racing disciplines, an innovative dynamic weather system, and an unrivalled track selection. Annual licensed games such as MXGP 3, MotoGP 17, WRC 7, and F1 2017 also all saw significant improvements that elevated them above typical incremental updates, while futuristic racing fans were treated to the long-awaited comeback of the WipEout series with the release of WipEout: Omega Collection.
You can view the full list of nominations for the Team VVV Racing Game of the Year Awards 2018 here.
Best Handheld Game
The surprise success of the Nintendo Switch has taken the games industry by storm. Staggeringly, Nintendo's handheld-console hybrid had already outsold the Wii U's lifetime sales less than a year after it launched. Picking up where the PlayStation Vita left off, the Switch delivers true console-quality gaming on the go and has spawned a slew of fun racing games, from exclusive IPs to ports of existing games that feel like new experiences on a portable device.​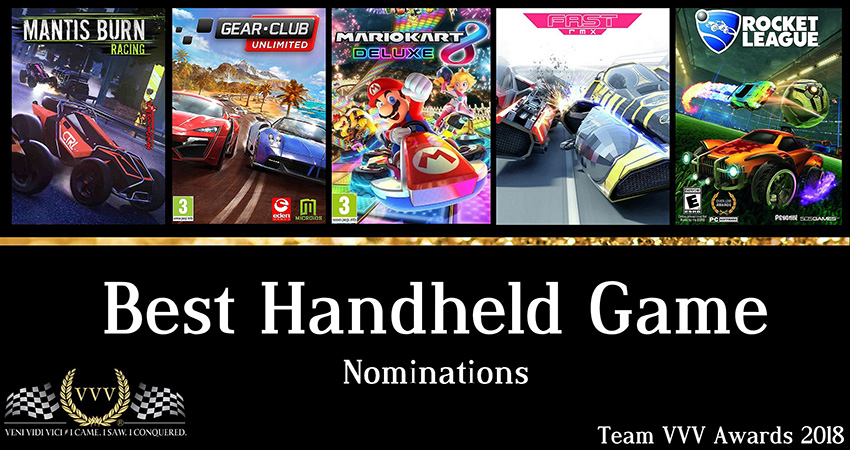 Honourable Mentions
Mantis Burn Racing
Originally released on consoles and PC, Mantis Burn Racing was made to be played on a handheld system. Fortunately, that wish came true with the game's recent Switch release. Thanks to its top-down perspective, addictive multiplayer, and accessible, drift-heavy handling that takes skill to master, Mantis Burn Racing is a natural fit for Nintendo Switch. Memories of Evolution Studio's MotorStorm RC on the PlayStation Vita will come flooding back within minutes.
It's a practically perfect port of the original retaining the top-down racer's detailed environments and buttery smooth frame rate, while the extensive career mode and upgrade system will keep you hooked for many hours. Factor in the fact it includes all previously released updates and DLC, and there's no doubting that Mantis Burn Racing is best played on Nintendo Switch.
Gear.Club Unlimited
While there's no shortage of racing games on the Nintendo Switch, only one features real licensed cars in the console's current lineup. That game isGear.Club Unlimited developed by Eden Games, the same developer responsible for the Test Drive Unlimited and V-Rally series. If you were hoping for the Switch's answer to Gran Turismo and Forza Motorsport, however, Gear.Club Unlimited may disappoint.
Being based on the original mobile game, the small car selection leaves a lot to be desired, the handling doesn't feel intuitive, and events usually only take a couple of minutes to complete, which is ideal for gaming on the go but unsuitable for home console users. Put the time in, however, and you'll find a rewarding racer, with hundreds of events to complete, a huge selection of tracks, and surprisingly comprehensive vehicle customisation.
Rocket League
Rocket League on Nintendo Switch is a match made in heaven. Psyonix's car football game mashup has a reputation for being chronically addictive, but the Switch's portability makes it even harder to put down. Ported to the system by Panic Button, the same developer responsible for the impressive Doom Switch port, Rocket League's visuals have been downgraded in its transition to Nintendo Switch, but it's lost none of the elements that make it so fun to play.
The controls are beautifully responsive thanks to the game's solid frame rate running at 60fps, and the physics-based gameplay still takes a lot of skill to master. There are even exclusive cars and cosmetic items based on famous Nintendo franchises including Mario and Metroid Prime that longtime fans will appreciate. Rocket League was designed to be played online, and luckily the Switch version performs flawlessly. It even has cross-platform support with PC and Xbox One players so you'll never struggle to find a match.
Fast RMX
Despite persistent pleas from desperate fans, Nintendo is reluctant to revive the fabled F-Zero franchise. Capitalising on this void, Shin'en Multimedia's Fast Racing Neo on the Wii U was a worthy alternative, boasting a blistering sense of speed, dazzling visuals, and a unique colour-coordinated boosting mechanic that tested your reflexes. Unfortunately, the Wii U was a commercial failure, so Fast Racing Neo didn't get the exposure it deserved.
Enter Switch launch title Fast RMX, essentially an enhanced port of the Wii U original with several new tracks, some of which were added for free in a recent update. Fast RMX is an excellent showcase of the system, and is, without question, one of the best-looking handheld games ever made, right up there with WipEout 2048 on the Vita. Switch games are also frustratingly expensive, but Fast RMX offers exceptional value: for the low asking price, you also get the original game's DLC, bolstering an already substantial package. Its difficulty can be brutal, but the challenge only makes Fast RMX more addictive.
Winner – Mario Kart 8 Deluxe
We were initially sceptical about Mario Kart 8 Deluxe. While we knew it would be fun to play, it wasn't developed specifically for the Nintendo Switch. Instead, it was an enhanced port of the same Wii U game released four years ago. In truth, Nintendo could have easily ported Mario Kart 8 to the Switch without any enhancements or new content and it would have been a best-seller, but the developer took the time to improve aspects that were criticised in the original release. As a result, Mario 8 Deluxe was one of our highest rated games of 2017.
Battle Mode made a triumphant return with new bespoke arenas, and multiple power-ups can now be stored, adding a new tactical element which fundamentally changes the core gameplay. The novelty of playing a console-quality Mario Kart game on a handheld never loses its appeal, making it one of the most fun-packed split-screen multiplayer experiences available. Mixing reimagined fan favourites and new imaginatively-designed environments, the diverse track selection in Mario Kart 8 Deluxe also puts many current-generation racing games to shame. Each track is brought to life with vibrant visuals upscaled to 1080p resolution and a rock solid frame rate running at 60fps – it's a feast for the eyes, particularly in Handheld mode. If you own a Nintendo Switch, Mario Kart 8 Deluxe belongs in your collection. The standard has been set so high, it's difficult to imagine where Nintendo will take the franchise next in the inevitable sequel.
Do you agree with our winner? Let us know in the comments below. Check back soon for more Team VVV Awards 2018 coverage on the website and YouTube channel throughout March.