F1 2021 has swiftly come round again for another lap and finally it is time to dive into this years title, what will Codemasters have in store and can we see the first influences of the impact from EA?  Let's explore the potential improvements and general cohesion of the package, is F1 2021 a step forward? Before delving in, I am going to put it out there. I was not a fan of F1 2020, and after the review last year I barely completed a lap of the game again. With real F1 taking the 2020 cars into 2021, I was expecting Codemasters' efforts to potentially be lacklustre, but good news! Thankfully my low expectations appear to be wrong. Very wrong.
F1 2021 is a huge package. There are so many game modes and settings that quite frankly it can be a little overwhelming to really understand how to initially play the game. But it is possible to play the three core single player modes concurrently and thankfully these do now play differently from each other. In 2020, 'My Team' was a direct copy of 'Driver Career' with a new shell – we do this year at least have your team members now referring to you as the boss instead of just another driver. It's those small touches that bring a game mode together better.
With the staggering variety of game options available I feel that Codemasters have missed a trick in terms of introducing players to the game, and they could go some way to assist in setting the game up for players more directly. Getting the difficulty level right has always been a challenge – gamers want a good competitive fight, but equally when racing your own team or a team that realistically should be rooted to the mid-field it is very difficult to get that difficulty setting accurately placed. So, when you do develop the car you see genuine improvement in pace from race-to-race. This can only reliably be accomplished if setting the game on the hardest difficulty setting – but only a small percentage of players out there are capable of racing on that level. So, what is the solution? Adaptive difficulty, giving the game the option to change the difficulty as you progress through the relevant game mode – but players always need a starting point. The game should ideally start in a test session, it could even be a prologue to the Breaking Point story mode, where players are set a task to complete some lap times, or a dummy race etc – the results of that dictate the AI difficulty and maybe experimentation with various settings enabling players to explore the rest of the game comfortable in the knowledge that it will be a decent and fair challenge.
This year we have the much talked about 'Braking Point' story mode which puts gamers into the shoes of two racing drivers – a young upstart and his old-timer teammate at the end of his career. It is an entertaining game mode but comes across as a bit gimmicky and limited in the overall experience. It is a very linear story whereby you must achieve everything asked of you – fail to do so and the story effectively ends, forcing players must repeat the "mission" again. It would be nice if there were multiple ways to play through the game with different story threads depending on what your result was in a race or situation. A lot of the story also takes place during the 2020 F1 season, but the pandemic or the unique season we had last year in real life was not even mentioned – which is a shame and could have brought some additional creative storylines. However, it is still a fun game mode and I hope to see this expanded in future releases – EA has depth of experience here with similar story modes in its FIFA series, so let's see how this plays out.
My Team and Solo Career are both back of course and have been expanded accordingly, particularly Solo Career allowing players to start off in a full season of F2 – I hope we get to see F3 added in a future release. My Team and Solo Career feature the possibility to develop cars through the season, so, both now include the much-needed overhaul of R&D, which is more intuitive around how to develop a car. Also tweaked this year are the practice sessions, whilst these are still the same type of practice sessions we have seen in every game for years; they are at least less of a chore. When will Codemasters (EA, please take note) realise that there is a mini-game shouting out here where you can have different practice challenges and give players something different achieve within a practice session – this could be prime paid-for DLC content.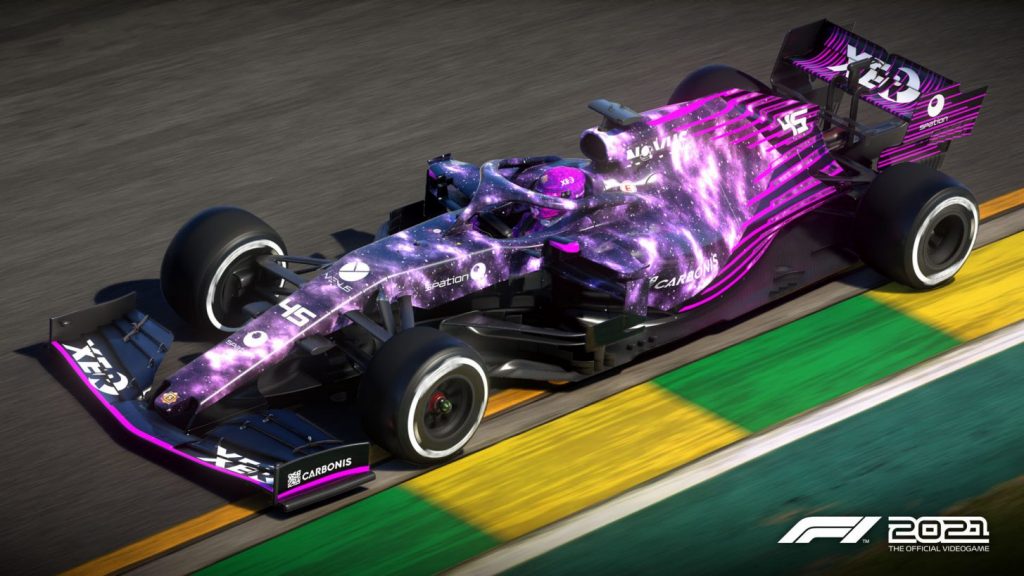 Included as a bonus this year are Driver Icons – these feature highly performing drivers across the past 30 years, and whilst not all are world champions it is fun to see the likes of Felipe Massa and David Coulthard included amongst Senna, Prost, and Schumacher. You can choose to hire these greats within My Team (you can decide how you feel about the realism of doing this) but in a world imagined by Codemasters where you can be a Driver/Manager it probably works.
Handling has without doubt been improved this year and whether using a wheel or pad there is greater confidence in being able to place the car appropriately on the entrance to a corner and thread the throttle as you accelerate out. Default setups do tend to understeer more, but they are still very driveable. It also must be noted that if you play on a PS5, the additional touches of having your mechanic talk to you through the speaker on the pad and lights matching the flags (red, yellow, green, blue) appear on the pad itself are unspoken about features that really makes this version stand on its own.
Multiplayer remains a challenge for Codemasters and whilst new modes included this year to separate new drivers away from those seeking a serious gaming session, the whole online experience remains clunky. When reviewing the title, I struggled to get into a lobby and when I did a race session was already underway and had to wait 15 minutes before getting to race myself. Whether its timed racing sessions, driver ability or sportsmanship, why Codemasters simply do not copy the Gran Turismo model for online is baffling.
Accessibility for F1 2021 is incredible with so many options to tweak your gaming experience to make it full arcade or full simulation. Whilst some may still argue its credibility as a full simulation, the F1 franchise is made to sell to as many consumers as possible but they do a fine job in appeasing most gamers. One aspect I would like to see amended is helping players learn racing lines and braking points (actual braking points, not the story!). We have seen the same racing line graphic for many years, but I don't think it helps anyone learn the tracks – taking another feature from Gran Turismo I'd like to see instead of the full or corner racing line graphic, just a simple notification of when to brake for a corner and nothing else. Over time you will learn the racing line itself but knowing when to brake is key.
One major omission this year however is that Classic Cars have been removed which seems an odd decision. I'm sure they will come back again in a future release, but we were getting used to seeing which cars they would include from the past in each year's release that to remove them all is disappointing. Also, you will not get Imola, Portimao or Jeddah at release but these will be added as free DLC later this year. Ideally Codemasters would release a video on what it takes to create a track for F1 2021, as it seems painfully slow from Codemasters to create tracks for the game, especially when they already have the circuit maps and assets created for other titles in the Codemasters catalogue.
F1 2021 is the best entry in the now long and established F1 franchise from Codemasters. Accessible, fun to play and at its core the racing truly reflects the product it is based on. F1 is at the end of an era with next year seeing a whole new raft of regulations. It is perhaps fitting that F1 2022 will start to see some influence from its new owners EA, and we are all keen to see how that develops. I for one hope it allows for greater investment and for each title to feel genuinely different from one year to the next (I'm looking at the same cutscene celebrations for five years now at the end of a race and isn't it amazing how the same people in the garage celebrating are the same in every team). But F1 fans and particularly F1 gaming fans are perhaps some of the most demanding and expect more than can be delivered in a 9-month development window each year. For now, enjoy F1 2021 – best F1 game made to date.
Our Review
The good
• Hugely accessible
• Improved handling
• Expanded game modes
• Driver Icons
The bad
• Feels incomplete with 3 tracks yet to be added
• No classic cars
• Online is clunky
• Same cutscene videos. Again.