Hello Viewers! Welcome to this journey on the road to WRC 9, and a look back at some of those key titles in the WRC series as we work our way through the years to modern day. Taking in the improvements and considering the ever-expanding scale of a production like this as the technology has developed. So, sit back and strap in as I'll be your co-driver through automotive gaming world of WRC.
The World Rally Championship is arguably the most challenging racing series on Earth, crossing the globe with rough and unpredictable terrain, the journey is epic in scale and tests both man and machine to the limit. It is something many of us will never get the chance to experience, the intensity of driving on the edge of adhesion with nothing to protect you but a reliance on your own skill at the wheel.

Rally games have been around almost as long as gaming itself, with various highlights over the years, but as technology has developed, so the resource required has expanded exponentially. Given the scale, replicating a full WRC season has been extremely challenging and 2020 represents just the 9th game in the modern series that has attempted to simulate that experience effectively. Now we'll look back a few of those titles besides a more detailed breakdown on the recent progress by NACON and Kylotonn Studio.
We'll begin by looking at that journey to WRC 9, understanding the challenges in developing a modern rally game, and discovering the passion of development that makes for those little details while exploring the latest game before we move onto our full preview. So, let's start this journey in the rugged and open lands of Kenya, the location returning to the WRC calendar this year, and see that transition from WRC 9 right down to, WRC: FIA World Rally Championship Arcade on the original PlayStation, and as you can see, we've come a very long way.
The more memorable WRC: FIA World Rally Championship arrived in 2001 was developed for PlayStation 2 using cutting edge technology as an exclusive first party title for the PlayStation via Evolution studios. The teams accurately generating stages that could support draw distances far beyond the current standard, however handling was limited and formed as more of a tech demo of things that were to come. With various improvements to WRC II Extreme, WRC 3, 4 and WRC: Rally Evolved. However, despite the series being much loved among rally fans this official series concluded, the WRC brand disappearing from gaming for some 5 years before being picked up by Milestone.
Milestone entered the world of WRC in 2010, resetting the franchise and producing WRC – FIA World Rally Championship. The game was enjoyable to play but lacked the realism and investment to deliver on the vision. It was clear that producing a rally game to a modern standard would be a huge undertaking. WRC 2 released in 2011 built on the original by adding additional stages with improved modelling, while the 2012 release of WRC 3 was a complete relaunch, a re-envisioning and a huge improvement over previous attempts, 2013's WRC 4 built on this again before yet another change in developer, it was time for Kylotonn to enter the stage.
Kylotonn were given an almighty challenge, develop one of the most colossal automotive championships in just 1 year, an almost impossible task, yet the team rose to that task and built the foundation of the technology that would need to be developed.
WRC 5 was the biggest production Kylotonn studio had ever undertaken, its first time taking on a development of this scale. Having previously come from producing a range of different titles and genres, Kylotonn also provided technical solutions and elements for the automotive industry, working with companies such a Renault. WRC 5 also came at a challenging time during the transition from PS3 and Xbox360 to PS4 and Xbox One. Transitional hardware and utilising an engine not traditionally used with automotive gaming. This meant developing physics from the ground up, a focus on getting the basic simulation elements across all surfaces, all of the global locations and developing a wide range of content in miracle time. Another significant challenge was to create an Esports competition worthy of the brand and fanbase. Esports and racing were still not as popular as they are today, but the goal was there to run a championship in parallel with the real rally events, a vision of the future and the foundation for Esports developments to follow.
WRC 6 introduced another 1-year development, this gave time to further improve physics, these enabled more precise driving and the construction of narrower more realistic stages along with the introduction of super special stages. Again, building on the WRC Esports and considerable growth with an expanded world finals competition.
WRC 7 would see a marked progress in quality and a huge leap for the series despite just the usual 1-year development cycle. This period included extensive changes to the development team, enabling big steps forward on the creative and artistic elements. An overhaul in the development of stage design, all new physics and an altogether more ambitious vision for the series including epic stages up to 15 minutes long. The key to improvement was in understanding the philosophy of rally design, not just building a stage but considering the real environment, what it is actually like to be there and how can that atmosphere be captured. Industry veterans from the world of gameplay development combined with new unique vision. Pushing the production to make everything the best it can be with this new level of detail. WRC 7 put the series back on the map, it made gamers sit up and take notice, WRC was back and anticipation for the future of the series would reach a new high.
WRC 8 was the first title in the modern series to receive two years of development, and the use of that time was obvious to see. This included a complete review of the entire production, and progress to this point. Again, there was extensive work on improving the physics, while graphics were taken to a new level of excellence, including the introduction of technology that aided the production of 1:1 scale environments. This supporting bigger, more ambitious, and more realistic stage design. Introducing Argentina, Turkey and Chile, all supporting incredible views and vistas. These new stages were combined with the introduction of stunning lighting and volumetric weather effects from the new dynamic weather system, enabling transitions in weather within a stage, surface textures and impact on tyre choice with resulting impact on physics. This added a more detailed driving element along with strategy calls dependent on the expected weather.
A significant focus was targeted at an all new and highly comprehensive career mode, this developing the players as a rally-drivers and informing on the process behind all aspects of rally. WRC 8 was also the first WRC game to introduce historic rally cars, while new sliders were added to make the options more approachable for players new to WRC. Again, improvements to controller play and the Esports support, team championship, revised structure of the Esports championship. Everything took a step forward, breaking new ground, a revolution for Kylotonn.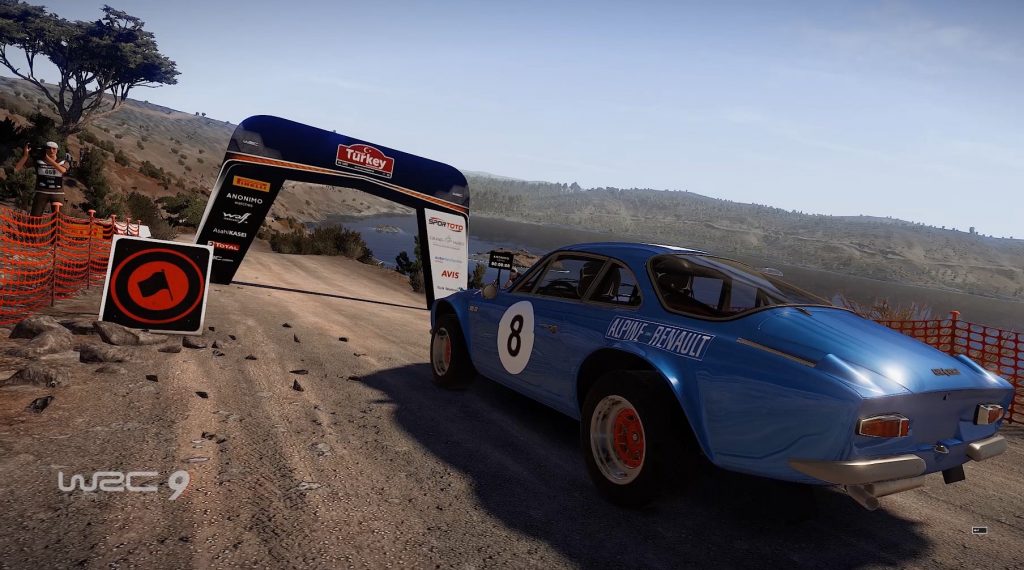 WRC 9 is almost upon us and to the take the next steps, feedback from the community and real rally drivers was key. The aim to develop a full simulation means taking feedback from as many opportunities as possible, but above all Drivers are happy that WRC 9 accurately captures the feel of driving. Without any training, real drivers jumped onto WRC 9 and were virtually on the pace of the Esports Professionals, the driving was intuitive, the tyre physics felt natural and for the first time in the history of the franchise, there was unanimous support amongst real rally drivers at the progress made.
Improving physics is always on-going, the physics designers at Kylotonn even going to the extent of testing the real Hyundai 2019 rally car. This aided in getting the feeling of the car, using information from real rally drivers and combining that with personal experience to quantify that articulation of driving into a realistic model. Understanding the performance of the suspension, brakes and tyres all coming together to provide that feeling of almost floating when drifting through a corner. WRC 9 has seen significant changes to physics, weight transfer and sensation of weight is key, add to this the affects by weather, track conditions, speed over jumps, even air pressure on the car via aerodynamic parts is now calculated. How the cars perform at speed and the impact on the physics model is now factored in taking the driving to a whole new level never before accomplished.
Community feedback would also help with various gameplay elements, or fixing aspects such as interaction with peripherals, wall riding, which now featuring increased friction and various other gameplay elements. Meanwhile enhancements have been made to the career mode, this providing a more balanced improved experience.
WRC 9 introduces new locations such as Kenya, Japan and New Zealand, along with club mode, custom championships and new historic cars. WRC 9 will also support a co-driver mode, this will enable a friend to connect online and read the notes to the driver, the driver and co-driver will also be scored on their proficiency. WRC 9 will add a range of free DLC updates, these will include a photomode, new version of the Finland rally, various news cars and other elements, we'll look at all of this in more detail in our upcoming preview.
WRC has been an evolutionary process. For Kylotonn every iteration adding something new, technical innovation and moving the boundaries. In just 5 games they have developed their technology to incorporate vast 1:1 scale landscapes, dynamic weather and environments, a comprehensive single player mode and Esport elements, now with the new additions we'll see that all move a stage further.
So, join us on the journey of WRC 9 as we delve deeper into the game and the series on our in-depth preview to follow.