There's never been a better time to be a racing game fanatic. Competition in the genre has rarely been so fierce as it is on consoles right now, in what has been an unusually hectic year for racing games. Released within just a few weeks of each other, Project CARS 2 has been the underdog competing against the racing game titans Forza Motorsport 7 and Gran Turismo Sport, which should make next year's annual Team VVV Racing Game of the Year Awards extremely competitive. On the surface, each game is aimed at similar audiences who like their racing games on the realistic side of the spectrum – but in reality, they are drastically different.
Forza Motorsport 7 offers a traditional car collecting campaign with an encyclopedic selection of over 700 cars, while Gran Turismo Sport steers in a more online-focused direction to chase the eSports crowd. Project CARS 2, on the other hand, is aimed at hardcore motorsport enthusiasts who wake up in the early hours of the morning to catch the latest live Formula One race and spend their Sundays religiously watching the British Touring Car Championship for six-hours straight.
Under control
The console version of the original Project CARS released back in 2015 was immensely influential. In a niche that's normally reserved for PC players, Project CARS brought serious simulation racing to a wider audience on current-gen consoles for the first time following a successful crowdfunding campaign. The gamble paid off too, as the game sold over two million copies – a commendable achievement for an original IP fighting against Forza Motorsport and Gran Turismo. Its surprise success arguably paved the way for renowned PC racing simulations like Assetto Corsa and the upcoming GTR 3 being ported to consoles.
Project CARS 2 builds on the foundation set by the first game but, despite its relentless realism, is noticeably more user-friendly than its daunting predecessor. The redesigned interface is slicker and easier to navigate, with more clearly defined game options. Every setting is also accompanied with detailed explanations, so you won't be wasting time trawling through pages of menus looking for a specific setting. This means you no longer need a physics degree to understand the force feedback options, which have been simplified to three preset options: Immersive, Informative, and Raw. You can, of course, delve deeper and finetune the settings to your desire, though.
Crucially, Project CARS 2 is significantly smoother and more responsive to play on a controller out of the box, which will be most player's default console setup. Cars were so twitchy to drive in the original game that using a controller was virtually impossible unless you spent a considerable amount of time tweaking the settings. There's still room for improvement, as some cars feel somewhat loose when using a controller, but it's a vast improvement over the original game.
Having said that, it's still worth taking the time to explore the settings and finetune the controls. By default, the braking sensitivity is too high which causes the brakes on some cars to lock up even with all assists activated. Tuning options are still dauntingly comprehensive, but Project CARS 2 simplifies the process for novice players with the addition of a helpful race engineer to guide you when setting up your car. Simply identify any mechanical issues you have, and the race engineer will ask simple questions and adjust the settings accordingly.
Former Stig Ben Collins, who was also Project CARS 2's chief handling consultant, returns to provide vocal duties for the pit engineer, who provides live race updates and gives Obi-Wan Kenobi-style words of advice and encouragement. It helps create an authentic race day atmosphere, but there's no option to stop his voice from booming out of the PS4 controller's speaker, bizarrely.
Project CARS 2's dramatically improved driving physics are most apparent when using a wheel like the Thrustmaster T300. While the handling is perhaps not quite as crisp as Assetto Corsa, the tyres feel more connected to the road than original game where the cars felt floaty to drive. Grip levels are more tangible thanks to the well-implemented force feedback, allowing you to anticipate and catch slides more intuitively when you start reaching the limit of grip – similar situations in the original game would have sent you spinning out of control in an unrecoverable slide.
As before, a multitude of driving assists allowing you to change stability and traction control settings to make the game more approachable. Project CARS 2 also introduces a new 'Authentic' setting that replicates the car's real-life factory settings – a feature that should be standard in every racing simulation game, frankly. But even with all assists applied, to say that Project CARS 2 is unforgiving is an understatement – this is a hardcore simulation that requires a lot of finesse in your inputs whether you're using a wheel or a controller.
Even a modest front wheel drive hatchback like a Renault Clio cup car can spin out without warning if you're not progressive with your throttle and braking and adjust your driving to account for weight transfer and tyre temperatures. It's a steep learning curve, but Project CARS 2's demanding driving physics practically force you to become a better driver which is a very rewarding experience. While Project CARS 2 is more accessible in other areas, the game could do with some driving lessons. For all its shortcomings, DiRT 4's Rally School did an excellent job teaching players of all skill levels the driving techniques required to master the game – Project CARS 2 would benefit from similar interactive tutorials.
Real racing
Instead of earning credits to buy new cars like in traditional console racing games, Project CARS 2 replicates the life of a racing driver where precious championship points direct your career path. It's refreshingly focused and doesn't rely on gimmicks, money, or loot boxes that hamper progression in some other games. While the original game's career felt a tad aimless at times, Project CARS 2's revised career mode has a more satisfying sense of progression and reward. You're still free to choose from a wide variety of racing disciplines when starting your career, but you need to earn your reputation before you're eligible to enter top-tier classes like Le Mans and Indycar.
As you progress and prove your worth, Manufacturer Drives and Invitational Events with special car and track conditions unlock which helps ease the monotony of racing in the same discipline for an entire season. You can also race in full-length seasons or shorter seasons to speed up progress. There are always new racing disciplines to try, accolades to earn, and lifetime achievements to aim for, so you'll be sinking a lot of hours into the career despite not having a traditional progression system where you unlock new cars and tracks. Progression requirements are perhaps too harsh, however, as you need to finish on the podium to advance to the next racing tier. If you don't finish in the top three, you have to repeat the entire season again. In an odd oversight, you also can't leave a championship if you accidentally entered a discipline you don't want to compete in – instead, you have to retire from every single event in the season which seems unnecessary.
Project CARS 2's vehicle roster may not be as vast as Forza Motorsport 7's extensive 700+ collection, but the car selection has been carefully curated. With over 180 cars unlocked from the start, Project CARS 2 features twice as many cars as the original game, and unlike the original game most disciplines are fully fleshed out this time – the GT3 class, for example, is represented almost in its entirety, so you're no longer racing against grids of duplicate racecars. From grippy touring cars to slippery single seaters and powerful endurance racers, the breadth of racing disciplines in Project CARS 2 is staggering, each requiring drastically different driving techniques, rules and regulations to learn. Project CARS 2 could easily be mistaken as a spiritual successor to Codemasters' classic TOCA Race Driver series – all that's missing is lawnmower racing.
Expanding an already substantial package, rallycross and oval racing also debut in the series. Rallycross is a real highlight, offering some of the most intense and challenging racing action you'll find in any racing game this year. Applying the handbrake at the right moment and feathering the throttle is key to getting these powerful machines to dance in the dirt which is incredibly satisfying, and the cars have a better sense of weight compared to other rally games. Ironically, Project CARS 2 contains more rallycross cars and circuits than the official rallycross game – yes, we're looking at you, DiRT 4. This is by far the best representation of rallycross in a racing game yet – and it's just one of nine motorsport disciplines and 29 motorsport series in the game.
Oval racing fares less well. NASCAR is a welcome addition since it was meant to be in the original game, but the lack of full course cautions makes it difficult to avoid accidents and the AI spreads out too quickly, resulting in dull races. Indycar racing suffers from the same issues, but the cars are so unstable that they're practically undrivable, as are the unwieldy go-karts. The handling simply isn't consistently implemented in every class, which is perhaps a consequence of Project CARS 2's ambitious scope. While disciplines like rallycross, touring cars and GT races feature true to life rules regulations, others completely miss the mark: DRS is unrestricted in Formula A  races (Project CARS 2's version of Formula One), meaning that race leaders can take advantage of it unlike in real life where it's designed to encourage overtaking.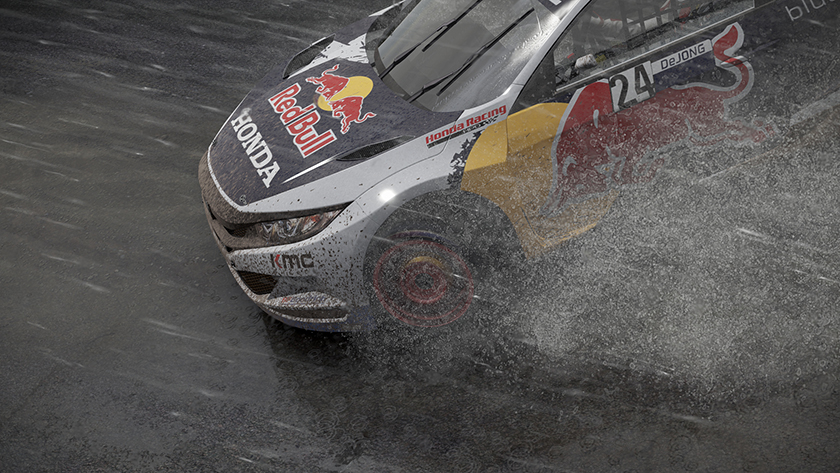 While the vehicle selection in Project CARS 2 primarily focuses on thoroughbred race machines from multiple eras, the road car roster has been expanded considerably. Notable additions include the racing game debut of one of the most significant supercar launches of the year: the mighty McLaren 720S. With specifications including 710-horsepower on tap and a 0-62 mph time of 2.9 seconds, it's essentially a hypercar disguised as a supercar, which is exhilarating to drive at the limit in Project CARS 2. Its inclusion is a reminder of Project CARS' increasing recognition in both the racing genre and the auto industry, since supercar debuts of this calibre are usually reserved for the more established Forza series as we saw with the McLaren P1 in Forza Motorsport 5, the new Ford GT in Forza Motorsport 6, and the Porsche 911 GT2 RS in Forza Motorsport 7.
After being noticeably absent in the first game, Ferrari, Lamborghini and Porsche also now feature, meaning that the hypercar holy trinity of the McLaren P1, Ferrari LaFerrari, and Porsche 918 Spyder is now fully represented in Project CARS 2. Mad Mike's Mazda MX-5 Radbul drift car is another inspired choice. Packing 1,200-hp and an insane 212 mph top speed while only weighing 1224 kg, this car is a handful to tame to the point that keeping it in a straight line is a tremendous challenge. With its ridiculous steering lock, this is a car designed to be driven sideways and plant a smile on your face – if only there was a dedicated drift mode or circuit in Project CARS 2 to take advantage of it.
There are still some glaring omissions in Project CARS 2's expansive car list, however. Featuring Ferrari and not including the iconic F40 seems sacrilegious (though this is probably being saved for the previously leaked Ferrari DLC pack), and muscle cars are still sorely underrepresented apart the current-generation Ford Mustang and a vintage Chevrolet Camaro. Upcoming DLC will no doubt fill in the holes, however – the available season pass promises that we can expect at least four downloadable car packs in the pipelines, starting with the Fun Pack Expansion which adds iconic Group B rally cars. If you're looking for a racing simulation with an abundance of road cars, Assetto Corsa has a broader selection, but for thoroughbred race cars Project CARS 2 is unmatched on consoles.
They sound superb, too. The growl of the V8 Jaguar F-Type sounds as ferocious as it does in real life, and there are other audio effects such as the subtle sound of the wipers grazing the windscreen before the rain sets in that add to the immersion. The frequent sound of screeching tyres is almost as grating as Gran Turismo's tyre sound effects, though. Elsewhere, the grandiose, orchestral soundtrack sounds like it was composed for a big budget blockbuster film. It sounds pretentious, but it effectively conveys a sense of excitement and anticipation a driver experiences before the start of a race. Motorsport aficionados will also resonate with sound clips from interviews with racing drivers that play when you sift through the menus: Ben Collins reminisces about Ayrton Senna's Godlike driving ability, for example, but it repeats too often.
Other racing games may have more cars to drive, but the circuit selection in Project CARS 2 puts other racing simulations to shame. Featuring 60 locations and over 130 track layouts, Project CARS 2 has the largest selection of real-world circuits of any racing game. Many of them were laser-scanned with drones to make them as accurate as possible, and some older tracks from the first game were re-scanned using this technology too. Old favourites like Silverstone, Hockenheim and Monza all feature with classic layouts, but it's underused circuits like Knockhill and Oulton Park that set Project CARS 2 apart. It's the closest you can get to recreating a British Touring Car Championship season in a racing game right now.
What also sets Project CARS 2 apart is how insanely configurable offline single events are. Everything is dialable: you can toggle the number of laps and AI opponents, change your starting grid position, adjust the time of day, set changeable weather intervals, and, in a first for a racing game, tweak the time of year which affects the season, giving tracks you've already raced in dozens of racing games a new lease of life. There are no restrictions for car and track combinations either, so if you've always wanted to race a snow-covered Brands Hatch in a full grid of go-karts, you now can. You can even participate in a full 24-hour Le Mans race if you desire.
Options for online multiplayer races, which support up to 16 players, are just as comprehensive, allowing you to participate in full race weekends with practice, qualifying, and race sessions. Qualifying sessions occasionally suffer from stuttering issues since the open lobby format allows players to dip in and out, but races usually run smoothly with no noticeable lag. Server stability can sometimes be an issue, though, as sessions sometimes crashed during some multiplayer matches so the game's netcode could do with some finetuning.
You'll usually be matched with similarly-skilled players with good racing etiquette, thanks to Project CARS 2's Competitive Racing License that continually monitors your behaviour and skill level. It's an effective matchmaking system that greatly reduces the chances of tolerating crash-happy players. Scheduled community time trial events with specific cars and tracks also keep you coming back, and eSports fans can compete in full Online Championships with multiple rounds that provide a Gran Turismo Sport-style experience, with added broadcaster and director functionality.
Weather effects often leave a lot to be desired in racing simulations. Assetto Corsa doesn't have any weather or dynamic time of days effects whatsoever, and Gran Turismo Sport only has static weather effects. Forza Motorsport 7, on the other hand, introduces dynamic weather effects to the series at long last, but it's limited to specific tracks. The original Project CARS stayed ahead of the competition with dynamic weather and time of day effects that could be applied to every track without any limitations. Project CARS 2 takes this to the next level with the introduction of LiveTrack 3.0's jaw-droppingly realistic weather effects, and it's a game changer. Put simply, Project CARS 2's advanced weather system is easily the best in its class.
Admittedly, the weather effects in DriveClub are more visually dazzling, but the technology powering Project CARS 2's sophisticated weather system is outstanding. During a rainstorm, puddles form dynamically on the track and slowly shrink in real-time as the sun comes out, thus changing how you approach your racing line and adding another layer of realism: take the usual racing line through a water-logged apex, and you'll almost certainly aquaplane and skid off the track like in real life. Watching the track evolve over time as the race progresses is awe-inspiring, especially in endurance races where a sudden rainstorm can potentially change the result of a hard-fought race.
Breaking point
LiveTrack 3.0 is surely pushing current-generation console hardware to its limits, which perhaps explains some of the graphical imperfections that were less prominent in the original game. Project CARS 2 looks eye-pleasingly pretty at times, with highly detailed car models and subtle effects like windscreen wipers that visibly vibrate, but flickering shadows and trees, low-resolution reflections and track textures, and a low level of anti-aliasing on cars that show jagged edges make the game look surprisingly unpolished at times. Lackluster lighting effects also give the game a flat, unrefined look compared to some of its console rivals. It's not the visual upgrade you would expect from a sequel with two years of development – at least not on standard consoles. PS4 Pro and Xbox One X versions of the game benefit from graphical enhancements, smoother frame rates, and higher resolutions.

Unsurprisingly, combining intensive weather effects with large grids puts a strain on the hardware resulting in some noticeable slowdown on the standard PS4. That said, if you stick with sensible grid numbers the performance holds up surprisingly well, allowing Project CARS 2 to regularly hit its target frame rate of 60fps but it no doubt achieves this more consistently on the more powerful PS4 Pro and Xbox One X. Replays also look excellent despite being locked at 30fps, with authentic TV-Style camera angles.
While Project CARS 2 deserves praise for its impressive achievements, especially when you consider that it was developed by a relatively small team compared to its bigger budget competitors, it's far from perfect. Even the most dedicated Project CARS fans will admit that the first game was plagued with game-breaking bugs on release. Sadly, Slightly Mad Studios hasn't learned from past mistakes.
Despite assuring fans that Project CARS 2 won't suffer the same fate as the original, a slew of technical issues marred the game's initial release, even with the hefty 12 GB day one patch installed. Some issues could be overlooked: the introductory cinematic and career-related cut scenes were washed out to the point you wondered if your TV wasn't calibrated properly, and flying trackside tyres sometimes got stuck in the air. Others, however, were more serious, like damage effects that didn't reset when restarting a race, which was a hindrance if you were missing a wheel or your view was obscured by a shattered windscreen.
By far the most aggravating issue, however, has been the wildly unpredictable AI. You could sometimes have memorable races battling with opponents that behaved realistically and were aware of your track position. Other times, the accident-prone AI caused mass pileups on the first corner in every race even if you restarted, or practically came to a standstill in the snow. Comically, they would sometimes get stuck on the starting line during replays, and changing the skill and aggression settings often had no effect on their behaviour.
Frustratingly, there isn't an option to fast forward qualifying in real-time. Instead, you can only skip to the end, but a glitch caused the AI opponents to magically gain several seconds even if you had a sizable lead close to the end of the session, thus making qualifying sessions redundant.
To be fair, some of these issues have since been rectified in numerous post-release patches at the time of writing. Damage no longer reappears on restarts, and the AI's pacing has been fixed so they no longer miraculously set unrealistic qualifying lap times. They still don't always seem to be very aware of your track position in some scenarios, however, and sometimes blindly barge into the back of you on the starting grid depending on the car and track combination. This can incur penalties requiring you to revert to your last track position through no fault of your own, which is extremely frustrating. While we're on the subject, time penalties are now much harsher since the most recent 3.0 patch update at the time of writing, forcing longer slowdowns and invalidating lap times for straying only slightly off the track even if it doesn't gain you any advantages.

It's a shame, because these issues take the shine off what is otherwise a sublime racing simulation, and could have been prevented with a few extra months of development time. Clearly, the priority was to release the game before Forza Motorsport 7 and Gran Turismo Sport to increase initial sales, but this could harm Slightly Mad Studios' reputation in the long run. Consequently, some players may have lost patience and flocked over to Forza Motorsport 7 and Gran Turismo Sport – but you won't find a more authentic racing simulation than Project CARS 2 on consoles.
Project CARS 2 is a phenomenal package and a must-have for motorsport enthusiasts. The sequel doesn't just solidify the series as a worthy competitor to Forza Motorsport and Gran Turismo, it betters its rivals in many notable ways with class-leading weather effects, an unrivalled track roster and variety of racing disciplines, deep and demanding, yet thoroughly rewarding driving physics, and a comprehensive career that immerses you into the life of a racing driver in the world of motorsport like no other game. Technical issues and underwhelming visuals take some of the shine off the game, but now that Slightly Mad Studios is starting to fix some of its most glaring issues, Project CARS 2 is a strong contender for the best racing game of the year.
Our Review
The good
Impressive track selection.
Incredible variety of disciplines.
Live track 3.0 and class-leading weather effects.
The bad
Inconsistent handling.
Technical issues still haven't been fixed.
Underwhelming visuals compared to the first game.
Summary
Project CARS 2 is a phenomenal package and a must-have for motorsport enthusiasts. The sequel presents class-leading weather effects and an unrivalled track roster and variety of racing disciplines. Demanding, yet thoroughly rewarding driving physics, and a comprehensive career that immerses you into the life of a racing driver in the world of motorsport like no other game. Technical issues and underwhelming visuals take some of the shine off the game, despite this, Project CARS 2 is a strong contender for the best racing game of the year.