This years Formula One World Championship has genuinely been one of the most exciting for years, with the resurgence of Ferrari and Vettel bringing a real challenge to Mercedes who have dominated the V6 hybrid era. What better time then for Codemasters to come on-form and deliver a product that is simply better in every way over the 2016 edition which had, rightly so, been praised as the best F1 game since the good ol' days of the Geoff Crammond series.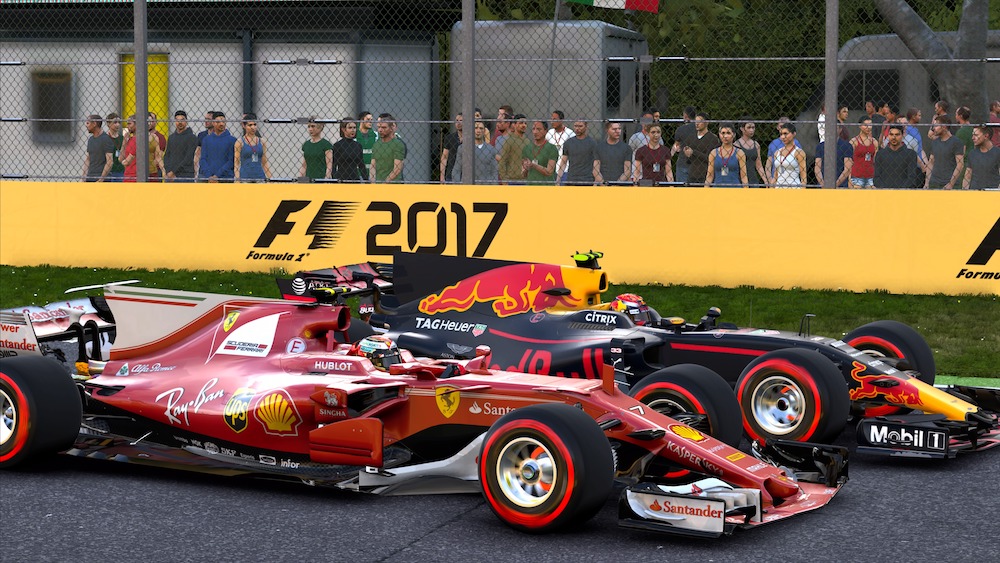 New rules and regulations for 2017 have made the cars look better with wide tyres resulting in more grip and faster lap times – all of which is clearly apparent within the game. The extra power of the PS4 Pro bringing the game up to 4k resolution while retainng the super slick 60fps standard for racing games.
The increased speed of F1 cars this year has been well crafted within the game. There is increased grip allowing players to feel confident to take speed into corners and accelerate much earlier coming out, pushing those limits. Despite that extra grip, even with traction control on the cars aren't that forgiving and if you get it wrong, it is still very easy to lose the rear end and go into a spin. Similarly, tyre management has been refined, this makes warming the tyres to optimal temperature vital – weaving on the track actually makes a difference and at some tracks you will need a second flying lap in qualifying in order to register a quicker lap.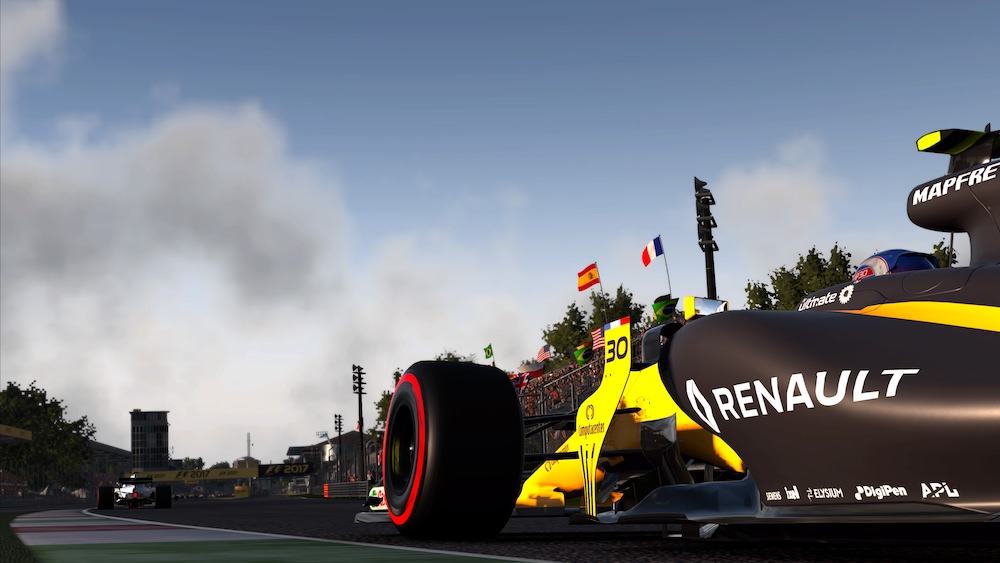 The career mode has also been given an overhaul to further the experience of being an F1 driver. Players still get to choose which team to start with but each having its own challenges and expectations set upon you – drive for Mercedes and you'll be expected to challenge for the title; but drive for Sauber and you will be lucky to get out of Q1 and finish near the points. The difficulty of the in-game AI has been replaced with a percentage slider to provide the right challenge for all abilities. It would however be nice to include some form of driving test before starting a career so the game can auto-tune the AI for you.
A key feature of F1 2017 is the R&D directing your team on which aspects to focus on throughout your career. The tech tree for developing a car is vast, in-depth and looks likely to take 10-years to fully exhaust every aspect of the car development. Development points are earned through good performances on-track and can be spent where you feel the team should focus its development to best benefit. It gives that extra impetus to focus time during free practice or slog it out in a race you know isn't going anywhere, knowing that the hard work now will pay off later on in the season or your career with that team.
In addition there now an option to manage use the components of the power unit and gearbox. As in F1, players are given a maximum number of five components for each part of what makes up the power unit.. This is a really fun dynamic to the game as if you know it will be a wet race, you can choose elements that may be on the worn side as you won't be revving the engine too highly. Conversely if you know you are strong at a particular track you could give yourself some fresh components to maximise your performance. The way you can strategise the weekend really comes to the fore and brings a key part of Formula One to a game like no other has done before. If you go above your five engine components, or use a new gearbox before its intended six-race durability requirement, it will result in the necessary grid penalties.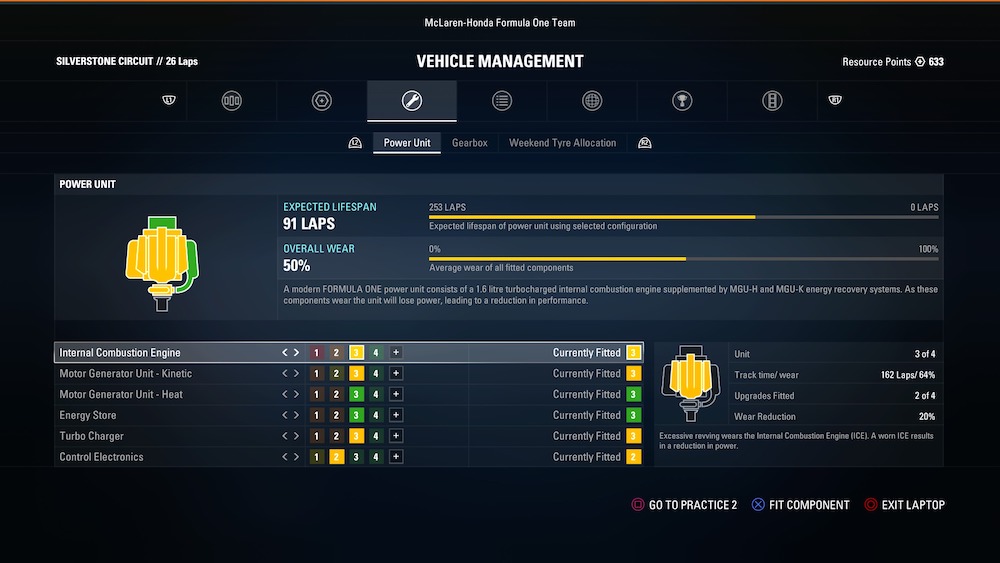 Another new feature this year is the very welcome return of classic F1 cars. Now interwoven into the career mode by way of driving cars from the past in exhibitional events. Codemasters have chosen 12 cars across Williams, Ferrari, McLaren, RedBull and Renault from the 1980's to 2000's. Your performance in these invitationals will have a direct impact on your career direction and reputation as a driver. Whilst a great idea, some work does need to go into making this feel more real. You are driving these cars because they are "owned" by a rich playboy who has invited you to be his driver.
Instead of doing checkpoint races or time trials it could be better to have these events take the form of attending a Goodwood Festival of Speed type of event, filming promotional material for a team's sponsor, taking part in a certain car TV show, or even driving "celebrities" in the new F1 two-seater… In addition whilst the roster of cars provided are good, it would be great to see some of the lesser-known cars from F1 history, e.g. Jordan198, Benetton B195, Arrows A18, Minardi PS02 amongst many others. Anyway, it is a great addition and an area we can only hope will be developed upon in the future.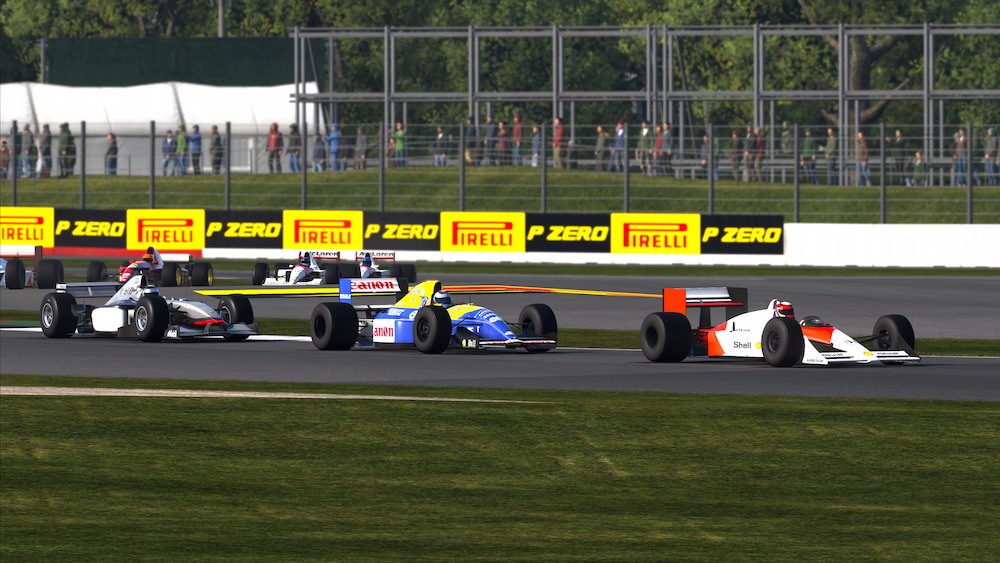 F1 2017 also heralds the first foray into Esports with a new annual competition fully supported by the official Formula 1 brand. Taking place within the online section of the game, all competitors are given two scenarios – take Perez to a podium at Monza or Daniel Ricciardo to victory at Suzuka – both with 5 laps to go before the chequered flag. The fastest 40 drivers go through to the live semi-finals in London in October and the grand finale held at Abu Dhabi at the end of November where the climax to the actual F1 season comes to a close. Esports for F1 should be a great partnership and it is great to see the new-look Liberty-owned F1 embrace this developing arena in competition.
Talking of online, it is otherwise standard fare for F1 2017 with Time Trials across all the circuits; one-off downloadable Events giving you unique challenges, usually themed to the next upcoming real-life grand prix; and Custom Races/Championships utilising modern or classic cars across races or a series of races.
At time of writing this review Codemasters patched the game with updated liveries a very welcome Photo Mode. It is great to see they have implemented a very feature rich photo mode allowing for a broad range of options to customise action shots. One type of photo tint that does amuse is seeing "2010 colours" feature – remember that dreadful washed out tint that was in the first Codemasters F1 game? Yes you can have it back!
There are of course always areas to improve upon. The in-car audio and replay camera audio is good, but when switching between driving view perspectives there is no change in engine note, which is particularly disappointing when racing in a V8 powered McLaren or RedBull. We still see the same pitcrews across all of the team's year-on-year and have a lot of similar cutscene animations from 2015 and '16 appearing in '17 – it is definitely time for a refresh there. Immersion is key in a game like this and it would still be good to see full player control on the formation lap to line up in your grid slot, as it would be to drive the victory lap back to the pits – there could be a feature where you are required to pick up marbles, play to the crowd, have the excitement of driving into parc ferme or up to the 1, 2, 3 boards if you are on the podium.
Speaking to Lee Mather at E3 he promises that the roadmap for future entries into the F1 series is feature rich and exciting. When you look at the diversity of racing categories in games such as Project Cars, and a change in Formula One Management, perhaps we will see F3 and F2 join the F1 game and a totally new-look career mode will feature. We all still want to have our own team in the game, driver changes and a change to the running order for races year-on-year. One area that could be explored is the off-track politics of F1 which we all admire and see as part of the spectacle. Could some form of management mini-game be included to capture that maybe? The game is also crying out for a photo-mode – it is great to be able to run races at various times of the day, but some great looking wallpaper photos could be created if you had freedom to capture some shots.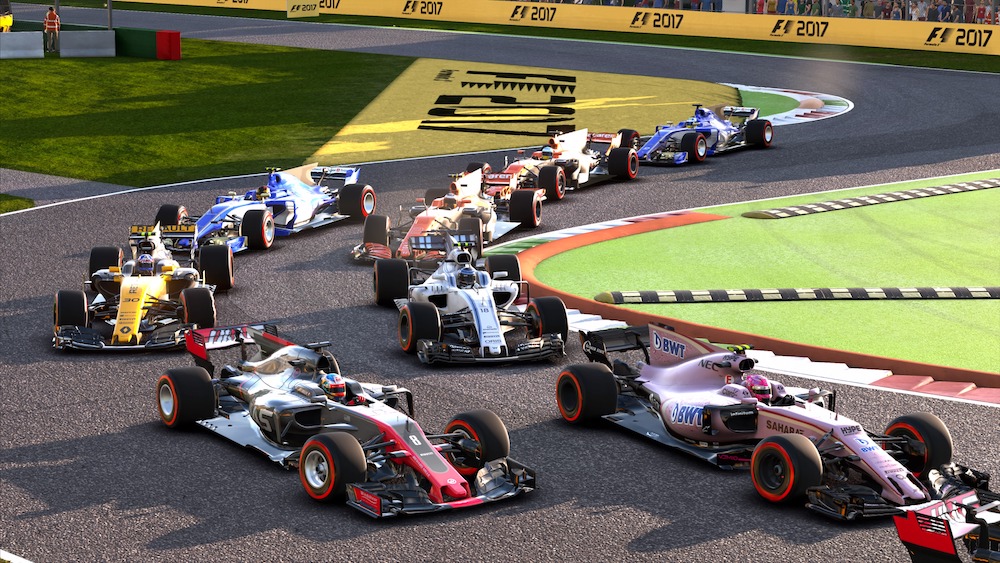 Last year we reviewed F1 2016 with an 8/10 score and were left excited by the prospect of what F1 2017 could deliver. Without a shadow of doubt the annual update from Codemasters has delivered by far the most comprehensive reflection of Formula One to date. In short, this is an excellent game and probably the best official F1 game ever made. At Team VVV however, we always want more and expect Codemasters to deliver again next year.
Note: The game was reviewed based on v1.9 (patch released 13 October 2017)
Our Review
Summary
Last year we reviewed F1 2016 with an 8/10 score and were left excited by the prospect of what F1 2017 could deliver. Without a shadow of doubt the annual update from Codemasters has delivered by far the most comprehensive reflection of Formula One to date. In short, this is an excellent game and probably the best official F1 game ever made. At Team VVV however, we always want more and expect Codemasters to deliver again next year. Note: The game was reviewed based on v1.9 (patch released 13 October 2017)