It's fair to say we were absolutely spoiled with racing games in 2017, in what was a landmark year for the genre. In the space of just one month, we witnessed three contenders from major franchises jostle for position in a spectacular race to the finish line. After a long four year wait, Gran Turismo made its belated debut on PS4 with the release of the online eSports-focused Gran Turismo Sport, but it faced stiff competition from its Xbox rival franchise. Forza Motorsport 7 boasted the most comprehensive car selection of any racing game released this generation, as well as crisp 4K graphics and a new, more engrossing career mode.
Taking on these two racing game goliaths was Slightly Mad Studios' racing simulation Project CARS 2. As the least established IP, Project CARS 2 was the ambitious underdog with huge potential, promising to be most authentic racing simulation ever made with a diverse variety of racing disciplines, an innovative dynamic weather system, and an unrivalled track selection. Annual licensed games such as MXGP 3, MotoGP 17, WRC 7, and F1 2017 also all saw significant improvements that elevated them above typical incremental updates, while futuristic racing fans were treated to the long-awaited comeback of the WipEout series with the release of WipEout: Omega Collection.
You can view the full list of nominations for the Team VVV Racing Game of the Year Awards 2018 here.
Best Handling
Car handling in racing games will always be subjective: some people prefer authentic realism, others prefer the pick up and play appeal of arcade racers. Fans of realistic racing simulations were spoilt for choice in 2017, but finding that all-important sweet spot of realism and accessibility is no easy feat.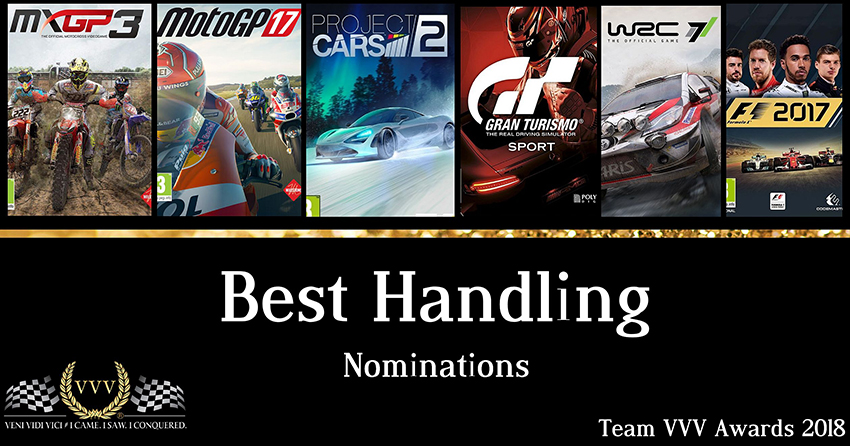 Honourable Mentions
MXGP 3
Milestone is the leading developer of bike games, and the Italian studio has utilised its extensive experience to improve the handling of every new release. Bike handling is difficult to replicate in a video game, requiring a different mindset than car games, yet using MXGP 3's dual stick controls to adjust the bike and rider weight simultaneously feels smooth, fun and intuitive – particularly when battling against the dynamic terrain deformation, which is a lot more realistic and challenging than MXGP 2.
MotoGP 17
Ride 2 represented a turning point where Milestone began to hit its stride, with a physics model that felt authentic but fun. This was also applied to MotoGP 17 resulting in far more detailed physics model, allowing you to predict the bike's behaviour more intuitively. Running in 60fps also not only improved the sense of speed, but also the control response. Bikes in previous MotoGP games were prone to excessive understeer, but this was rectified in MotoGP 17 – hitting the apex in these powerful machines has never felt so satisfying.
Project CARS 2
With such a huge variety of racing disciplines, controlling the vehicles in Project CARS 2 requires a steep learning curve. Compared to the first game, the driving physics in Project CARS 2 is more detailed and feel less floaty. Force feedback is excellent when using a wheel, as is the sensation of grip. Approach the limit, and you're far more likely to catch the slide than you were in the first game thanks to the more intuitive physics – throwing rallycross cars around corners in the dirt using opposite lock in Project CARS 2 was one of the most satisfying racing game experiences of 2017. You can even apply factory settings replicating the car's real-life settings.
The problem, however, is that the controls often require some finetuning, which can be frustrating. Fortunately, the game's race engineer speeds this process up by asking you about your preferences, but the handling is inconsistent overall. Project CARS 2 is also far more playable on a controller than its predecessor, but there's still room for improvement.
WRC 7
Kylotonn's concerted efforts to ramp up the realism in WRC 7 earned it our Best Surprise award this year. One aspect that was significantly more realistic than its predecessor was the improved car handling, which veered closer to the simulation side of the spectrum than ever before. There's a better sense of weight to the cars that makes throwing them around tight corners extremely satisfying. It's just a pity a patch released towards the end of the year changed the handling for the worse – it hasn't been quite the same since.
F1 2017
The current generation of Codemasters' F1 game series has seen continual improvements, from the visuals and career mode to the driving physics. Cars in F1 2015 suffered from a lack of grip – tearing around corners in a Formula One car while applying opposite lock felt wrong in a motorsport that requires precision. While there's still not enough grip, Codemasters has addressed these criticisms, allowing you to approach corners more confidently than before. As a result, F1 2017 features the most accomplished handling in the series yet.
Winner: Gran Turismo Sport
Since its inception, Gran Turismo has been sold with the tagline "the real driving simulator." While some of its competitors may have more hardcore handling, Gran Turismo Sport hits the sweet spot between authenticity and accessibility – whether you play the game with a wheel or a controller. Playing Gran Turismo Sport with a wheel is simply sublime, particularly with Thrustmaster's flagship T-GT wheel and its new depth feedback technology that simulates the sensation of the tyres gripping the tarmac more realistically than force feedback.
Crucially Gran Turismo Sport plays extremely well on a control pad. But no matter which input you use, the car handling in Gran Turismo Sport is remarkably realistic and intuitive without being excessively difficult – driving in real life is far easier than some hardcore racing simulations would have you believe. Put simply, Gran Turismo Sport's beautifully balanced vehicle handling sets the new gold standard for future console racing games to aspire up to.
Do you agree with our winner? Let us know in the comments below. Check back soon for more Team VVV Awards 2018 coverage on the website and YouTube channel throughout March.