It's fair to say we were absolutely spoiled with racing games in 2017, in what was a landmark year for the genre. In the space of just one month, we witnessed three contenders from major franchises jostle for position in a spectacular race to the finish line. After a long four year wait, Gran Turismo made its belated debut on PS4 with the release of the online eSports-focused Gran Turismo Sport, but it faced stiff competition from its Xbox rival franchise. Forza Motorsport 7 boasted the most comprehensive car selection of any racing game released this generation, as well as crisp 4K graphics and a new, more engrossing career mode.
Taking on these two racing game goliaths was Slightly Mad Studios' racing simulation Project CARS 2. As the least established IP, Project CARS 2 was the ambitious underdog with huge potential, promising to be most authentic racing simulation ever made with a diverse variety of racing disciplines, an innovative dynamic weather system, and an unrivalled track selection. Annual licensed games such as MXGP 3, MotoGP 17, WRC 7, and F1 2017 also all saw significant improvements that elevated them above typical incremental updates, while futuristic racing fans were treated to the long-awaited comeback of the WipEout series with the release of WipEout: Omega Collection.
You can view the full list of nominations for the Team VVV Racing Game of the Year Awards 2018 here.
Best Off-Road Game
After a hiatus, off-road racing games have made a comeback in recent years, offering a different style of racing to traditional track racers. DiRT remains one of the leading off-road racing franchises, but it faced fierce competition in 2017 from WRC 7 and MXGP 3, which saw significant improvements.
Honourable Mentions
MXGP 3
MXGP 3 was one of the best surprises of the year. While MXGP 2 left a lot to be desired, last year's sequel set new standards for the series and was a generational leap over its predecessor. The standout addition was MXGP 3's advanced terrain deformation, as deep ruts and grooves get carved into the track surface that you have to avoid. This had a profound effect on the gameplay and the bike handling – you really feel like you're fighting against the terrain.
Thanks to the switch to Unreal Engine 4, MXGP 3 also featured grittier graphics, which, combined with improved trackside details such as denser crowds, brought the environments to life. Bike handling was also more responsive with the long-requested addition of manually controlled scrubs, and the new first-person camera provided an immersive, visceral experience.
Baja Edge of Control HD
Baja Edge of Control was perhaps an unusual choice of game to receive the remaster treatment, but it was sorely needed. The original version of the game released a decade ago suffered from jarring performance issues, particularly on PS3. While the new current-generation version tidies up the textures and improves the frame rate, it isn't the substantial improvement you would expect for an update released ten years after the original. That said, Baja Edge of Control HD still offers a unique and challenging off-road racing experience that has you battling the elements in wide open desert environments and over spectacularly steep inclines.
DiRT 4
DiRT Rally's demanding difficulty was a risky gamble, but one that paid off as it's considered the best game developed by Codemasters in a long time, and was crowned Racing Game of the Year in our 2017 awards. As a result, DiRT 4 had a lot to live up to, and faced the difficulty of trying to appeal to fans of DiRT Rally's hardcore simulation approach and more casual fans of the more accessible numbered entries in the series. Ultimately, DiRT 4 didn't quite live up to the standards set by DiRT Rally and suffered from a conflicting identity.
DiRT 4's most innovative feature is its course generator, which was added in response to DiRT Rally's limited selection of locations. Ironically, while DiRT 4 features a nearly limitless selection of tracks, it has even less rally locations than DiRT Rally, and the randomly generated stages are often flat, sterile and uninspiring. While it may lack the depth of DiRT Rally, DiRT 4 is still enjoyable, offering a well-curated roster of classic and contemporary rally cars, and fun, accessible handling that appeals to a wider audience.
Winner: WRC 7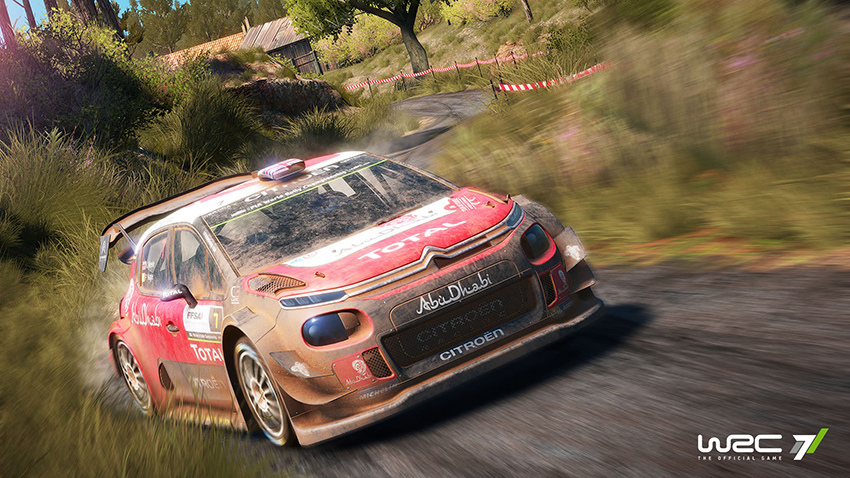 Annually-released games tend to offer incremental updates, but WRC 7 was a significant step up, transforming the series into a viable DiRT rival. In many ways, WRC 7 outshines DiRT 4 thanks to its authentic physics, improved graphics, and new epic stages. The WRC 2017 saw significant regulations changes permitting more powerful cars harkening back to the Group B era, which made the cars in WRC 7 much more exhilarating to drive, requiring a more aggressive approach. These changes meant Kylotonn had to tweak the physics engine, and the resulting handling is noticeably more realistic than previous games in the series. There's a satisfying sense of weight to the cars, which makes chucking them around corners immensely enjoyable.
Then there are the exceptional stage designs. WRC 5 was criticised for featuring special stages that were too wide, flat unrepresentative of the real-life locations, but WRC 7's are brutally unforgiving and capture the intensity of rallying, featuring treacherous narrow sections, bumpy terrain that can send your car off course and sheer cliff drops. WRC 7 also introduced gruelling Epic Stages that can take up to 15 minutes to complete, and each environment was brought to life thanks to the game's revamped graphics engine. WRC 7 is without question one of the most intense rally games ever made, and we look forward to seeing how the series evolves in future iterations.
Do you agree with our winner? Let us know in the comments below. Check back soon for more Team VVV Awards 2018 coverage on the website and YouTube channel throughout March.