It's fair to say we were absolutely spoiled with racing games in 2017, in what was a landmark year for the genre. In the space of just one month, we witnessed three contenders from major franchises jostle for position in a spectacular race to the finish line. After a long four year wait, Gran Turismo made its belated debut on PS4 with the release of the online eSports-focused Gran Turismo Sport, but it faced stiff competition from its Xbox rival franchise. Forza Motorsport 7 boasted the most comprehensive car selection of any racing game released this generation, as well as crisp 4K graphics and a new, more engrossing career mode.
Taking on these two racing game goliaths was Slightly Mad Studios' racing simulation Project CARS 2. As the least established IP, Project CARS 2 was the ambitious underdog with huge potential, promising to be most authentic racing simulation ever made with a diverse variety of racing disciplines, an innovative dynamic weather system, and an unrivalled track selection. Annual licensed games such as MXGP 3, MotoGP 17, WRC 7, and F1 2017 also all saw significant improvements that elevated them above typical incremental updates, while futuristic racing fans were treated to the long-awaited comeback of the WipEout series with the release of WipEout: Omega Collection.
You can view the full list of nominations for the Team VVV Racing Game of the Year Awards 2018 here.
Best Environment Selection
Environment selections in racing games are often exhaustive. This award recognises not just the quantity but the quality of the selection, as technical advancements in laser-scanning technology and new graphics engines have allowed developers to improve the accuracy and atmosphere of virtual racetracks with realistic trackside details and weather effects.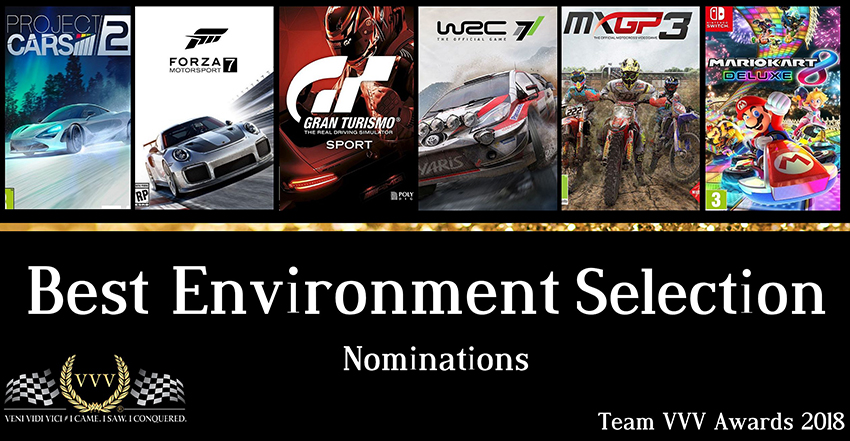 Honourable Mentions
Forza Motorsport 7
Forza Motorsport 7 has a wide selection of tracks, with 135 track layouts spread out across 32 locations – though only one environment, the visually dazzling Dubai street course, which acts as the game's showcase track, was technically new to the series. Still, there's plenty of location variety for both long-time fans and new players alike, while dynamic weather and night effects add more variety to the track conditions – it's just a pity they can't be applied to every circuit.
Gran Turismo Sport
Gran Turismo Sport introduces new racing circuits that will undoubtedly become future classics. Dragon Trail and Lago Maggiore are true standouts and arguably some of the best fictional tracks Polyphony have ever created – but the least said about the bland Northern Isle Speedway oval track, the better. Unfortunately, some of the fan-favourite fantasy tracks the series is famous for like High Speed Ring, Apricot Hill and Clubman Stage are missing, as are some real-world tracks that should be obligatory in a racing game like Laguna Seca. Free monthly updates have since added new tracks to the selection, so some of the series' staples will hopefully return soon.
WRC 7
WRC 7 could have more special stages, but Kylotonn went to considerable lengths to make them more authentic. Some stages feature sections that are barely wider than your car, and while stages in other rally games are often plagued with flat surfaces and dull lifeless environments, WRC 7's are bumpy and feature some of the most realistic trackside foliage in any racing game. Previous WRC games were criticised for having stages that were too short but Kylotonn stepped up their game by adding Epic stages that take up to 15 minutes to conquer, resulting in some of the most challenging special stages in any rally game this generation.
MXGP 3
MXGP 3 features all 18 official tracks from the real-life championship as you would expect, but what sets them apart is Milestone's shift to Unreal Engine 4. The new graphics engine gave the tracks a grittier, more realistic look thanks to the vastly improved lighting, while the dynamic track deformation added a new layer of challenge. Environments in Milestone games have been very lifeless in the past, but MXGP 3's roaring crowds and environmental sound effects created a rousing race day atmosphere.
Mario Kart Deluxe 8: Deluxe
Based on the four-year-old Wii U original, the track selection in Mario Kart 8: Deluxe puts most modern racing games to shame. As standard, the game features 48 original tracks without padding out the selection with multiple layouts, including all previously released DLC such as Zelda's castle and challenging tubular tracks inspired by F-Zero GX. Every track is terrifically well designed with twists, turns and shortcuts to be discovered, antigravity and underwater sections shake up the formula, and old fan favourites like Rainbow Road look stunning reimagined in HD.
Winner: Project CARS 2
With 60 locations and over 140 track layouts, Project CARS 2's roster of real-world racing circuits is simply unrivalled. On consoles, it has by far the largest track selection of any racing game. Every iconic track you would expect to find is included, while some like Monza even have historic layouts available. It's the often-overlooked tracks that stand out, however, such as Knockhill and Oulton Park, which rarely feature in modern racing games. Whether you enjoy track, dirt, or oval racing, there's something for everyone – you can even slide around the Mercedes-Benz ice track in Sweden. Many tracks were laser-scanned with drones, while others from the first game were rescanned to improve accuracy.
Then there's Project CARS 2's LiveTrack 3.0, which creates the illusion that you're racing around a living environment better than any other game. Circuits dynamically evolve throughout the race to capture the unpredictability of motorsport, creating additional challenges while adding to the immersion and. Sudden rainstorms form dynamic puddles that evaporate in real time when the sun sets in, affecting how you approach your racing line. Its weather system is easily the best in class and the available race options are incredible comprehensive – unlike its rivals, the time of day, weather, and even the season can be applied to every single circuit. For a hardcore motorsport fan, Project CARS 2 has the best environment selection of any racing game this generation.
Do you agree with our winner? Let us know in the comments below. Check back soon for more Team VVV Awards 2018 coverage on the website and YouTube channel throughout March.