It's fair to say we were absolutely spoiled with racing games in 2017, in what was a landmark year for the genre. In the space of just one month, we witnessed three contenders from major franchises jostle for position in a spectacular race to the finish line. After a long four year wait, Gran Turismo made its belated debut on PS4 with the release of the online eSports-focused Gran Turismo Sport, but it faced stiff competition from its Xbox rival franchise. Forza Motorsport 7 boasted the most comprehensive car selection of any racing game released this generation, as well as crisp 4K graphics and a new, more engrossing career mode.
Taking on these two racing game goliaths was Slightly Mad Studios' racing simulation Project CARS 2. As the least established IP, Project CARS 2 was the ambitious underdog with huge potential, promising to be most authentic racing simulation ever made with a diverse variety of racing disciplines, an innovative dynamic weather system, and an unrivalled track selection. Annual licensed games such as MXGP 3, MotoGP 17, WRC 7, and F1 2017 also all saw significant improvements that elevated them above typical incremental updates, while futuristic racing fans were treated to the long-awaited comeback of the WipEout series with the release of WipEout: Omega Collection.
You can view the full list of nominations for the Team VVV Racing Game of the Year Awards 2018 here.
Best Online Multiplayer
For some, online multiplayer in a racing game is a key factor when making a purchasing decision. The advent of racing leagues, car clubs and eSports has made online multiplayer in racing games even more engaging, keeping us playing for months, or even years after release.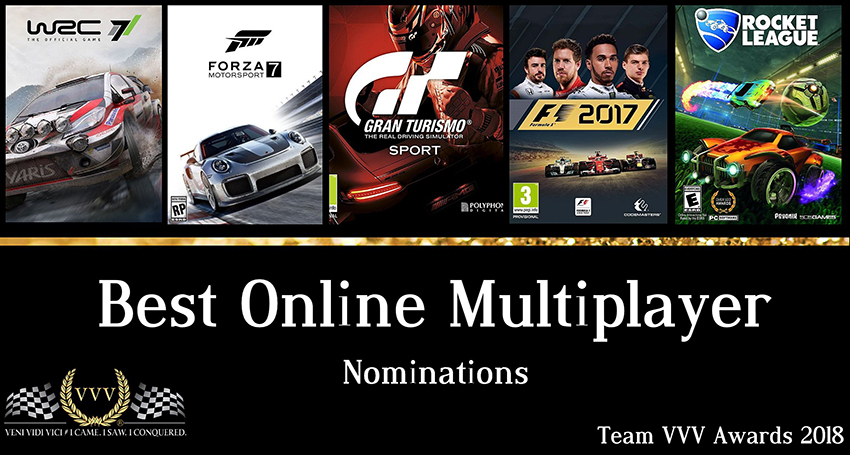 Honourable Mentions
Forza Motorsport 7
Forza Motorsport 7's online multiplayer has its issues, but the experience has improved since the game's initial launch. The new eSports championship has added longevity and the Rivals leaderboard mode has expanded considerably, which has been keeping players hooked. As for the core online racing, there's still room for improvement – the game really needs a more extensive matchmaking system across all modes and stiffer penalties to encourage cleaner competitive racing.
WRC 7
WRC 7's online multiplayer pits you against seven other ghost cars to set the fastest time, but it's the weekly community challenges set by the developers with specific cars and stages that will keep you coming back to beat those leaderboard times. What elevates WRC 7's multiplayer, however, is the online eSports that coincide with events in the real-life championship, making for an engaging online experience for rally fans.
Project CARS 2
Project cars 2 is a very comprehensive package, and the online multiplayer is no exception. Players can participate in full race weekends with practice, qualifying, and race sessions, while the Competitive Racing License offers an effective matchmaking system that pits you against similarly-skilled players – a feature often omitted in modern racing games, surprisingly. The eSports mode is just as comprehensive with superb replays and even a Director mode enabling you to broadcast races and control the camera angles.
Unfortunately, while races tend to be lag-free, unstable servers cause online sessions to frequently crash. With so many different disciplines, complex weather effects and time of day transitions, the team at Slightly Mad Studios perhaps overstretched themselves and the game's online multiplayer's stability suffers as a result. That said, being able to race online with so many different variables and a wide selection of disciplines and circuits is a commendable achievement.
F1 2017
F1 2017's online multiplayer is mostly standard fare, with the usual mix of time trials, one-off downloadable challenge events coinciding with the real-life Grand Prix, and custom races and championships, which reintroduce classic cars. F1 2017 also marked the series' first foray into online eSports annual competition fully supported by the official Formula 1 brand, but there's still room for improvement in the game's ranking system.
Rocket League
Easy to pick up and play but difficult to master, Rocket League was primarily designed to be played online. A mashup of football and car racing, Rocket League's team-based physics gameplay and superb controls make it one of the most addictive and compelling online multiplayer experiences currently available – it's easy to see why the game has become a staple in the world of eSports. Matches start swiftly so you won't be aimlessly waiting around in lobbies for the game to start, and the short length of every match makes the game incredibly difficult to put down.
For the Nintendo Switch version, Rocket League features cross-platform online multiplayer with Xbox One and PC players, which works flawlessly and provides an established community to compete against – you'd be hard pressed to find an empty server.
Winner: Gran Turismo Sport
Polyphony Digital may have alienated long-time fans of the series due to the lack of single player content, but there's no denying the developer has revolutionised online multiplayer for console racing games, which was the main focus of the game in contrast to previous titles Essentially, Gran Turismo Sport is the closest equivalent to iRacing on consoles for dedicated players, with an excellent matchmaking system that pits you against similarly-skilled players. Few games capture the tension before the start of a real race, but Gran Turismo Sport comes very close. Ranked races endorsed by the FIA take place in scheduled events, while more casual players can participate in traditional online races.
Admittedly, the penalty system can be frustrating as your sportsmanship rating can be affected by accidents that weren't your fault if another player hits you, but the system does at least encourage clean racing and is being constantly refined in updates without a subscription charge, unlike PC games. Being an online-focused game, smooth performance is paramount for a major release with a huge player base, but thankfully the game's dedicated servers have proven to be reliable after teething issues in the betas. For fans of serious competitive online racing, there is simply no equal on consoles.
Do you agree with our winner? Let us know in the comments below. Check back soon for more Team VVV Awards 2018 coverage on the website and YouTube channel throughout March.