Formula One's ongoing strategy to reach bigger audiences has reached a new level with VirtTrade's excellent trading card game on mobile that utilises the full licence capabilities of Formula One.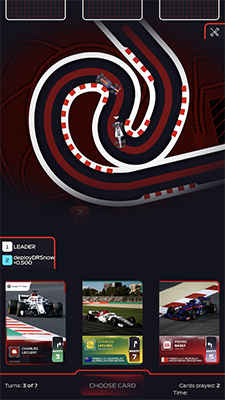 Out already on iOS with an Android version due later this month and downloadable for free on both platforms, F1 Trading Card Game 2018 (F1TCG) takes every aspect of F1 from the drivers, tracks, teams and the music, and smashes it together into a great two-player strategy matchup title using the original top trumps style game we all know. From loading the game up you are greeted to the new Brian Tyler F1 theme tune, which plays throughout the game and feels perfect for a mobile game of this type. The look of the game also follows the same font and styling we have come to expect from the official website and on-screen imagery from the broadcast coverage.
You are given a starting pack of cards when first setting up your profile. From there you earn coins through daily play and contesting in races. The coins can then be used to purchase new card packs, or you can pay actual money to get more exclusive packs – fortunately, this is not necessary to enjoy the game in its own right, however.
Where F1TCG really comes into its own is when you decide to race an opponent using your card selections. You are limited to a card weighting of 60 points across 12 cards to keep competition at a fairly even level but it is still important to ensure you have a competitive deck before you start a race.
So how does this work, you may ask? You are paired up with a random opponent and race around one of the tracks on the F1 calendar. There are points around the track where you have to select one of your cards that either matches, or at least closely matches, the direction the car is going. Paired with the direction and the strength of the card itself will result in whether you get a lead or a loss in time compared to your rival on a lap of the circuit. It makes for a fun yet simple gaming experience that leaves you coming back for that "just one more go" feel.
Each track has a defined card set that you are challenged to try and complete. You will do this by trading with friends within the game. You'll have to make sure your offer of cards you are willing to trade are of enough appeal to get what you want from a friends' deck. Get those powerful cards and take on tougher competition.
Whether this is your first foray into trading games or you are a seasoned-pro, F1TCG is a very enjoyable title that uses the F1 licence in a superbly clever way. If you are a fan of F1, it's definitely worth downloading and giving a go.