News

Thrustmaster T80 Ferrari 488 GTB Edition PS4 wheel revealed for budget-conscious sim racers
News
If the high-end Thrustmaster T-GT Wheel and mid-range T300 is beyond your budget, Thrustmaster has revealed a new version of its entry-level T80 wheel for budget-conscious sim racers. As the name implies, the Thrustmaster T80 Ferrari 488 GTB Edition is based on the supercar of the same name. It features an 8:10 scale replica of the wheel found in the Ferrari 488 GTB, a successor to the 458 Italia.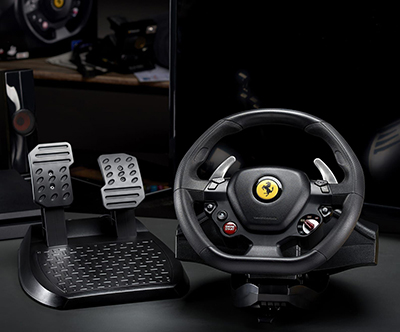 Thrustmaster describes the entry-level wheel as "the perfect accessory to take the plunge into the world of racing games, for intuitive and responsive, realistic gameplay." Designed specifically for the PlayStation 4, Thrustmaster T80 Ferrari 488 GTB Edition wheel features familiar "PS", "SHARE" and "OPTIONS" buttons allowing users to navigate the PS4 system and in-game menus with ease.
There are 11 action buttons on the wheel in total, including a D-pad, two wheel-mounted sequential paddle shifters made of meta and measuring 2.8 inches tall, as well as a a large pedal set with adjustable inclination and a wide foot-rest, and central clamping system with wide jaws for optimal stability. In addition, the wheel provides realistic linear resistance with automatic re-centering thanks to Thrustmaster's Bungee Cord mechanism, providing a realistic racing experience.
Coinciding with the 70th anniversary of Ferrari, the Thrusmaster T80 Ferrari 488 GTB Edition will be available this December with a suggested retail price of £99.99. Alternatively, if you're a hardcore Ferrari fan and have more cash to spare, Thrustmaster is also releasing the limited-edition Ferrari 250 GTO Wheel Add-On this month. Featuring an authentic 8:10 scale replica of the vintage Ferrari 250 GTO's wheel made of high-quality wood, it will set you back £349.99.