Thrustmaster has added a new premium Ferrari rim to its growing collection of officially licensed wheel rims – and it's absolutely stunning to behold. While previous Thrustmaster Ferrari wheel rims have been based on modern supercars and racecars like the 458 Italia, 458 Challenge and 599XX EVO, this retro-inspired rim is an authentic 8:10 scale replica of the vintage Ferrari 250 GTO's wheel, regarded as one of the most iconic supercars ever made. Only 36 were produced between 1962 and 1964, but you can drive it in the recently released Assetto Corsa Ferrari 70th Anniversary Pack.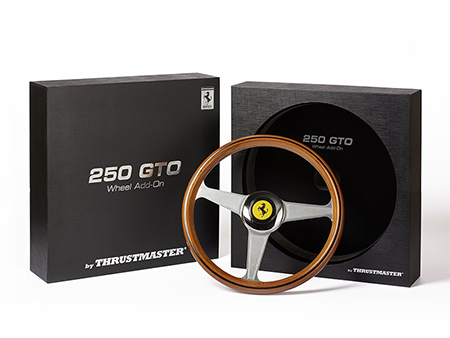 All of the original wheel's features have been replicated in Thrustmaster's exquisitely detailed rim add-on, which boasts a metal faceplate and internal structure and an authentic chrome logo plate in the center. Genuine high-quality wood covers the wheel's entire circumference with a black ring running through the middle, resulting in a sleek and understated design that will delight driving purists. Unlike other Thrustmaster wheel rims, there are no face buttons to keep the design as faithful as possible to the original wheel.
The Ferrari 250 GTO WHeel Add-On is presented in a high-quality collector's gift box featuring a hot-stamped inner foam display. Thanks to its Quick Release system, the Thrustmaster Ferrari 250 GTO Wheel Add-On is compatible on PC with Thrustmaster T-series racing wheels including the TS-PC Racer, TS-XW Racer, T-GT, T500 RS, T300 series, TX series and the TH8A Add-On Shifter.
As a homage to the original car's rarity, Thrustmaster will be producing the Ferrari 250 GTO Wheel Add-On in limited numbers. It will be available from December 20th 2017 with a suggested retail price of £349.99.