The launch of WRC 7 marks the third iteration of an officially licensed rally game from French developers Kylotonn. Last year's WRC 6 saw many improvements across the board compared to Kylotonn's debut release in 2015, and I'm happy to report that from my early impressions so far, WRC 7 continues that forward push. It's not just an incremental improvement either, WRC 7 feels more like a revolution rather than an evolution.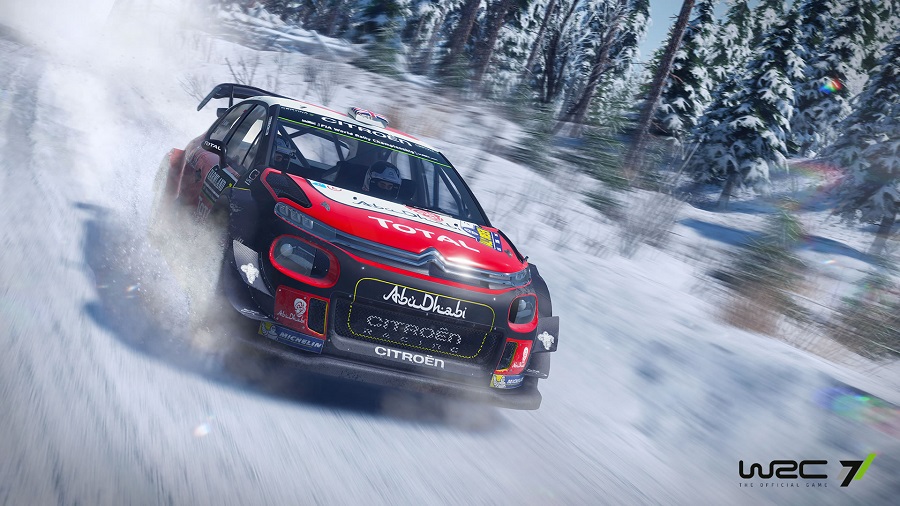 Granted, the career mode follows the same pattern as before so you won't be blown away with any drastic changes, however, it's the driving that counts in racing games, and this is where WRC 7 delivers in spades. Using the Thrustmaster T300 on the PlayStation 4 version, my time with WRC 7 thus far has been immensely enjoyable. Where WRC 5 felt floaty with a racing wheel, and the sixth iteration was fun but not to be taken too seriously, WRC 7 goes after the simulation market with a handling model which has a surprising amount of depth.
WRC 7 does a great job of conveying the weight of the car: it actually feels like you are piloting over a ton of metal as you throw it into turn after turn. This satisfying feeling of weight is bolstered by the decent force feedback which gives you a good sense of what the car is doing and what's under your tyres. The car audio is improved on last year's title, and all these elements, while not market leading, are strong enough to give you a satisfying and rewarding experience where you need to respect the car if you want to get the best out of it.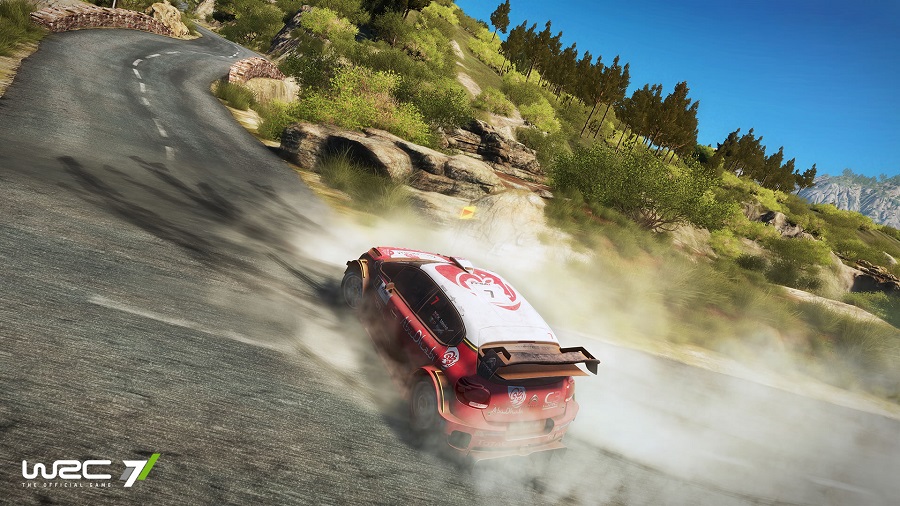 Indeed, you'll need to be wary of your throttle and braking inputs not to send the car into a slide, this is particularly true in sim handling mode with assists off on the heavy gravel surface which can be immense fun. This can be a real challenge especially if you have an "epic stage" awaiting you which will see you racing for over 10 minutes in most cases. Keeping a high level of concentration with the intense action that WRC 7 throws at you is certainly not for the faint of heart, and crossing that finish line brings as much relief as it does reward.
Of course with any game, there are some flaws, playing through the career mode, it becomes abundantly clear that the game lacks stages. Over 50 sounds a lot, however, it really boils down to about four rallies per country so you are left wanting more. Elsewhere, WRC 7 recycles the old co-driver which many fans have complained about, there's no option to remove the wheel and driver hands for those using a racing wheel, and there's still no option, to my knowledge, to change the speedometer from km/h to mp/h.
These things aside, WRC 7 is a satisfying racer which has a level of intensity which is unmatched by other recent racing offerings. Decent sounds and force feedback compliment the in-depth handling model to give a good sense of realism which few can match on dirt.
You can look out for our full review on WRC 7 in the coming days.