Following their TX Ferrari 458 Italia wheel, Thrustmaster has unveiled a new racing wheel for Xbox One: the Ferrari 458 Spider wheel. But while the 458 Italia wheel is a premium product, its sister Spider is a more affordable alternative; an entry-level wheel intended for racing gamers on a budget.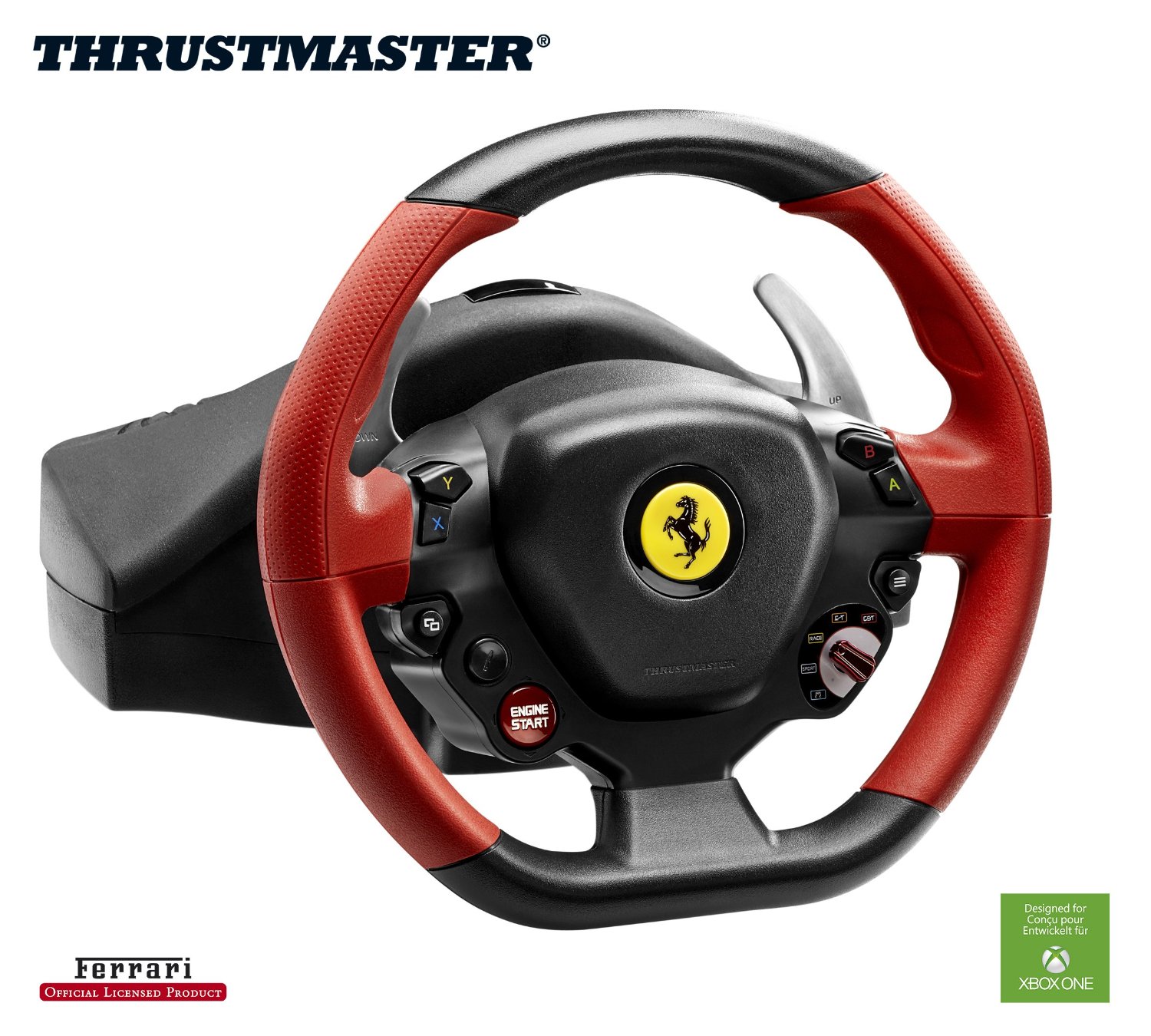 Let's gut this out the way: yes, you'd be right to assume that being a 'budget wheel' means the 458 Spider has no force feedback; nor does it have 900 degrees of rotation or a clutch pedal.
Instead, it has what Thrustmaster describe as a 'bungee cord system' that provides linear resistance throughout its 240 degrees of steering, regardless of the rotation angle. It also has automatic centering along with adjustable wheel sensistivity, with 4 presets available.
As you'd expect for an officially licensed Xbox One peripheral, the 458 Spider wheel comes equipped with all the necessary Xbox One controller buttons, including a Xbox Guide button, 9 action buttons, a two-position manettino dial, and a D-pad on the engine start button. It also caters for Kinect, featuring a Kinect LED for controller pairing.
As for the pedal set, you get a throttle and brake which can be adjusted individually. The brake also has realistic progressive resistance, which is rare to see on a budget set.
The Thrustmaster 458 Spider wheel will be available April 14th for $99.99 / 99.99€.
While Thrustmaster now have two wheels available for Xbox One to suit different budgets, PS4 players still have to make do with the entry-level T80 DriveClub Edition, as no high-end equivilant has been announced as of yet. Hopefully the release of DriveClub will prompt them to release another wheel…whenever Sony decides for that to happen.
Alan has been busy testing out the Thrustmaster TX 458 Italia on Forza Motorsport 5, so stay tuned for his coverage coming soon.