Lewis Hamilton won a rather lacklustre Grand Prix in Russia with the race being over at the first corner after a mistake from Rosberg resullting in writing off his set of tyres causing a first-lap pitstop. A recovery drive back to second place and 52-laps on one set of tyres was very impressive. Mercedes won the 2014 Constructors Championship this weekend and ended the four-year domination of Red Bull Racing.
As It Happened…

Lap 1: Hamilton lined up on the grid virtually pointing at Rosberg and got an electric start off the grid ahead of his teammate. Into the first corner Rosberg carrying too much speed locks up all four wheels, runs wide, cutting the corner and takes the lead. Being told to yield the position to Lewis, responds saying he needs to pit due to ruining his set of tyres. Home favourite Kvyat starting fifth had a porr first lap going down to eighth off the start and ended the first lap in ninth – whereas his teammate Vergne is in fifth.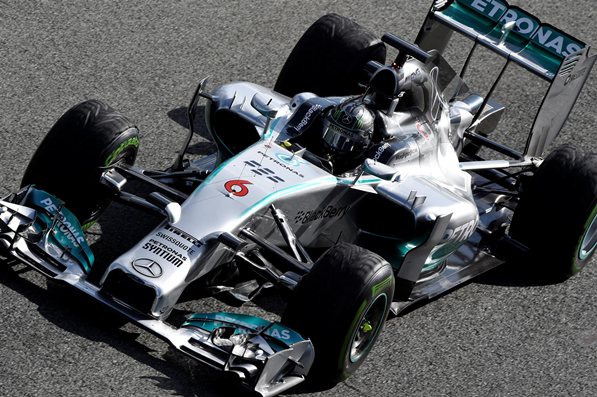 Lap 2: Rosberg comes out in 20th place and his strategy is, "to go to the end on this set of tyres". That is 51 laps of racing. Now we can see how Rosberg compares to some of the fight backs Hamilton has had to do this season.
Lap 7: Vettel who has fought his way up to sixth place is now being harassed by his teammate in seventh who comes on the radio to say he is losing time.
Lap 8: Rosberg is up to 16th place following Ericsson in 15th. Rosberg tells his team he is "racing to get to the end of the race" so not in an all out attack. He is currently 37.6 seconds behind Hamilton, or for now, about 12 seconds behind the points paying 10th place.
Lap 11: Bottas is running a very competitive 2nd place, just 2.7 seconds behind Lewis Hamilton. Max Chilton, running in the only Marussia car this weekend, enters the pits very slowly reporting an issue with his front-left.
21st: Chilton (Unknown)
Lap 12: Ricciardo pits and rejoins in 18th place. The estimated time loss was 25 seconds to take a pitstop, Ricciardo spent 30 seconds in the pits – with a 2.7 seconds stationary stop. Current top 10: Hamilton, Bottas, Button, Alonso, Magnussen, Vettel, Vergne, Raikkonen, Kvyat, Perez.
Lap 17: Lewis is coasting at present and even slowly extending his lead. With some drivers already pitting for new tyres, those at the top end of the field are pacing themselves well. You can't help but think this is a critical weekend for Button to state that he is still a very capable driver. Currently in third place, he is managing his tyres very well, and pushing ahead of a charging Alonso who once again is pushing above the weight of his Ferrari. One wonders where he really will be next year.
Lap 20: The fight back from Rosberg is progressing well. He comes into the points poaying positions with a bold move on Perez to take 10th place. The common theme during this race is one of varied race strategies – drivers are pitting very sporadically across the grid, not really certain of what works best around this Sochi circuit.
Lap 23: Rosberg comes on the radio to say that there is degradation appearing on the newer prime tyres. Hamilton comes on the radio to say the older option tyres are running perfectly… Unknown to the TV screens, Kobayashi has retired also.
20th: Kobayashi (told to retire the car by team)
Lap 26: Alonso pits and a Ferrari fumble on the front-right causes some confusion from the front jack man results in a sluggish 7 second stop. With pitstops now taking place across all the front runners we get to see shortly just where Rosberg is now running.
Lap 27/28: Hamilton pits from the lead and rejoins in the lead from Vettel who still needs to pit. Hamilton will go to the end of the race on these tyres.
Lap 29: Sutil has a wild spin at the start of the lap after a tussle with Grosjean, trying to go around the outside. A bit of a clumsy move but the stewards penalise Grosjean with a 5-second stop.
Lap 31: Vettel pits and rejoins in 8th place behind teammate Ricciardo in 7th. Meanwhile Rosberg attacks Bottas at turn two to take 2nd place. With Rosberg now 20.2 seconds behind Hamilton and on tyres that are now 30 laps old, can he hold on and stay there without stopping again?
Lap 36: Rosberg and Hamilton are swapping fastest lap times, and despite 34-lap old tyres is doing well. A radio communication has said he is on to "plan B" – does this mean a further pitstop? Current timings would put Rosberg down to 7th place. Button is now closing in on Bottas for 3rd place, 3.5 seconds behind.
Lap 40-41: Vladimir Putin and Mr. E share a greeting hug all of a sudden. It is certainly an impressive facility and start for Russia's entry on the calendar, although the racing is a little stale this weekend. Rosberg is asked whether he can get to the end, and despite saying he could do so, the times are starting to show he is slowing. He is 5.8 seconds ahead of Bottas in third, but if he hits the cliff on the tyres in the last laps of this race he will drop significantly. Entering the last 12 laps the top 10 is: Hamilton, Rosberg, Bottas, Button, Magnussen, Alonso, Ricciardo, Vettel, Raikkonen, and Perez.
Lap 46: Putin and Mr. E are now in the grandstands together watching the closing laps of the race. Bottas puts in the fastest lap of the race – the reality looking very much real now that if Bottas wants to finish second, he will need to take it on track in the dying laps.
5 laps to go: It is pretty much game over for the McLaren vs. Force India fight for fifth. Force India looking set to pick up a single point compared to McLaren's 22-points for fourth and fifth currently.
Final Lap: Hamilton is in control and easing the car around, lapping in the last couple of laps a second slower than the chasing pack. Rosberg has managed his tyres supremely well to make them last 52 laps and a great recovery drive. It is a shame we didn't see a battle between the two Mercedes drivers. Hamilton has driven consistently all weekend and thoroughly deserves this race to take the ninth of the year and 31st of his career. Mercedes secure the Constructors Championship for the first time also, with Rosberg in second. Bottas finishes in third with Button in fourth. Hamilton on the radio comments on the title win by saying, "History in the making".
Putin and Mr. E make a final appearance in the pre-podium room making the environment not at all awkward post-race.
Hamilton leaves Russia and heads to the final three races 17 points clear of Rosberg in the championship. How much of an effect the double-points in Abu Dhabi will have on this title looks set to be the ultimate decider.
Classified Results:
19th: Ericsson
18th: Maldonado
17th: Grosjean

16th: Sutil
15th: Gutierrez
14th: Kvyat
13th: Vergne
12th: Hulkenberg
11th: Massa
10th: Perez
9th: Raikkonen
8th: Vettel
7th: Ricciardo
6th: Alonso
5th: Magnussen
4th: Button
3rd: Bottas
2nd: Rosberg
1st: Hamilton