New information on Electronic Arts' (EA) Need for Speed reboot appear to have been revealed in the game's placeholder listing on the Xbox Games Store marketplace.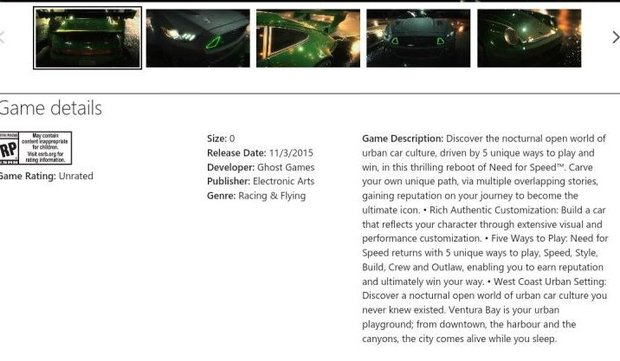 According to the product info (since removed, image pictured sourced from GamesRadar+), the upcoming Need for Speed game will allow players to "carve [their] own unique path via 5 multiple overlapping stories", which ties in with previous comments from EA stating this year's Need for Speed game will feature an "immersive narrative".
This "unique path" seems to be linked to the "5 unique ways" players can complete the game – according to the game description, reputation points will be awarded across five categories: Speed, Style, Build, Crew and Outlaw.
A brief mention of a "West Coast Urban setting" also matches up with the Los Angeles-esque backdrop seen in the Need for Speed teaser trailer that was revealed last week.
Finally, the listing states the new Need for Speed will be released on 3rd November 2015. Whilst it is possible this is a placeholder, it does match up with EA's claims the title will be made available later this year in the autumn.
These details are expected to be verified and (if true) further expanded upon at EA's E3 press conference on 15th June
Support Team VVV on Patreon: www.patreon.com/TeamVVV