These are words I didn't believe I was going to write this generation, however, I'm extremely happy to report that Need for Speed Heat now officially supports racing wheels.
Coming as part of a late January update, Need for Speed Heat now officially supports several racing wheels, as seen below (the development team also state that "a few others might work as well").
Thrustmaster T300RS (PS4, PC*)
Thrustmaster TX (Xbox, PC*)
Thrustmaster T150 (PS4, PC*)
Thrustmaster TMX (Xbox, PC*)
Logitech G29 (PS4, PC*)
Logitech G920 (Xbox, PC*)
Fanatec CSL Elite Racing Wheel (PS4, PC*, XB1)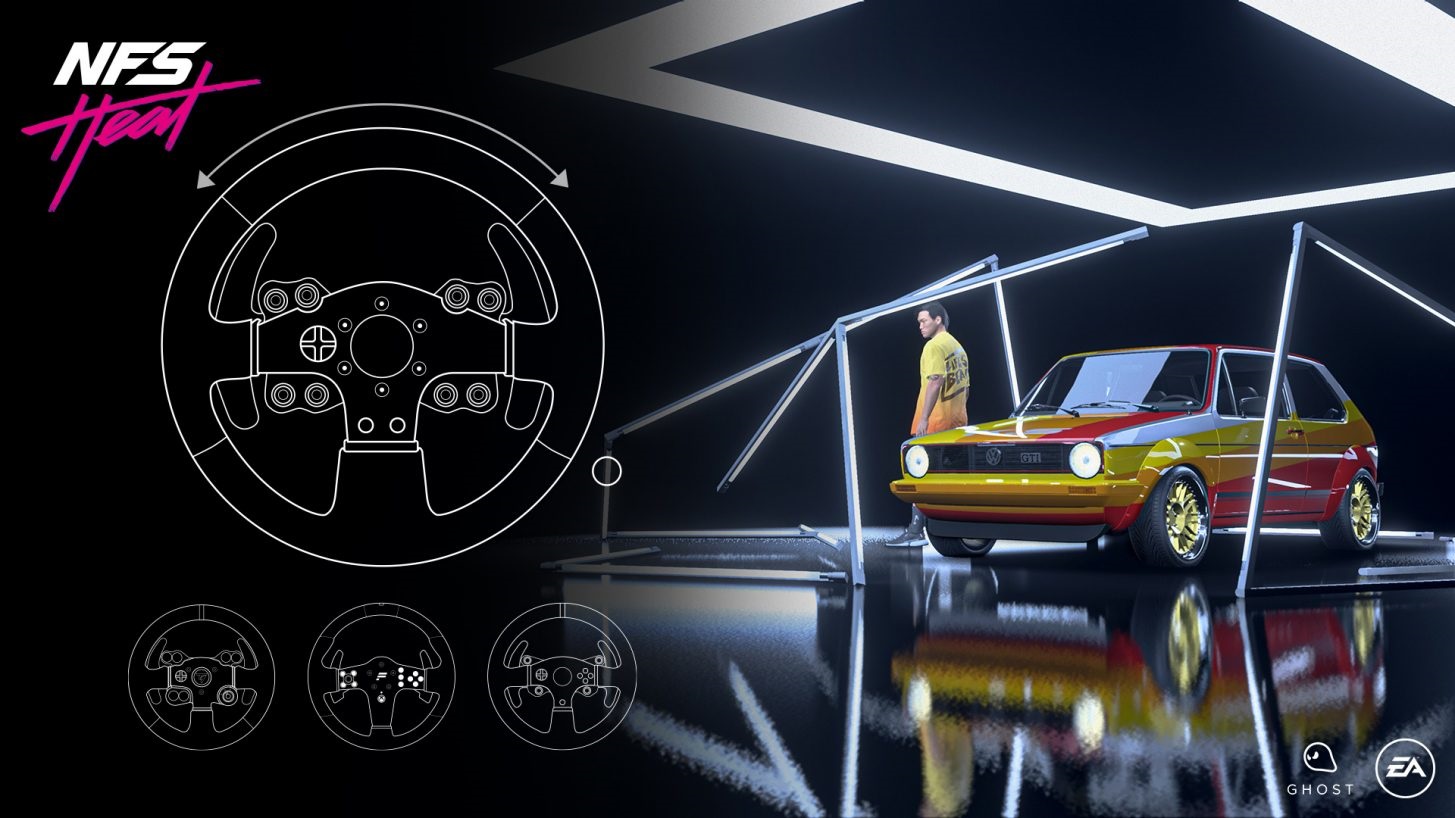 You'll need to make sure to connect your racing wheel before launching Need for Speed Heat, and that your steering wheel is assigned to your user profile. PC users may require to install the Logitech G Hub, regardless of the wheel manufacturer and model they are using. It's also worth noting that to access all features in the game, you will need to use a combination of racing wheel and controller.
Need for Speed Heat is a solid arcade racer that steers the long-running series in the right direction thanks to a varied range of missions, events, and mini-games. One of our long-running bugbears with Need for Speed is the lack of an interior viewpoint and wheel support – at least we can chalk one of these off with this recent update. Indeed, this update bodes well for the future of Need for Speed titles which one day may just have interior viewpoints coupled with racing wheel support, one can dream.
Besides the surprising addition of wheel support, the Need for Speed update also adds a 'Chat Wheel' allowing players to follow, challenge, or compliment the driving of crew members and rivals in the game session.
Elsewhere, players can purchase (for real money) the 'Keys to the Map' which will instantly reveal locations on the in-game map, including collectables, activities, and gas stations. You will have access to all but one of the safehouses too.
Finally, driving through a gas station will now clean paint damage and remove scratches. Those using manual transmission with a controller will no longer accidentally enter the garage after exiting it or start an event thanks to the button input change from a press to holding it down, handy that.
The Need for Speed development team has also teased more cars will be coming to Need for Speed Heat. We can't wait to get back into the Heat with our wheels.