Forza Horizon 2 developer Playground Games has released an all-new 'Bucket List' series of events for players to complete.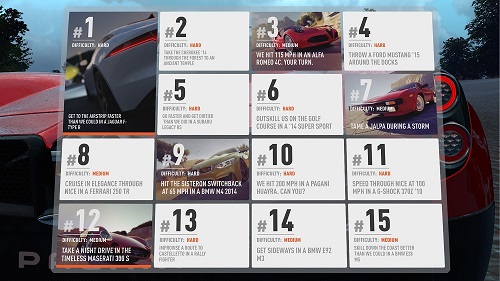 Brought to the game in the same update that accompanied the recently-released Falken Car Pack, the new 'Bucket List' is made up of 15 challenges, and brings the game's total Bucket List collection to 45.
Whereas the previous two lists were predominantly focused on Forza Horizon 2's two regions, this third installment instead revolves around the 'Beat Us At Our Own Game' premise: the skill scores and run times that players can beat have all allegedly been set by members of staff at Playground Games.
The challenges are also – as the official statement says – "designed with the skilled player in mind", with nine of the 15 Bucket List events being rated at the top 'Hard' difficulty.
Most of the challenges also feature cars that have been added to Forza Horizon 2 in paid-for car packs. However, Playground Games has stated that you don't need to have purchased the cars with real-life money in order to access them in their respective Bucket List challenges.
It is unknown at time of writing whether any more Bucket List expansions will be brought to Forza Horizon 2.
Image Source: Microsoft Studios/Turn 10 Studios/Playground Games