Following the Mantis Burn Racing PlayStation 4 patch earlier this month, Xbox One owners are now rewarded for their patience and can download the latest patch for Microsoft's console which brings some improvements to the top-down racer.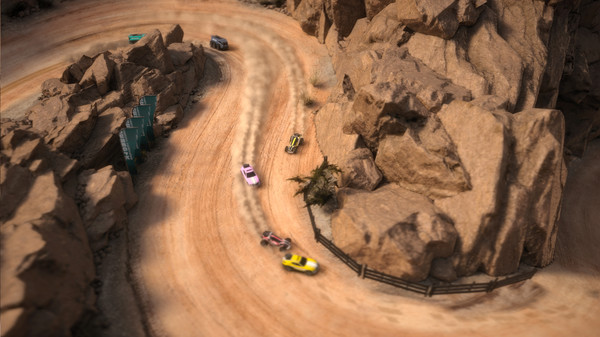 Much like the PlayStation 4 patch, the latest Xbox One patch from VooFoo Studios adds a new "Spotlight" single-screen multiplayer event. The update also makes improvements to the online experience with the introduction of a new lobby system including the chance now to race against AI drivers online.
"We're committed to supporting Mantis Burn Racing long-term and we want to encourage and support the multiplayer community, so we're really pleased that today's update brings some notable improvements to the online experience for our players" said Mark Williams, Voodoo Studio's Technology Director.
You can read our review for Mantis Burn Racing here, for the full patch notes see below.
Patch notes:
New 'Spotlight' event added – Play single-screen multiplayer in a battle to remain within the spotlight and be the final racer standing!
Extensive online stability improvements
'Punching above your weight', 'The bigger they are' and 'I'll bring it back without a scratch' trophies now never blocked from being unlocked
Players XP level now displayed in online lobbies
Online leader board now shown post-race
Mechanic tutorials added for Overtake and Hotlap events as well as x2 upgrades
Improved vehicle stat bar calculation
Ability to fast switch between career seasons
Time bonus for overtaking vehicles in the weekly Overtake challenge
Weekly Challenge distance units now change dynamically with players selection
Improved logic for vehicle overtaking
AI tweaks
Extensive engine audio enhancements
Fixed an issue where certain Achievements would be unlocked at the wrong times
Minor cosmetic bug fixes.