Since its announcement last month, details on FAST RMX for the Nintendo Switch have been sparse. The development team recently caught up with GameReactor and answered some questions on the upcoming futuristic racer.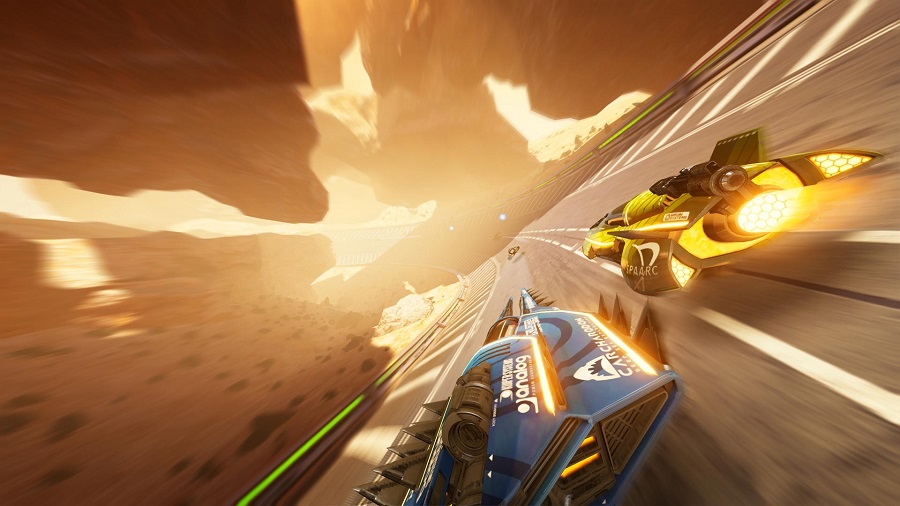 According to Shin'en Multimedia's CEO Manfred Linzer, FAST RMX, will share some common ground with FAST Racing NEO (which released exclusively on the Nintendo Wii U in late 2015 ), but will boast almost double the content along with some new "visual effects and many general improvements".
Linzer spoke of the importance of perfect controls and recognises the challenges faced with bringing their brand of racing to the Nintendo Switch. "There are a lot of things needed but perfect controls are truly essential for this kind of game. We almost worked a full year on the original game to get to a point where anyone could pick up the controller for the first time and have fun from the first minute. On the other side you can dive deeply into the controls to get the edge over your opponents."
"As the Nintendo Switch offers so many play styles and controls we kept them always in the focus. Playing with the Switch means you can change your play style or controller any time and we made sure Fast RMX makes it as simply as possible to do that. You can even setup your own controller layouts. That even works for every player in the local multiplayer mode."
FAST Racing NEO for the Wii U featured split-screen racing running at 720p and 60 frames per second (fps), however the development team had to lower the frame rate to 30 fps with three or four player split screen. Shin'en are taking full advantage of the Switch's extra power as Linzer explains, "On Nintendo Switch in TV mode we now have four player split-screen, at 1080p and 60fps with much more details enabled. For worst case scenarios we enable dynamic resolution scaling to make sure the game keeps 60fps in unforeseen situations, tho that's usually not something you can spot. "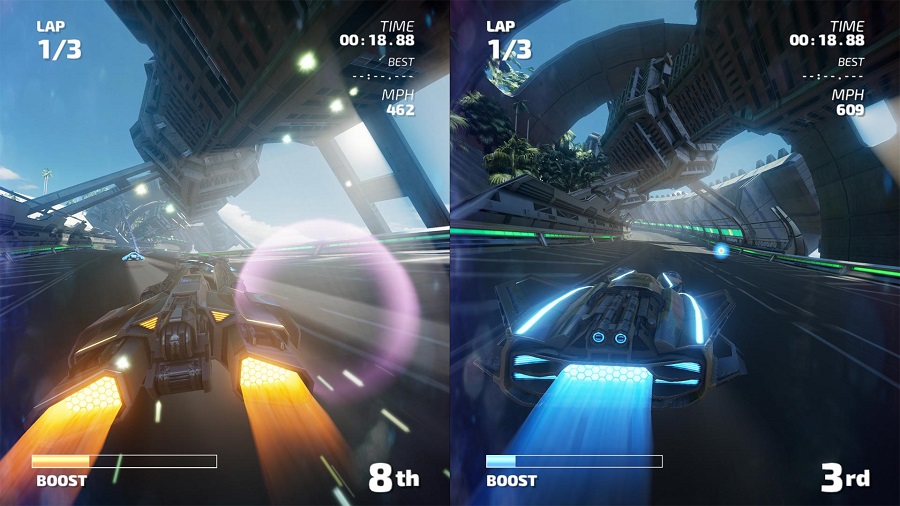 Of course the Switch offers great versatility with its portability and multiple control configuration, Shin'en has built FAST RMX from the ground up with this in mind. "It's been central to our development. After understanding what the Switch really offered to gamers we tried to make it feel all natural", said Linzer.
"Detach your Joy-Cons while playing, use them as single Joy-Cons or merge them and use them like a Pro Controller. Or simply use a Pro Controller. Change from the TV to Handheld mode anytime. You can do that all on the fly. For split-screen multiplayer we also support all controller combinations for up to four players. You can also play with up to eight players online on the internet or you can connect up to eight nearby Switch stations for local matches."
3D rumble is one of the features that the Switch's Joy-Con offers, Shin'en are impressed with the rumble and have implemented it in to FAST RMX. "We recently added HD Rumble to the game and it made a big difference", stated Linzer. "For instance, when you get in contact with something you now feel where it happens and what happens. It's not a simple On/Off rumble but you get tactile feedback about the position, where your vehicle really touched something. It adds a lot to the immersion."
FAST RMX features 15 futuristic racing crafts and 30 tracks set across many different locations such as alpine peaks, futuristic cities and canyons. RMX has split screen for up to 4 players as well as local and online multiplayer for up to eight players. FAST RMX will run at 1080p resolution and at 60 frames per second and is due to release exclusively for the Nintendo Switch "soon".