The WheelStandPro range has long been the best solution for racing fans without the space for a full rig or a desk to clamp their wheel to. A new version was recently released, the V2 DELUXE. It supports Fanatec and Logitech wheels. We tested it with the Fanatec CSR Wheel, CSR Pedals & CSR Shifter on Xbox 360 and PlayStation 3. It's available right now, priced at £89 for the UK.
Delivery of the WheelStandPro took only two days to the UK despite being manufactured in Poland. It was sent by DHL so it can be tracked too. On delivery you will find that everything is packed in nicely and it also includes tools to make mounting your wheel easy – such a wrench and allen keys. Unfortunately, there are no mounting screws included, so make sure you haven't lost those which were included with your wheel!
Hard-mounting your wheel is easy because the wheel deck is pre-drilled for a variety of models. There are also instructions for mounting your CSR or ClubSport Pedals to the base of the stand, but you're left to your own devices a bit if you're using Logitech Pedals. There's plenty of help online though.
Previous models of the WheelStandPro had a small problem in that the maximum height of the wheel deck was a little too low. This has been improved since then. I previously used a WheelStandPro with an old Logitech DFGT and this new stand is definitely more comfortable. It is terrific with most seating arrangements; from the sofa, to an office chair or racing seat.
A shifter mount is also included in the box. It attaches to the stand underneath the wheel on either side. Unfortunately, there isn't much room for adjustment and your shifter will always be in front of you at the same height as the wheel. Reaching forward, instead of down to change gears can feel a little unnatural. Of course, other wheel stands have the same problem.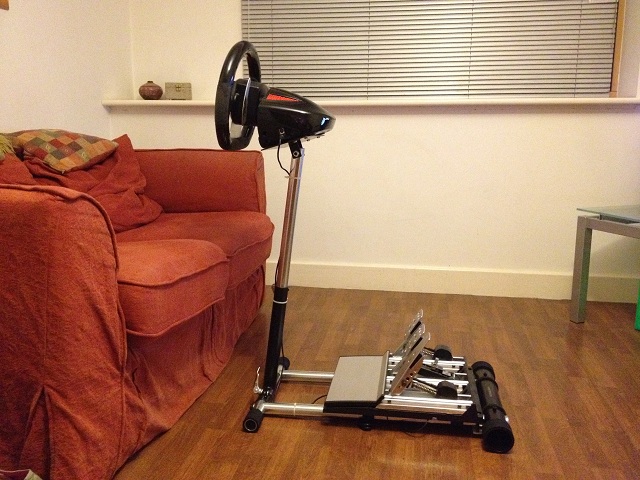 The V2 DELUXE has all of the usual great features that racers have come to expect from WheelStandPro. It folds away neatly for storage, has a pleasant finish on its metal parts and is very easy to adjust. Best of all, it's pretty much ready to use straight out of the box. It only requires minimal assembly. Fanatec users will also notice that it is significantly stronger and more rigid than Fanatec's own RennSport stand.
The WheelStandPro is perfect for players who are short on space. It's a great solution, at a great price and it really stands ahead of its competition.
About the writer: Joe Barron is the Community Evangelist at iPhone game developer, Kwalee. He is an avid racing gamer and has written sim & wheel reviews for GameSpot.com, CItizenGame.co.uk and HookedGamers.com. He's also a massive Ferrari fan!