Even WRC3 can't escape the enduring trend that the games industry has fallen into – the dreaded pre-order bonus bandwagon.
Just like Forza Horizon and Need for Speed Most Wanted, WRC3 will also contain cars that will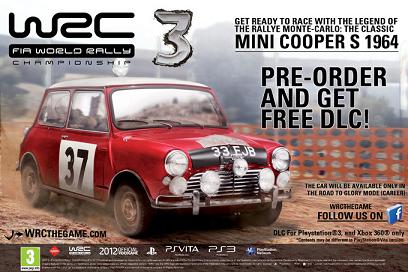 only be available to those who pre-order the game, starting with the 1964 Mini Cooper S. If however you don't pre-order WRC3 then the DLC will be available the day WRC3 launches for €1.99.
Of course, being a rally game it had to be the same Mini Cooper S driven by Paddy Hopkirk that won the Monte Carlo Rally, complete with the iconic red and white paint scheme.
The Mini Cooper S was first launched in 1961 and pioneered by John Cooper as a sport version of the nippy Mini Cooper, which later won the Monte Carlo Rally in 1964.
It makes its debut in Milestone's WRC series not long after it appeared in DiRT 3 and is the perfect partner for the trecherous Monte Carlo stage, which was a formidably tight and twisty track when it was released as DLC for DiRT 3.
According to Sales and Marketing Director Luisa Bixio, this particular Mini was one of the most requested cars by the community: "We are excited to announce the presence of one of the most loved cars into WRC 3. The reason we chose this specific car stems from our monitoring of the communities. From which we've noticed that the Classic Mini Cooper S 64 was one of the most requested cars. Furthermore, we would like to offer our fans a 360 degree rally experience, that mixes classic and modern elements."
We're told that the Mini Cooper S will be restricted to the Road to Glory portion of WRC3, i.e. the main career mode, however. Seems like an odd decision, so perhaps it will only feature in a special Monte Carlo event that mirrors the 1964 event.
Judging by the fact the video refers to the car as "DLC #1," expect more WRC3 DLC to crop up prior to its release on October 10th.