The Thrustmaster T300 is an outstanding wheel, and we heartily recommend it if you want to enhance your racing experience on PS4 or PC. However, there are still a few niggles: chief among which is the tacky texture of the wheel rim. Whereas most of its competitors are coated in authentic alcantara and luxurious leather, i.e. the sort of materials you would find on a real steering wheel in a real car, the T300 is blemished with a cheap-feeling rubber texture you'd expect to find on a plastic toy, despite it being marketed as a premium peripheral. Luckily however, there is a solution.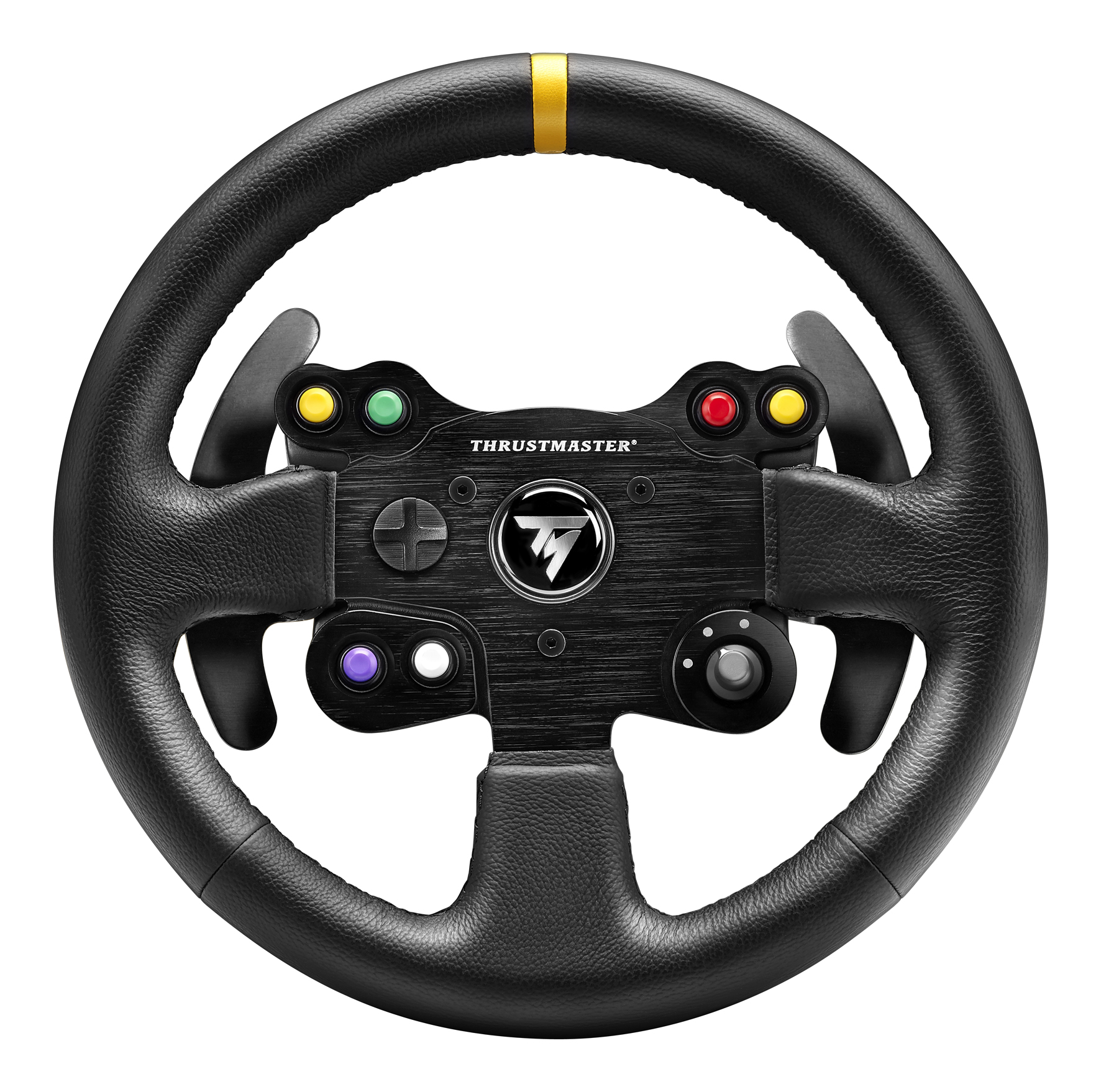 Being part of the Thrustmaster eco-system, the T300 supports inter-changeable wheel rims, so you can swap the stock T300 rim for one of many wheel rim add-ons available, such as the F1 rim. And now there's a new member in the family: welcome to the TM Leather 28 GT Wheel, which is compatible with all Thrustmaster T model wheels: the T300 RS, T300 Ferrari GTE, T500 RS, Ferrari F1 Wheel Integral T500 and TX Racing Wheel Ferrari 458 Italia Edition
In what seems like a response to the criticisms aimed at the T300, the GT's biggest selling point is its lavish leather exterior. Measuring at 11 inches/28 cm in diameter, the GT-style TM is wrapped in genuine hand-stitched leather for an authentic feel, with a molded polyurethane ring and an internal hoop made of steel – a technique employed by real car manufacturers.
Elsewhere, the wheel's central plate has been constructed out of high quality brushed steel, as have the mounted paddle shifters, which are 5.1 inches/13 cm tall allowing for easy access. The button layout should also be familiar to Thrustmaster users: the TM will sport six main action buttons, a d-pad and a 3-position rotary switch.
It's light, too: the 2.2 pounds/1 kilogram only weighs 2.2 pounds/1 kilogram, which will enhance the responsiveness of the force feedback.
The only snag is the asking price: the TM will retail for £129.99/149,99 Euros/149.99 Dollars when it goes on sale some time this month, which seems steep for a wheel rim add-on, no matter how premium its materials are. Would you be willing to pay this? Let us know in the comments below.