Representing the fourth pillar of Project CARS' four ways to play the game (Career, Solo, Online and Community), the Driver Network is described as an "always-accessible suite of features focused around allowing players to connect, compare, share and compete against each other". The Driver Network features several different categories, right now I'm am focusing one of of these areas – the Driver Network Profile.
The Driver Network Profile screen (as seen below) is divided into three sections: experience, affinity and online performance. This screen allows us to see an overall picture of our progress through the game's different modes. The layout is very clear and clean and acts as a handy way of keeping up to date with our stats at a glance.
The 'Experience' column shows us how many hours we've sunk into the game and how many races we've actually entered. We also get to see how those total hours are divided between Project CARS' aforementioned four pillars of the game. I can imagine my personal stats will probably show well over 90% of the time spent in the career mode, what modes will be your focus?
Below the experience stats, within the same section, we also get a further, nice and simple, graphic showing us the percentage of our total time spent between racing, qualifying and tinkering with our car's setup.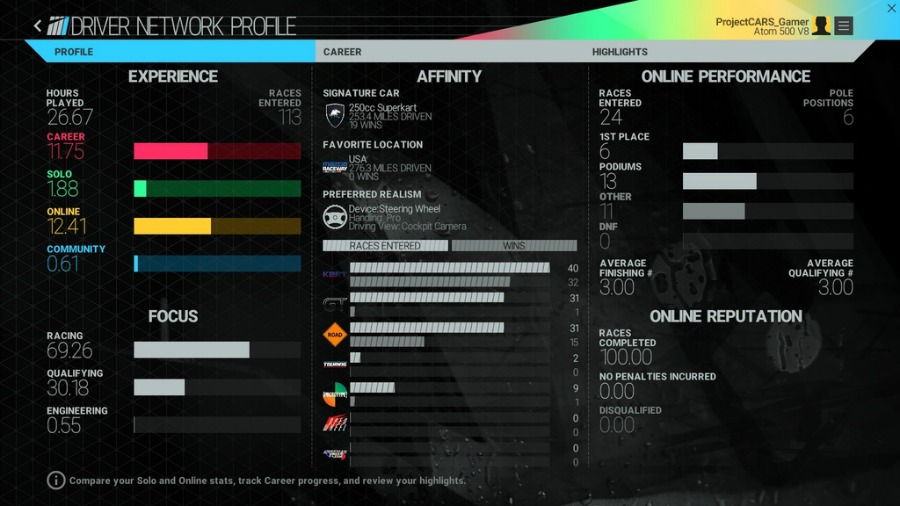 The next column entitled 'Affinity' gives us a run down of our favourite car, showing the miles (or kilometers presumably) we've clocked in and number of race wins we have achieved with it. Our favourite track is also listed, again detailing the distance we've covered and total number of wins achieved there. Furthermore, the game lets you know our preferred settings including whether we use a racing wheel or controller, the handling difficulty setting we've used the most and our favourite driving view. Personally I'll stick with the cockpit view, perhaps with the helmet feature, what is your preferred viewpoint?
Below the stats mentioned above we also get a nice rundown of the different classes of races we've entered along with the number of wins, these classes range from Road and Karting to Formula and Le Mans Prototype racing.
The third and final column in the Driver Network Profile screen gives a snapshot of our overall performance in Project CARS' online mode. We see how many races we've entered and how many pole positions we've managed to obtain through qualifying sessions. Of the total number of races completed we get a run down of our positions including number of first places, podiums and DNF's.
We also get to see our calculated averages of finishing places in races and our average qualifying position. Below that we can check out our online reputation, showing us our number of races completed, along with the number of penalties accrued and number of times disqualified. I feel this is a very nice touch and should help to make us more friendly conscious drivers as we want to do our best to keep our stats in good standing even if we are the only ones that might see them!
For more on Project CARS check out our YouTube channel.
Support Team VVV on Patreon: www.patreon.com/TeamVVV.