It's been almost 30 years since the original Spy Hunter was deployed into arcades. After numerous remakes with mixed success in the last generation, TT Games are once again rebooting the series exclusively for the 3DS and PS Vita.
Announced a few months ago, players will once again take on the role of The Agent, driving the latest incarnation of the Interceptor through a series of action-packed missions to thwart the plans of a global terrorist organisation.
A new trailer, yes you guess it, released for that German games show you may have heard about this week, shows the Interceptor in action in what is our first glimpse of gameplay from Spy Hunter. Its arsenal of gadgets would surely make James Bond jealous, as we see the Interceptor obliterating enemy vehicles with missiles, transforming into other vehicles to continue the action on water and off-road and even bulldozing through a helicopter. Still can't forgive them for that red paint job, though.
Graphically, Spy Hunter still isn't looking particularly special, but it's unclear whether or not the footage was lifted from the Vita or 3DS version. We're hoping that it was from the latter as you would think the Vita game would look substansially better, particularly after seeing what Criterion can do with Need for Speed Most Wanted on Vita.
Of course, it's the gameplay that really matters and it's surely hard to go wrong with a game that lets you drive a souped up car with mounted weapons. If its executed well and does the license the justice it deserves, Spy Hunter should be a fun, accessible and action-packed romp that's well suited for the handheld market.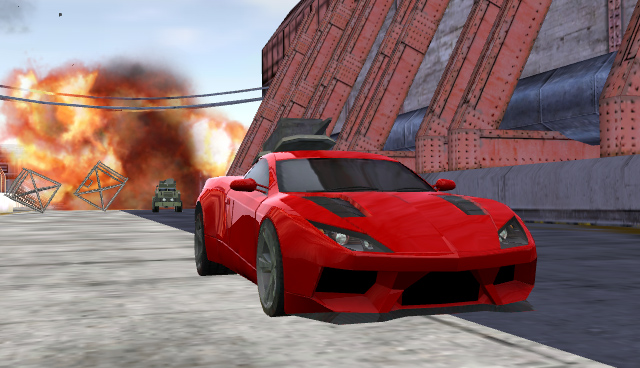 We're curious as to why they decided to make Spy Hunter exclusive for 3DS and Vita, as it's the sort of game you can imagine succeeding as a digital download on PSN and XBLA. Nevertheless, the Vita in particular is in need of some quality driving games, and TT Games are said to be utilising its potential by incorporating rear touch panel support to easily use items, front camera support, and 2-4 player local multiplayer.
With Need for Speed Most Wanted and WRC3 also being released later this year, Vita owners are finally starting to receive some potentially brilliant driving games that do the hardware justice. While Most Wanted and WRC3 will probably have better production values, Spy Hunter has the advantage of being a unique IP rather than a direct port which should put it at an advantage.
Spy Hunter will be blasting its way onto Vita and 3DS this October according to the trailer. Until then, check out the latest screenshots below.
Has this latest reboot rekindled your love for the original Spy Hunter? Disappointed Spy Hunter won't be released on home consoles? Share your thoughts with us by commenting below, on our Facebook page and our new forum.