Project CARS developer Slightly Mad Studios has announced the first in-depth details on the game's various singleplayer gameplay modes.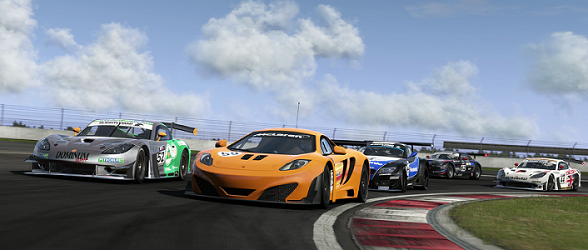 According to Slightly Mad, players will be able to experience the game's core career mode in a multitude of different ways: for example, should pCARS players wish to pursue the single-seater route, it's possible to start off in the rookie tiers and work up the ranks, or jump straight into the modern open wheel racing cars.
Beyond the main career feature of the game, it's also possible to tailor races to your exact requirements with the 'Quick Race' function: here, players can tinker with a variety of options and settings, ranging from the cars and tracks, the number of laps, how quickly the time of day passes, the weather and track conditions, and even whether there are warm-up laps before the race.
Slightly Mad Studios believes the 'Quick Race' will be used by players to create "some amazing events", which is why players will be able to save their most prized settings in a specific in-game 'Favourites' folder.
A 'Free Practice' mode will also feature in Project CARS, which – as it's name suggests – allows players to experiment with cars, tracks and set-ups without the pressures that come with a race or a qualifying session.
Unlike similar events in other racing games, however, pCARS' Free Practice mode won't come with lap counters or penalties. In fact, Slightly Mad Studios likens this gameplay type as being more like a virtual "track day" instead of your standard fare time trial mode.
Slightly Mad Studios has also announced the first details of its 'Pit2Car' in-game team radio feature: according to the studio, Ben Collins – the former racing driver, ex-Stig and handling consultant for Project CARS – has lent his vocals to provide over 600 lines of dialogue in the game. Collins' in-game narration will be used to notify players of "weather changes, incidents around the track, changes in race position and timings, corner information and more".