News

Second Assetto Corsa Content Update patch adds mid-engined sports car medley and track variations
News
The second 'Content Update' patch for Assetto Corsa has just gone live, adding a trio of mid-engined British performance cars and two new track variations to the open beta PC racing sim.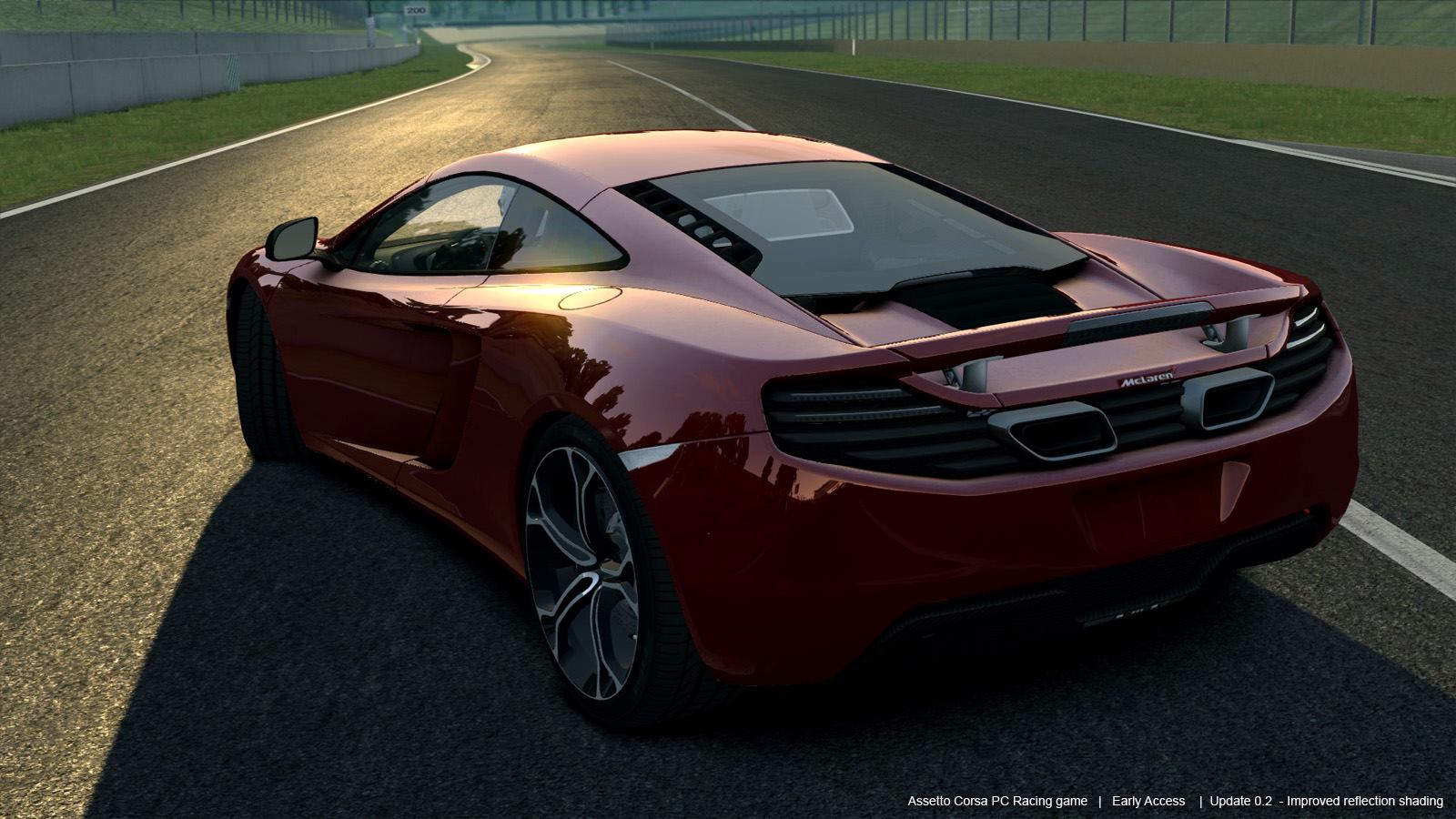 Flying St George's Cross for us Brits in Assetto Corsa are three of the country's most critically-acclaimed mid-engined performance cars in recent years: the McLaren MP4-12C, the Lotus Evora S and the Lotus Exige S Roadster.
Two new tracks have been added to locations already featured in the AC open beta: Silverstone's Grand Prix circuit is now available to hot lap on, and anyone already feeling a sense of deja vu with only one purpose-built drift circuit now have Vallelunga's Club-Drift venue to have some oversteery fun on.
On top of more content being added, the patch also adds more technical details to the open beta itself, with our love for pretty, realistic graphics here at Team VVV automatically drawing us to the "improved reflection shading" point in the patch notes (the list of changes in full can be seen below):
Assetto Corsa 'Content Update' 2 Patch Notes:
Added McLaren Mp4-12C
Added Lotus Exige S Roadster
Added Lotus Evora S
Added Silverstone GP track
Added Vallelunga Club track
Fixed broken right side on OculusVR
Improved reflection shading
Implemented save setup on exit
Added saturation control
In game telemetry – fixed seconday bugs
Python :: added isAcLive method to know if the simulation is active or not
Fixed showroom triple screen central view bug
Xbox 360 gamepad steer speed exposed
Track cameras improved
Drift mode: fixed rear gear drifting
Replay length setting exposed
Fixed circular replay
Fixed backfire flames on non-hdr rendering
New shared memory implementation 1.0 (Physics, Graphic thread and static info)
Tyre wear rate is now honoring Realism settings
Fuel consumption is now honoring Realism settings
Improved BMW M3 e92 (all variants) interior and exterior sounds
Added exterior gear shift sounds
Tweaked tyre scrub pitch variation for some cars
Added damper adjustments in Lotus 2-11 and Scura
Adjusted engine brake in Lotus 4 cylinder engines
Fixed bugs with Toe setup values in Tatuus FA01
Added Chinese & Russian localizations
Added camera shake & g-force effect view options
Added Xbox 360 gamepad steering speed option
Added new event hooks for loading external launcher modules (loadModules &beforeLoadModules)
Fixed various minor layout problems in launcher default theme
Fixed Drift mode end session
Fixed unlockable achievements
Fixed replay interface animation
Fixed long output logs on system timer drift detection
Fixed auto shifter (ctrl+g) for wheel [now requestedCarIndex is reset when shifter is not active]
Fixed achievements on replay
Fixed time attack penalty on restart