The latest update for Assetto Corsa has been released, bringing new content and tweaked features to Kunos Simulazioni's Steam Early Access PC racing sim.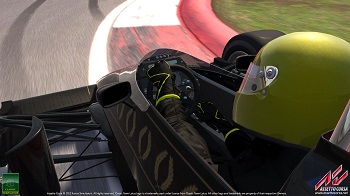 Headlining Assetto Corsa Version 0.21 is the inclusion of an all-new car for the title: Lotus' 98T F1 car, which was driven by Johnny Dumfries and Ayrton Senna in the 1986 Formula One World Championship.
Other noteworthy features in the new AC build include revised tyre damping simulation for every car in the game, alterations to the 'Ideal Line' racing line assist, new graphic engine improvements and culling AI drivers from online multiplayer events.
All of the changes made to Assetto Corsa in the 0.21 update can be found below:
Multiplayer Gameplay improvements
Implemented booking-less server joining
Shader fixes and improvements
Fixed AI starting at the same time in qualify
New Car: Lotus 98T
Changes in speedometers visualization depending on UI options and car design
Ideal Line improvements
Dynamic wing controller now use setup value as initial angle value.
Time Difference displayer improved
Fixes in Replay for cars with animated suspensions
GUI forms default position not overlapping with system messages anymore & GUI Improvements
ksEditor updated with the latest graphic engine improvements
Disabled AI in multiplayer events
Fixed crew placement in multiplayer events
Fixed mirror rendering bug
Adjustable brake balance in the physics brakes.ini file
Fixed wrong time reported after Booking
//www.youtube.com/embed/_3urcyyn02U?rel=0