The first in-game preview of a licenced Alfa Romeo in Assetto Corsa has been released by developer Kunos Simulazioni.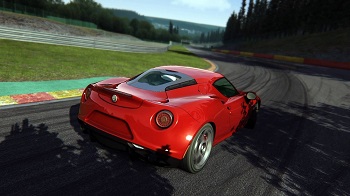 Featured in the image is the 4C mid-engined sports car, the most recent addition to the Alfa Romeo road car range, and one-third of the licenced Alfas set for the Steam Early Access racing sim.
Whilst the preview does confirm the car is currently being developed by Kunos Simulazioni, it's unknown at this moment in time whether this confirms the 4C will be the free add-on the studio referred to upon announcing the Alfa Romeo licence acquisition.