The Japanese Pack DLC for Assetto Corsa has been released alongside its very latest version1.6 update bringing with it a range of Japanese favourites.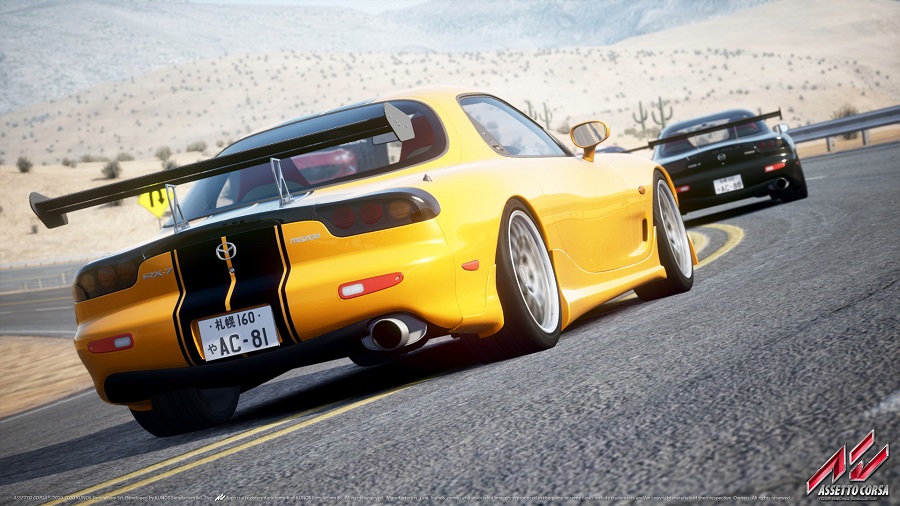 There are seven Japanese models included, three of which have either a tuned, time trial and/or drift varient to give an impressive grand total of 12 cars as seen below.
– Mazda MX-5 2015
– Mazda RX-7 Spirit R + tuned version
– Toyota AE86 Trueno + tuned and Drift version
– Nissan GT-R R34 Skyline V-Spec
The Japanese Pack can be purchased on Steam and currently costs just £3.99.
The version 1.6 update for Asseto Corsa includes pre-alpha support for the Oculus Rift VR headset along with the usual plethora of bug fixes and small enhancements. You can view the full v1.6 update changelog below.
Support TeamVVV on Patreon: www.patreon.com/TeamVVV.
Changelog 1.6.0
– Oculus Rift SDK 1.3 (WIP Pre Alpha)
– Fixed wrong log output
– Added RPMS input to dynamic controllers
– Fixed replay Interface
– Fixed race non progression when player is not moving
– Improved AI fuel handling
– Fixed deltaT for renderAudio
– Bodywork's smoothvalue use a different alpha
– Added option to draw driver's label on focused car (systemcfgname_displayer.ini -> DRAW_FOCUSEDCAR)
– Implementation of Chat App (systemcfgchat_app.ini)
– Timing use also the hour/minutes format
– Added 4 Wheel Steer systems (Nissan Skyline , Mazda RX7)
model/skin, so through drag&drop the saved skin can be used on a new
– Added flags indications for completed session in leaderboards
– Added new [ASSETTO_CORSA] SIMULATION_VALUE parameter. Increase the
– Engine performance is now dependent on air density/temperature
– Fixed pitstop window not appearing when AI retired some car
2-11, Exige Scura, Exige 240 and S3, Lotus Elise SC, KTM X-Bow, Mazda
– BOP for GT3 cars
– Improved Mercedes AMG GT3 data