It's not uncommon for racing games to have limited edition releases with exclusive cars or other incentives. Grid Autosport is no exception, as Codemasters has announced the a limited Black Edition which does just that. And no, it's not a coincidence the extra car is a Mercedes Black Edition.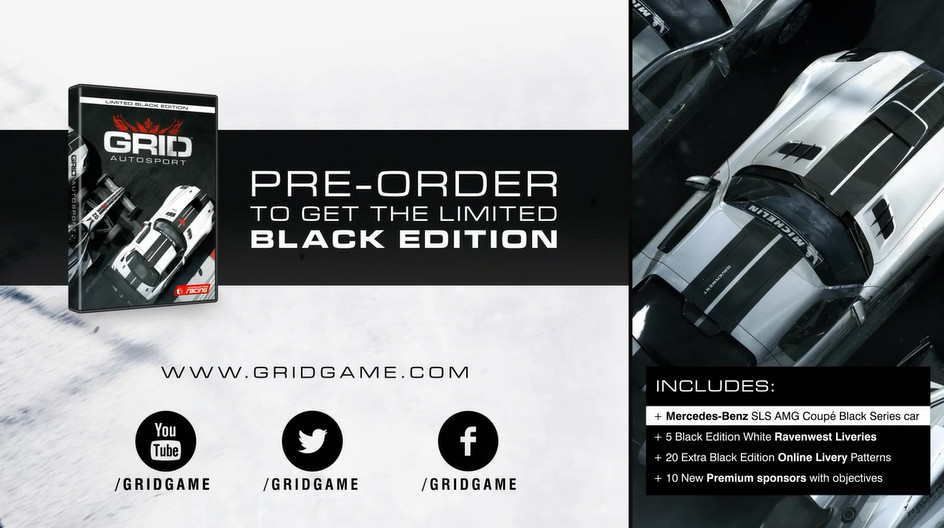 Fortunately, Codemasters has certainly learned their lesson this time: Grid 2 was confusing cocktail of retailer-specific pre-order bonuses, meaning you could never own all the content available in one definitive release. Grid Autosport Black Edition is a much more simple proposition, however.
"One of the key bits of feedback we took from GRID 2 was that you didn't care for a wide spread of pre-order bonuses, you wanted something more simple, tracks were a no-go and most importantly, you wanted something that wouldn't fragment the Community itself" Community Manager Ben Walke wrote.
"All these thoughts were taken into account when devising the GRID Autosport pre-order offering, so, with this in mind we'd like to introduce you to the Black Edition."
//www.youtube.com/embed/VEnJkq2rvzQ
As such, the Grid Autosport Black Edition will net you the following bonus content:

Exclusive Mercedes Benz SLS AMG Coupé Black Series car
Exclusive Black Edition white Ravenwest liveries for Black Edition cars
Online premium sponsors
20 extra 'Black Edition' online livery patterns
10 new sponsors with objectives
Grid AUtosport Black Edition is currently available
exclusively to GAME
and can be preordered for £39.99.