The version 1.2 update has gone live for Gran Turismo 6. The new update introduces all three versions of the SRT Tomahawk Vision Gran Turismo car and the Goodwood Hill Climb also gets a small update.
As mentioned, the SRT Tomahawk vision GT car comes is three different versions. The SRT Tomahawk S Vision GT may be the entry level car of the three but it still has incredible statistics. The 7.0 litre V10 engine delivers a shade under 800 bhp, couple this with the pneumatically driven front wheels and you have a total power output of over 1000 bhp.
The SRT Tomahawk GTS-R Vision GT is the race spec Tomahawk and boasts 1137 bhp from its V10 engine. The front wheels in this case are air-driven which provides an extra 313 bhp for a total system output of 1450 bhp. Seeing as this race car only weighs 1459 pounds (the lightest of all three versions) the car is good for a top speed over over 300 mph.
If you thought the race spec Tomahawk was crazy good, wait until you get a load of the SRT Tomahawk X Vision GT (pictured). This is the ultimate version of the three and houses a range of experimental technologies. The V10 engine revs to 14,500 rpm and produces a colossal 2,168 bhp. The front wheel drivetrain adds an additional 422 bhp at its peak giving the SRT Tomahawk X a total power output of 2,590 bhp. With so much power it comes as no surprise that the "car" has a top speed of 404mph. Indeed the car isn't driven but piloted, the person needing to wear a G-suit to withstand the extreme forces when tackling corners.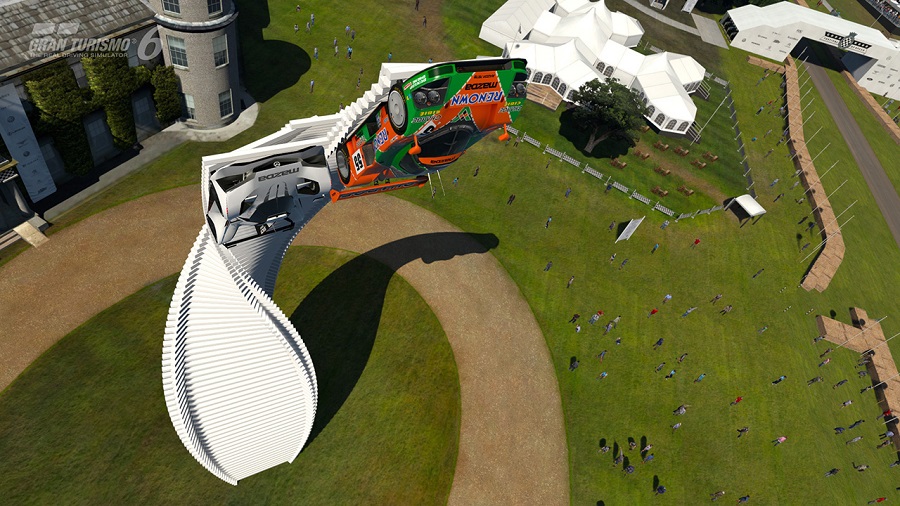 Additionally, for a limited time only, a new Seasonal Event will feature the new Goodwood Hillclimb and the Mazda LM55 Vision GT car. Achieving a bronze award or better will gift you with the Mazda LM55.
Did you try out the bonkers SRT Tomahawk X?
Support Team VVV on Patreon: www.patreon.com/TeamVVV.