It's be a bit of a wait, but Turn 10 has finally revealed what the cars available in the Forza Horizon 'VIP Pack' are. And, being in a game that focuses on an action-packed experience with some of the greatest cars in the world, on some of the greatest driving roads in the world, it's not too surprisng to hear that the cars that are part of this VIP pack are rather meaty motors.
It's also been announced that, in the days and weeks before the game's eventual release, at least some of the cars that'll feature in Forza Horizon will be announced, so we'll be doing a weekly round-up of all the autos that've been revealed so far.
But anywho, let's get back on track and focus on the rather tasty cars that'll be made available for the VIP members.
Audi R8 GT Spyder
When it comes to deciding what the flashiest Audi R8 is, it's a tough scuffle between the R8 Spyder and the R8 GT. It seems, though, that the folk at Ingolstadt have ended this most-likely fictional debate by blending the two together, by creating the R8 GT Spyder.
Though the GT Spyder is quite a porky car – even with the 85kg weight saving over the standard R8 Spyder, it's still weighs in at 1.7 tons – the most expensive Audi of all time is still no slouch. After all, it does have a 552bhp 5.2 V10, which is good for a sprint to 60mph in 3.7 seconds, and a top speed of 197mph.
It also comes with Audi's acclaimed quattro four-wheel drive system, so even should it rain in the virtual world of Forza Horizon (it hasn't been officially confirmed that dynamic weather effects such as downpours will feature in the game), there's nothing that'll stop the R8 GT Spyder when you're thrashing it along twisty canyon roads.
That is, unless a landslide crashes down on your drop-top supercar. Then again, we highly doubt the folk at Turn 10 and Playground Games decided to implement that environmental eventuality into the finished game…
Koenigsegg Agera
Unless the Bugatti Veyron of SSC Ultimate Aero TT end up being confirmed in Forza Horizon anytime soon (which we wouldn't count against, as both cars are already in Forza 4), the Koenigsegg Agera is, by quite some margin, the fastest and most powerful car that we know will definitely be in the upcoming open-world racer.
Though it hasn't got the biggest engine of an in-game car (that accolade belongs to the SRT Viper, with its 8.4 litres of V10 goodness), by golly does it pack one helluva punch! How does a 5.0 supercharged V8 with 927bhp, which translates into a sub-3 second sprint to 60mph and a 250mph top speed, sound? Certainly not disappointing or weedy!
Of course, being an uber-exclusive hypercar that tussles with some of the most exotic road cars in the world, it's incredibly likely that it'll be worth many credits in the game. And we strongly advise that, initially at least, you keep the traction control on…
Lamborghini Sesto Elemento
The Italians can make anything sound sexy, can't they? They can even make chemistry and the Periodic Table sound evocative and interesting! For example, 'Sesto Elemento' translates into English as 'Sixth Element'.
At least it hints as to what this new track-only Lambo is made out of – almost everything you can see on the Sesto Elemento is made out of carbon fibre. Which isn't too surprising, as the development of carbon-fibre reinforced-plastic is turning into an area of expertise for Lamborghini (not bad, considering it was making tractors 50 years ago).
Considering it's made almost entirely of CRP, the Sesto Elemento is incredibly light (just 999kg, to be precise). As a result, even though it has the least powerful Lambo engine mounted amidships – a 5.2 V10 from the Gallardo with 'only' 560bhp – it should be one of the faster cars you'll get the honour of driving in Forza Horizon.
Pagani Huayra
Replacing the amazing Zonda was always going to be a tough thing for Horacio Pagani and his small crew at Modena to pull off. After all, Pagani's first ever road car was a truly fantastic machine, and many have cited it as being the ultimate expression of what a supercar can be.
Considering the Zonda's successor would be heavier, have a more pronounced focus on luxury and feature turbochargers, some weren't sure the Huayra would be a better all-rounder than the Zonda
But it seems that all the sceptics and doubters were proven wrong, as the Huayra is a rather brilliant car. Not only does it have 730 hp and, despite weighing 200kg more than the Zonda, the same torque-per-tonne ratio as a Bugatti Veyron, but the lucky folk who have driven it all say it's just as exciting and as (relativley speaking) 'easy' to drive as you'd expect from a Pagani.
Looks like the newest entry into the Pagani family tree is more than worthy of its status as the 'successor to the Zonda'. And, in the world of supercars that are worth six or seven-figure sums of money, praise doesn't come much higher than that.
Ruf Rt 12 R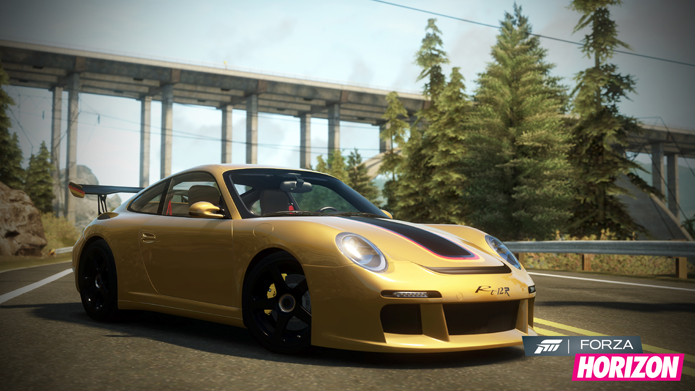 The aforementioned Pagani isn't the only 730hp road rocket that's featured in this VIP Pack – Ruf is also making a very special appearance, being represented by the very ballistic Rt 12 R.
As the single letter at the end of its name suggests, this Ruf is a faster, 'R' rater of the already very quick Rt 12. Whilst that car has to make do with a top speed of 'only' 227mph (and that's with the extended gear ratio option), Ruf claims the 12 R can monster its way beyond the 230mph barrier.
It also comes with 4WD as standard, which should make the performance this car has that little bit more easier to manage. However, Ruf does offer the Rt 12 R with the option of RWD, so if that version has been modelled, you'll be well aware of it if you turn all the assists off and floor the throttle mid-way through a corner!