All 29 achievements for Forza Horizon 3's upcoming Hot Wheels Expansion have been detailed ahead of the DLC's release next week.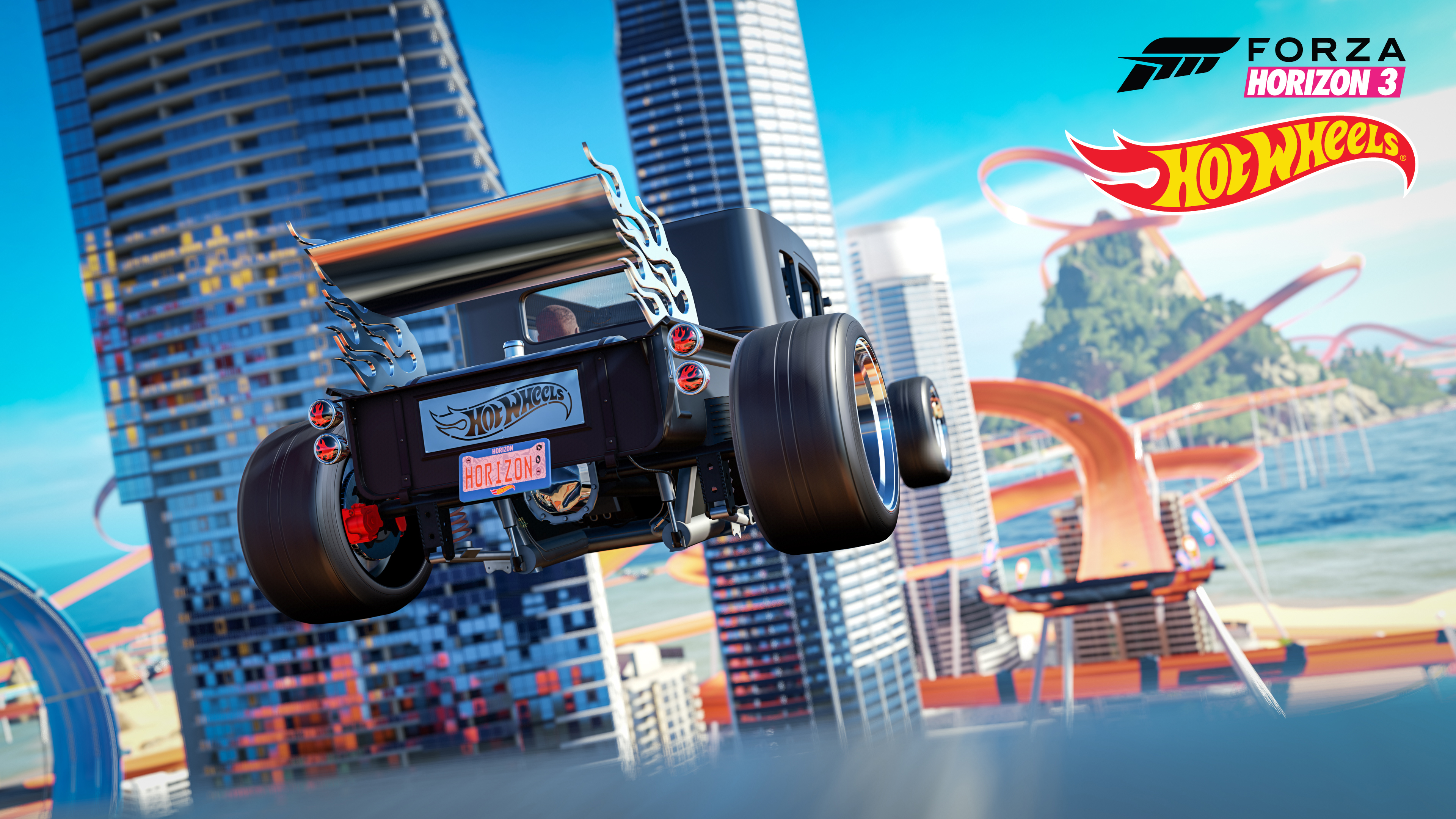 First revealed on the official Forza Motorsport website, the new set of achievements (worth 500 Gamerscore in total) now bump up the total Gamerscore value of Forza Horizon 3 to a round 2,000 points.
The new achievements also reveal additional details on the content included in the Hot Wheels Expansion. For example, it appears players will unlock campaign races in a linear fashion, with events seemingly being restricted to Performance Index classes from D class right up to S2 Class.
Also mentioned in the achievements list is a 'medals' system, which will likely operate in an identical manner to the 'stars setup in the Blizzard Mountain expansion. The identity of the DLC's barn find appears to have been confired via the achievements list too, as the 1932 Ford De Luxe Five-Window Coupe – the oldest ever car to be included as a drivable vehicle in a Forza game.
The full list of achievements for the Forza Horizon 3 Hot Wheels Expansion has been detailed below:
Welcome to Horizon Hot Wheels (10G)
– Survive your first drive at Horizon Hot Wheels
– Acclimitise yourself and complete your first race at Horizon Hot Wheels
– Swap out a stunt for another of your choosing using Stunt Swap Blueprint
– Master a track by earning three medals for the first time at Horizon Hot Wheels
– Prove you have the chops to unlock A Class events at Horizon Hot Wheels
– Master A Class events to unlock S1 Class events at Horizon Hot Wheels
Hope You Can Handle It (30G)
– Unlock S2 Class events, the final challenge at Horizon Hot Wheels
Hot Wheels Champion (50G)
– Hold your nerve to win the Ultimate Hot Wheels Finale
Hot Wheels Hardcore (30G)
– Complete all races at Horizon Hot Wheels
Hot Wheels Stunt Master (30G)
– Get three medals on every Danger Sign, Speed Zone, Speed Trap and Drift Zone in Horizon Hot Wheels
– Obtain every medal at Horizon Hot Wheels
– Complete a race in a car built in 1968 on Hot Wheels Islands
Collector's Edition (10G)
– Restore the Barn Find on Hot Wheels Islands
– Complete a Bucket List challenge at Horizon Hot Wheels
– Survive every Bucket List challenge at Horizon Hot Wheels
Master of Friendship (20G)
– Complete 20 online races across Online Adventure, Co-Op or Freeroam in Horizon Hot Wheels
– Smash every reward board at Horizon Hot Wheels
Putting That Power To Good Use (10G)
– Score over 50,000 points in the Hot Wheels Twin Mill in Horizon Hot Wheels
– Jump more than 500ft from a Hot Wheels Danger Sign in the Hot Wheels Bone Shaker
– Nail five Hot Wheels Drifts in the Hot Wheels Ford Mustang
– Get 10 Ultimate Loop-The-Loops in the 2016 Jeep Trailcat
– Finish High Speed Highway in the 2016 Zenvo STI in under two minutes
Totally Meant To Do That Too! (10G)
– Land a Barrell RolL in the 2007 Toyota Hilux Arctic Trucks AT38
– Complete the Goliath event in the 2010 Pagani Zonda R in less than 6:30:000
– Hit 200mph in the 1972 Chrysler VH Valiant Charger R/T through a speed trap
– Win an S1 Class race in the 1932 Ford De Luxe Five-Window Coupe
Orange Is The New Track (20G)
– Discover every road in Horizon Hot Wheels
Time To Get Serious (10G)
– Complete your first championship at Horizon Hot Wheels
Higher, Farther, Faster (30G)
– Put the time in and complete every championship at Horizon Hot Wheels