Futuristic racers have become something of a dying breed. While WipEout and F-Zero defined the genre at one time, the closure of Sony Liverpool Studios signaled the end of the much-loved anti-gravity WipEout series, while Nintendo seem reluctant to revive F-Zero, claiming a lack of market interest. With no sign of an official comeback for either franchise, despite constant requests from pining longtime fans, we've had to rely on passionate indie developers to revitalise the genre.
Successful Kickstarter campaigns and subsequent Steam Early Access releases for projects such as Radial G and Distance show that there is still demand for the futuristic racing genre to make a belated comeback, but Formula Fusion is perhaps the closest we are likely to get to a spiritual successor of WipEOut because it's actually being developed by former developers of the scrapped series.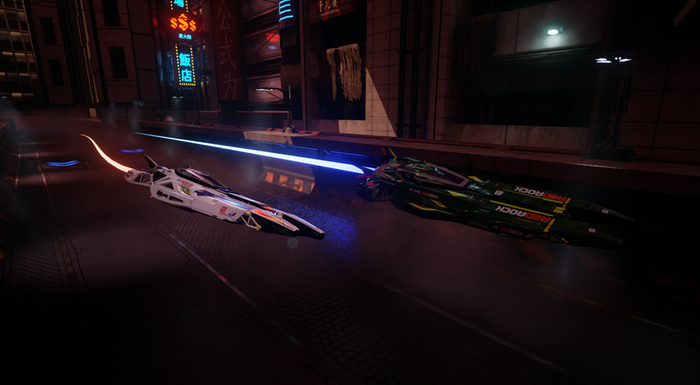 Due to land on PC, PS4 and Xbox One, Formula Fusion is being developed by R8 Games, a small startup studio made up of former Sony staff who believe there is still a place for WipEout-style anti-gravity racing games. The team has over 50 years of combined experience in the industry, with credits including Grand Theft Auto, WipEout, Auto Club Revolution, the Colin McRae series, Carmageddon and Midnight Club, so they certainly have plenty of racing heritage.
Formula Fusion is already looking like the spiritual successor to WipEout you've been dreaming of, with plenty of loving references to the series that should please fans. You'll once again be racing at ludicrous speed in anti-gravity craft (it all runs at 60fps, naturally) which can be fully customised with upgrades unlocked after they've been researched, with five classes to progress through. The design of the craft is said to be inspired by Formula One cars in a storyline based on Formula Fusion's W.A.R Leagues which evolved from F1 racing.
Meanwhile, the dynamic futuristic environment is based on graphics by graphic design studio The Design Republic, a Sheffield-based studio who have worked on Guardians of the Galaxy, Inception, Harry Potter and the Goblet of Fire and Captain America, and of course WipEOut, among others. The studio has gone for a gritty urban style to represent a dystopian New York set in 2075, which ill contain 21 tracks based in 7 distinct environments available in single-player, multiplayer and split-screen modes.
https://youtube.com/watch?v=iASsC2Du8R4%3Frel%3D0
Of course, anyone who has played WipEout will know how integral the thumping techno soundtrack is to the series. Fortunately, the developers realise this, which is why Formula Fusion will feature a soundtrack composed by artists Dub FX and CoLD SToRAGE – the latter composed the soundtrack for the original WipEOut.
Formula Fusion has just launched a Kickstarter campaign to secure development funding, with a modest goal of just £35,000. Indeed, it's a surprisingly low target, which R8 admit will will result in staff working on low salaries initially. However, the considerably higher stretch goals will secure full releases on other formats: £150,000 will secure a PC release in March 2016, whereas a steeper £350,000 goal will bring Formula Fusion over to PS4 and Xbox One. Virtual reality integration will also be possible with if a £250,000 is reached.
"The low target of £35,000 is a statement to our determination and commitment to make this succeed," a statement on the campaign clarifies. "£35,000 represents a base line plan to start gathering momentum – this will allow us to create the "base game", which will feature eight tracks created by the WipEout 3 track team and an early-access version featuring one fully developed track. After this, with each "stretch goal" we hit, we will commit to fully developing those specific features outlined in each stretch by the dates given underneath, BUT… let us be clear on this: the plan isn't to completely get rid of these features if we DON'T hit our stretches, but rather we would need to reassess how we are going approach those targets and reschedule accordingly."
https://youtube.com/watch?v=5SAxaSxEEPQ%3Frel%3D0
Relying on stretch goals is certainly a risky strategy, but the project already appears to be generating interest among nostalgic WipEout fans: at the time of writing, the project has already raised nearly £15,000 – that's almost half the of the initial funding goal in less than two days. With 27 days still left, the stretch goals suddenly seem achievable.
"Racing games are at our heart. What we are hoping to do, with your help, is to take the pure high-speed racing aspect of AG juggernauts such as WipEout and F-Zero, and add in a whole new boat-load of features that you were gagging for back then, for an up-to-date treatment of this classic genre."
Do you think there is still a place for anti-gravity racing games? Does the prospect of a current-gen spiritual successor to WipEout excite you? Let us know your thoughts in the comments below.