WRC 9 has just been released and there is a veritable wave of news that has been hovering around the industry over the past few days. So, in the process of catching up, top of my list was the new CSL Elite Steering Wheel WRC which launched on 3rd Sept in line with the new game. We haven't had a hands-on as of yet but early feedback sounds overwhelmingly positive. Let's look at some of the features.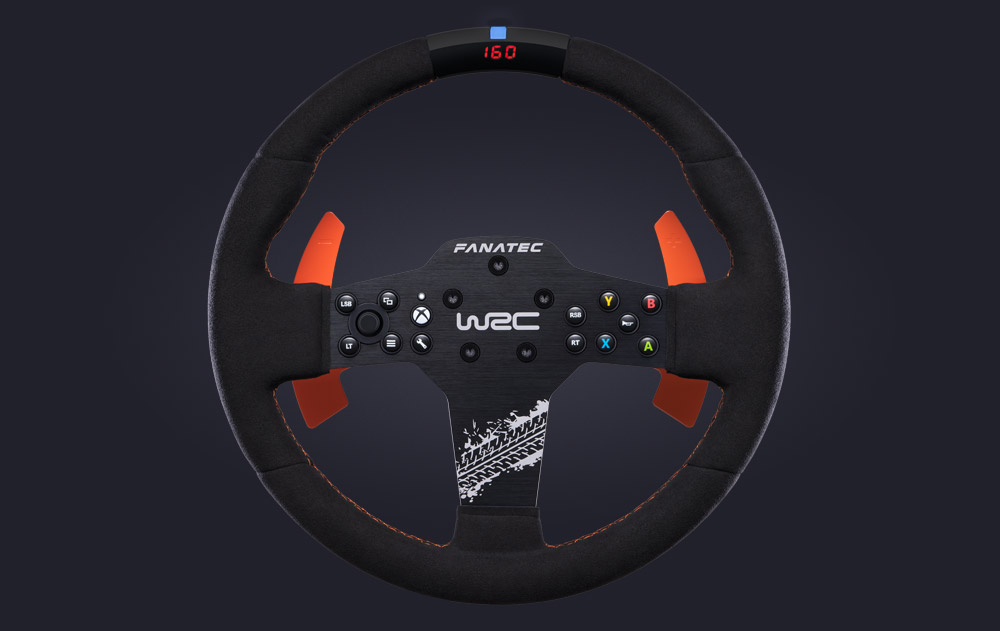 The only wheel officially licensed by the World Rally Championship (WRC), the CSL Elite Steering Wheel WRC has been perfected for WRC and will be used exclusively in official WRC Esports competitions. In terms of features and quality, Fanatec reveal the wheel will contain brushed aluminium spokes, genuine Alcantara® grip, and orange stitching. The detachable paddles feature Snapdome™ activation for a satisfying 'click' response. The RevStripe™ and integrated three-digit LED screen show useful data in compatible games. Also provides Tuning Menu access, allowing tweaks to your settings during gameplay. Basically everything you could want from a wheel of this type and style.
The CSL Elite Steering Wheel WRC features a Rally-inspired design. Sporting a revised internal and external design, tyre tread graphic and bright orange accents on the paddles and stitching. The 300 mm rim diameter is suitable for many vehicle types, and the lightweight construction is ideal for the quick inputs required in rally driving. This is key, comfortable yet responsive. The wheel also features exchangeable components, most notably the new, tool-free Simplified Quick Release Adapter, this is always handy for those switching to different genres of racing disciplines.
Another new addition, no clamping bolt is required. The improved Simplified QRA clamps easily to the steering shaft by hand, without the need for tools. The new design is also removable, and can be replaced with the ClubSport Quick Release Adapter*. *Using the ClubSport Quick Release Adapter with this steering wheel does not enable High Torque Mode on the Podium wheel bases. Removable paddles. This is an interesting aspect, perhaps the quick release is not as strong for the resistance, something we can inquire with Fanatec.
Another aspect to investigate further, the bright orange paddles can be removed, allowing clearance for the optional ClubSport Static Shifter Paddles, which can be more comfortable to use while rally driving. Xbox One and New Generation Xbox compatible. I'm keen to see what this difference is like in operation. As soon as you connect this steering wheel to your compatible wheelbase, the whole system (including attached peripherals such as shifters, pedals, or handbrake) will become Xbox One and New Generation Xbox compatible. Xbox mode is also supported on Windows 10 with Xbox Play Anywhere titles. And of course the Xbox-style button caps are also replaceable with the included Racing-Style caps. You can see the latest trailer for the CSL Elite Steering Wheel WRC below and purchase the new wheel rim directly from Fanatec here.