After one week of open beta testing, SCS Software have now released their 1.20 update for Euro Truck Simulator 2.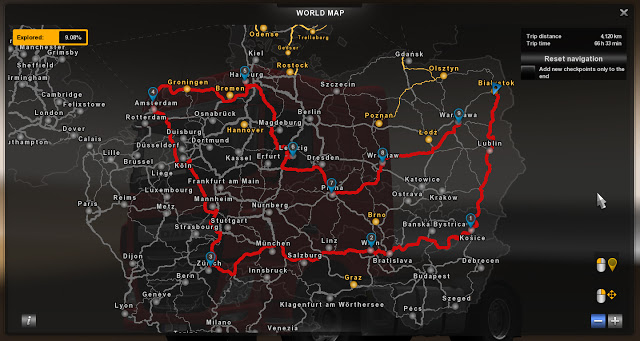 The main appeal of the 1.20 update is the newly added GPS route customisation which will allow you to add up to 10 custom waypoints, insert additional waypoints into an existing route, move waypoints or add waypoints at the end of a route.
Another headline feature of the new update is the geographically correct Sun posisitions in the sky for Scandinavian territories. This creates an authentic positioning of the Sun as it is higher in the sky at noon with faster sunrise and sunset times in these regions.
You can see all of the fixes, improvements and additions of the 1.20 update in the changelog below. SCS Software have teased that "many cool things" are lined up for the future 1.21 update, we'll share more on that as soon as we possibly can.
Help TeamVVV grow by supporting us on Patreon: www.patreon.com/TeamVVV.
---
Update 1.20 changelog
AI
Increased traffic density in city areas
Fixed non-urban speed limit in UK
Lower probability of spawning an AI truck without a trailer
Uses correct wheel position when placing AI trailer wheels on ground
Fixed vehicles remaining on wrong way lane after avoiding obstacle in some cases
EDITOR
Free camera supports inverted mouse (respects the c_minvert input constant)
Fixed "grave" key not working with some keyboard layouts (e.g. Hungarian)
Editor shortcut mapped to bezier patch
Increased node joining tolerance to fix problems with joining nodes far away from center of the map
VEHICLES
Mercedes Actros 2014: Fixed speedometer in UK variant, Improved interior, Tweaked normal map, Smoothed some hard edges, Shadowcaster tweaks
DAF XF Euro6: Cleanup of the models
Fixed UV on bulk cement trailer
Vertex optimizations of AI trucks for DAF Euro6, Man TGX, Scania R
Mercedes Actros, Renault Premium: Fixed armrests missing in the exterior view
MISC
Particles are not generated for lifted wheels
Longer mirror distances on high and ultra settings
Brake lights activate on slightest pedal touch
It is possible to use Steam controller-based keyboard for entering search text in mod manager
Improved compatibility with Windows XP