Move over Forza and Gran Turismo – the acclaimed Assetto Corsa is coming to consoles, and now Italian developer Kunos Simulazioni has revealed what we can expect from the console port of the previously PC-exclusive racing simulation.
Assetto Corsa will be racing on PS4 and Xbox One April 22nd 2016 and is being published by 505 Games for the console release.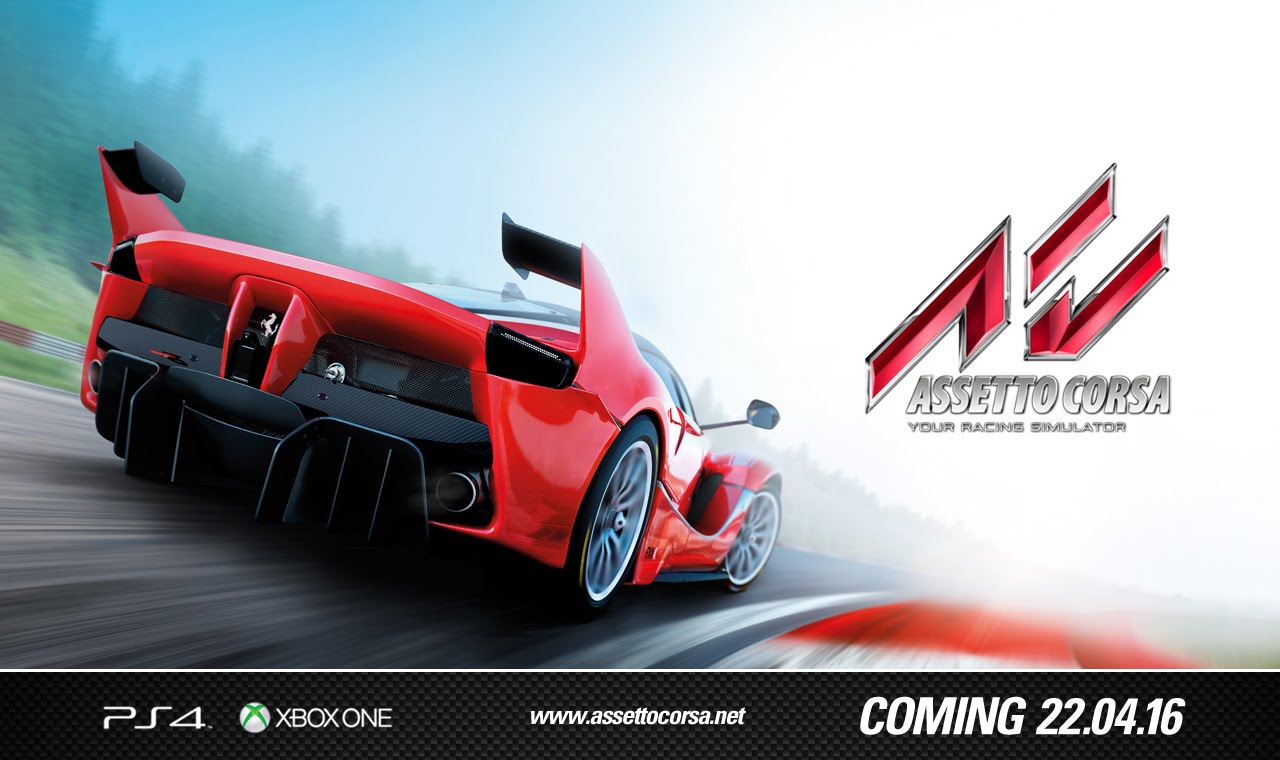 Leading the game's promotion as cover car star is the hybrid Ferrari FXX K, which isn't too surprising given Kunos' Italian heritage, not to mention their previous relationship with the manufacturer during the release of Ferrari Virtual Academy. Essentially a track-tuned LaFerrari, the FXX K is certainly no slouch despite technically being a hybrid supercar – with 1035bhp, its performance puts it in Bugatti Veyron territory.
Assetto Corsa has been enjoying considerable acclaim on PC for a while now, but Kunos Simulazioni have kept players invested by releasing quality content in the form of Dream Packs to bolster the car count and increase the number of tracks. Notable additional content included a fully laser-scanned Nurburgring-Nordschleife and a number of desirable cars.
Happily, 505 Games has confirmed that all additional content released for the PC version of Assetto Corsa will be included in the console port as standard. Assetto Corsa will ship with a total of 90 cars including the Team Lotus 98T, the Pagani Zonda R, the Ferrari LaFerrari, the Mercedes C9 and the McLaren 650S GT3 and over 20 track configurations on console, with locations including Silverstone Circuit, Circuit de Spa-Francorchamps, Autodromo Nazionale Monza, and Nürburgring-Nordschleife.
Visually, Assetto Corsa still manages to look stunning in its transition to consoles, despite running on less powerful hardware compared to a high-spec PC configuration. Regarding resolutions, Xbox One users have unfortunately drawn the short straw again: Assetto Corsa will run at 900p on Xbox One compared to full 1080p on PS4. Both console versions will run at 60fps, however.
As for differences between the PC and console versions, Kunos Simulazioni told us that the menus have had a redesign to cater to the different audiences, but other than that what you'll be playing is near identical to what PC players have experienced.
Most importantly, the driving physics on console will be identical to the PC version. Considering that Assetto Corsa boasts one of the most advanced driving physics engines in any game (it's so realistic that manufacturers such as Ferrari and Abarth have used it to simulate some of their cars in testing), that's something to get very excited about indeed.
https://youtube.com/watch?v=ql6ERnlKPss%3Frel%3D0
While the success of Project CARS has arguably paved the way for future console racing sims, Assetto Corsa's preference for road cars arguably makes it a closer competitor to Forza and Gran Turismo. And while it may not boast any fancy dynamic weather and night time effects like its competitors, Assetto Corsa's exquisite driving experience should put it in a class of its own.
Like what we do? Support TeamVVV on Patreon: www.patreon.com/teamvvv