With the knowledge that Assetto Corsa is now aiming for a 2013 release and a technical demo still planned for the end of 2012, Kunos Simulazioni are keen to keep up the momentum in the run-up to its release. Which is why they've released well over a dozen new screenshots of their promising PC sim showcasing the frankly adorable Abarth 500 Esseesse.
Beneath its deceptively dainty Italian body lies a perky 1.4L turocharged engine and a host of sporty modifications such as twin exhausts, spoilers and lowered suspension.
This latest batch of screenshots were released to mark Assetto Corsa's appearance at Abarth's stand in the Autoshow of Bologna.It's unsurprising, then, to find that the Abarth is appears at the forefront of every screenshot.
Our main gripe with Assetto Corsa's visuals have always been the bland track texture details that left us feeling a bit cold in places however, but Kunos Simulazioni seem to be addressing this in response to feedback. Case in point: our friends over at Racedepartment posted a suggestion regarding the grass textures. Within just two days, the developers responded with a new screenshot highlighting improvements made to the grass texture shaders as a direct result of the user's suggestion.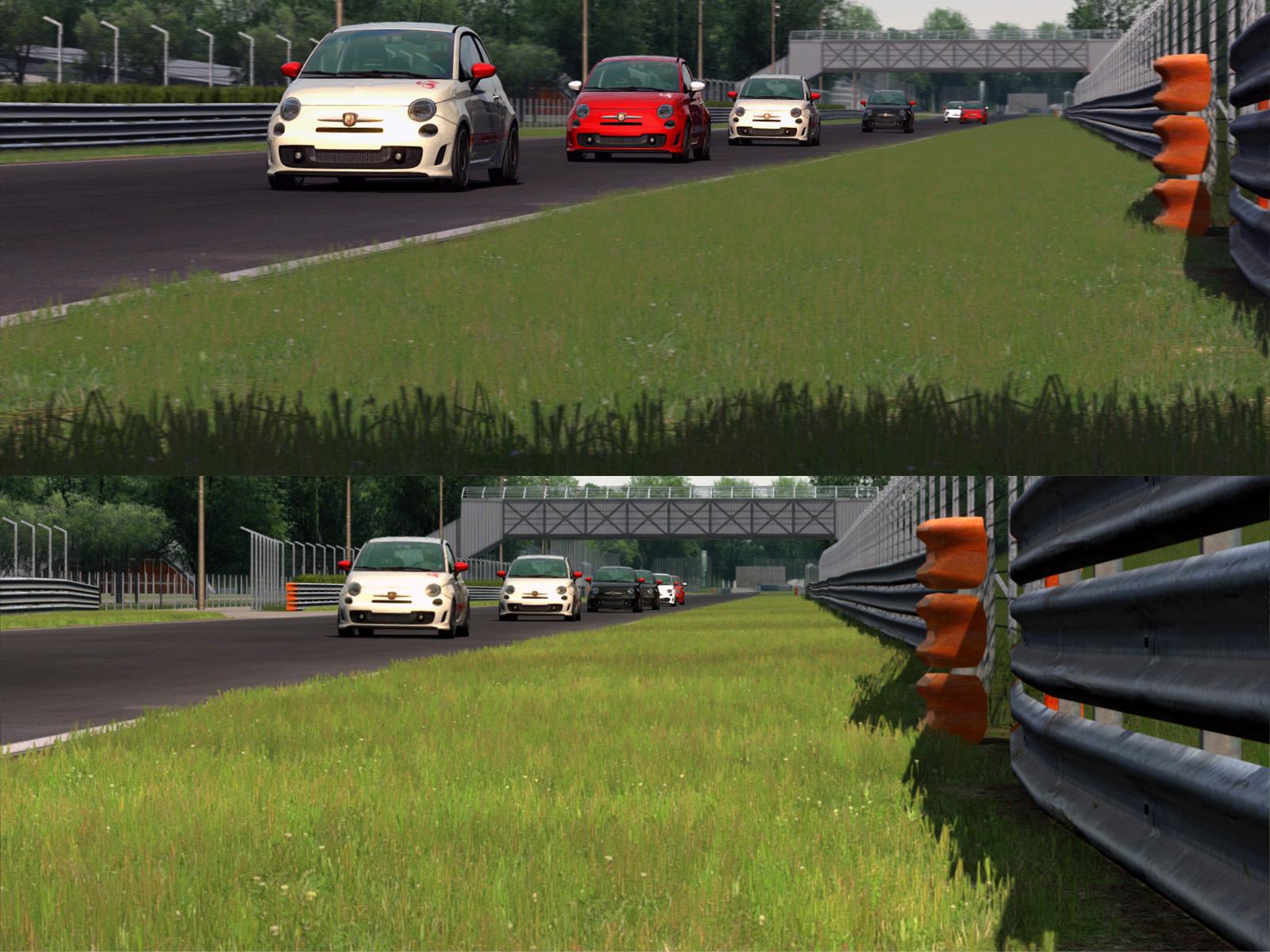 Now that's what I call dilligence – it's a testament to their attention to detail and compassion for the community, so kudos to Kunos. No wonder the tech demo is taking so long to roll out if they're fussing about details like this.
Of course, we can comment on screenshots all we like, but it's practically worthless without being able to see the game in motion. Indeed, video footage of Assetto Corsa has been surprisingly scarce, relying on unrepresentitive off-screen recordings. Two more can now be added to the collection, and while they still aren't direct high quality gameplay videos, they come courtesy of the developers.
The first video comes from Aristotelis Vasilakos' Facebook page, offering a brief snippet of an Abarth catching some air on a curb. Clearly proud of their work, it serves to show off Assetto Corsa's authentic suspension physics that, judging from the video, look absolutely spot on.
Secondly we have a video from Marco Massarutto's Facebook page of a congested race that effectively demonstrates Assetto Corsa's realistic A.I. behaviour, as rival racers stray from the racing line to accomodate for your actions. What also strikes me is just how good the replay camera angles are looking: squint and it's almost like watching Gran Turismo 5, but with proper A.I..
The inclusion of the Abarth also reiterates a fact that's often undersold – unlike many other PC sims, Assetto Corsa will also cater for road cars as well as race cars which is a rarity in the PC market. With all this in mind, Assetto Corsa could be well on the way to becoming the PC's answer to Gran Turismo and Forza Motorsport.