Over the last 4 years, a new British Moto GP star has risen in the form of Bradley Smith. currently competing in the 125cc Class, he's managed an impressive fourteen podium finishes, backed up with two wins and six pole positions. Now moving into the world of 250cc racing, Bradley is on the ascent, so VVV took the time to track him down and grab a few words about his career to date and feelings on progress so far.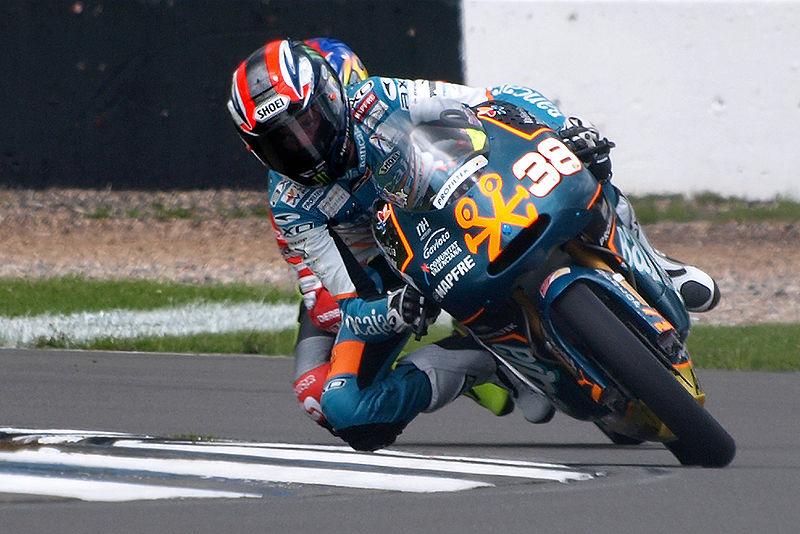 VVV: Thanks for joining us here today. I want to kick off from the beginning of your career, to see where you have come from to this point. Where did biking start for you?
Bradley: Basically from when I was 3 – 4 yrs old, when we moved to my Grandad's farm. We had a motorcross track open to the public and I used to go round in a JCB with my dad most afternoons, flattening the track and preparing it either for a practice or a race… whatever event was going on at the time!
I was in Race Modes Cross really from the age of 6 through to 13 and then I had quite a nasty accident: a compound fracture of my tibia and fibula in my leg. So, on the recovery phase of that, somebody got me onto the roads and said "yeah, this is safer you know, come and try this one out".
So I kind of got into road racing, found my way, ended up being in the World Championship (within) in a couple of years, and now I am going into my 5th season so it has been a bit of a fast track as I am only 19 now, and only have been riding bikes for 13 years.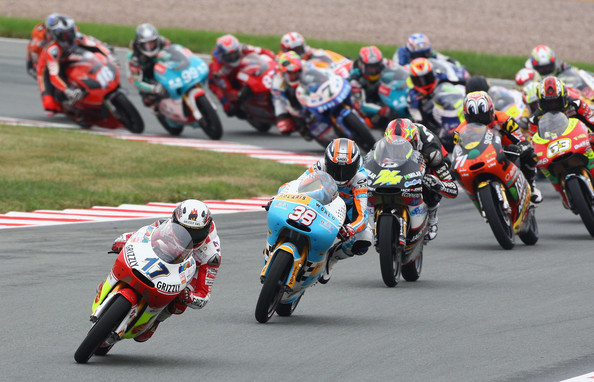 VVV: So did you feel it was a natural transition when you went onto the road? Did you feel that Motorcross training helped in some way, or was there any particular aspect? How did you attack it?
Bradley: I suppose the thing is, a lot of bike control comes from motorcross. It's a very demanding and difficult sport – throttle control, having the bike sliding, having the bike moving – so when you get onto the road and everything is in a straight line, you feel a little bit weird. Finally once you start to find a limit you start to feel a little bit of the bike breaking away.
In some ways, maybe coming from the motorcross route it has its negative sides; that you are not in familiar style because obviously you go from elbow up, leg out to elbow down and knee on the floor, but once you get over that first initial hurdle you start to really pick your way through and I think most motorcrossers who have become road racers have made a very successful transition, so I am hopefully following in the trend.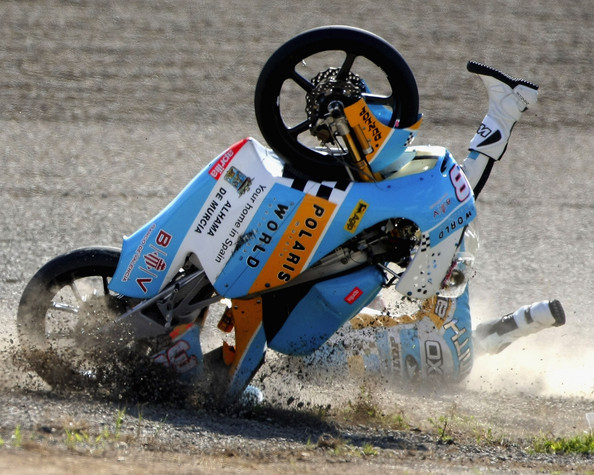 Ouch, biking can be dangerous and it happens to the best of them.
VVV: So now you are working your way up obviously into Moto GP. Sponsorship is the next thing – how challenging is it? Is that one of the hardest aspects these days, getting sponsorship? Because in the current financial climate it must be very competitive out there now?
Bradley: It is, unfortunately. One of the most difficult things is when you've got so many Spanish and Italian guys out there, really – if a team is Italian, they have got to take their own rider, have got to really think about their marketing strategies and the best way to do it is with one of their own. So it is quite difficult to break into it that way, being a rookie trying to get into one of the top teams.
Finally, it's down to results, making sure you are really putting in the performance, putting in the time. Personal sponsors is always a difficult thing – it seems to be becoming more and more. I've got a lot of great guys on board over the last couple of years, as the sport seems to be developing and as my profile is growing, more and more people have the interest, but at the start it is very difficult.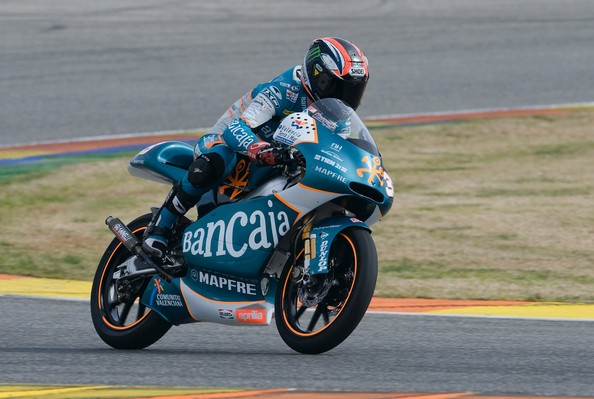 VVV: So you have had 4 years now with 125's, building your way up. You've had a good points increase every year. But what has been the most challenging aspect of Moto GP? Is it the pressure of the racing, or developing your bike? Where have you found the most challenging aspects?
Bradley: I suppose it's the pressure to perform at the end of the day. If you are not performing, you are not getting the results then it is pretty cut-throat and you get chucked out of your seat and there is always someone or 3 – 4 guys waiting to fill it. The actual, the travelling around the world is always pretty difficult, from 15 I've been travelling places – Australia, Malaysia, Japan, over to America, China… those sort of things are pretty difficult. The long flights, the jet lag and the different cultures are also, but it is also made me grow up very fast. It's like a big all-in-one job feeling, so all rolled into one.
VVV: That's a good experience. Now, you've obviously increased the points every year, so what would you think has been the one key experience that has made you improve? Are there any key areas that you feel you have looked at? You have obviously raised your game riding harder – you are committed and confident going into the season – so what has been the key thing that has really driven you forward?
Bradley: I think one of the definite bonuses is the moving from Honda to the Aprilia, which was a much more competitive bike, along with finding a group of guys that are used to winning, If you are, let's say, an inexperienced rider coming through the ranks and you start winning, you need the structure and people around you to keep you on the right path and keep you on the mentality.
When I win I am very excited, I am very happy to see everyone (road) race-side very happy, but as soon you are back home it's back to business, focusing on the next round. Rather than carrying that excitableness and making mistakes or not overseeing on the job in hand, we have been in pole position before, have gone clap, clap, clap, straight to the computer making sure we are ready for the next step, which is the more important, is the race. By having the people like ASPA around me who has won world titles, who has won numerous races with (himself) myself and also with its riders. it definitely puts you in a great environment that you know is a winning environment, and you are expected to win.
VVV: You have had a few goes on the game here. How are you finding it? Is it weird playing against yourself?
Bradley: Definitely a strange one, definitely something I'm not used to. Obviously the Moto GP 08 game came out last year and I got to playing this myself. New GP O9/10 is definitely something that has come on so much as a game. I like the idea of the package behind the rider with the new management team and you can pick your PR and the people you work with, along with your manufacturer. It really brings my whole world to a game rather than just sitting on the bike and riding round, people understand a little bit more about that.
VVV: Does it help you to learn the circuits at all? Obviously, the physical is not there but just an idea of things like the corners that are coming, gradient, layout?
Bradley: It definitely helps get your mind back into racing. You can't pin-point your brake points and know exactly where you want to be, but it definitely helps with the concept of racing and getting back into the flow of that circuit. I've got to say there are some corners in the game that I can take flat out, I definitely can't do that on a motorbike in real life, and I get away with a little bit more on this, but generally it really is great to see how they have managed to get the reality into gaming and it's definitely good fun.
VVV: Bradley, thanks very much for your time, and VVV wish you the very best of luck in 2010.