Formula Two is often seen as a proving ground for aspiring young drivers hoping to one day reach the ranks of Formula One and race alongside the likes of Lewis Hamilton and Jensen Button.
Dino Zamparelli is one such driver. Born in Bristol, England, but of Italian descent, Dino's journey into the
world of motorsport has been one fraught with frustration thanks to some unfortunate sponsorship setbacks and initial struggles, but his dogged determination to one day make it into F1 and become a world champion spurs him on. And, at the tender age of 19, his racing achievements in a relatively short space of time speak volumes about his talent on the track that may well see him on the grid for the F1 championship in the not too distant future.
Unperturbed by the scorching summer sun, Dino donned his full racing suit in a public appearance at the Bristol Motorshow, where he was seen enthusiastically chatting to fans, signing autographs and posing for photos.
While the Bristol Motorshow wasn't quite on the same scale as, say, the International Motor Show or the Goodwood Festival of Speed (okay, it was a free show situated outside the local Mall where the center attraction was a handful of movie cars on display aside from Dino) it presented a golden opportunity for Dino to promote himself and gain new supporters. Team VVV stopped by for a quick chat to reflect on his past achievements, what lies ahead for the young driver and that harrowing incident on the rain-soaked track Spa that's been doing the rounds on YouTube.
Like many of F1's stars, Dino's foray into motorsport began through karting, although his love for speed was arguably inherited from his family: "I started go karting at the age of six," he explains. "My dad was a former Formula One Powerboat racer, so I guess the speed was built-in from there." His father Mike Zamparelli enjoyed a successful career competing in the Bristol Formula Powerboats from 1986 to 1996.
Of course, many assume that young drivers entering motorsport are only able to do so because of their privileged backgrounds. It was apparently a different story for Dino, however: "Back when I did it, karting was actually less expensive than it is now so I was lucky in that respect. We did it really cheaply, moved on and just learnt the basics – that was the main thing for me, to just learn the skills before moving up to car racing. Again, car racing was cheaper than it is now. I've been really lucky to get where I am now. I'm thankful for all my sponsors on the way who have been pushing hard to get me to where I am now."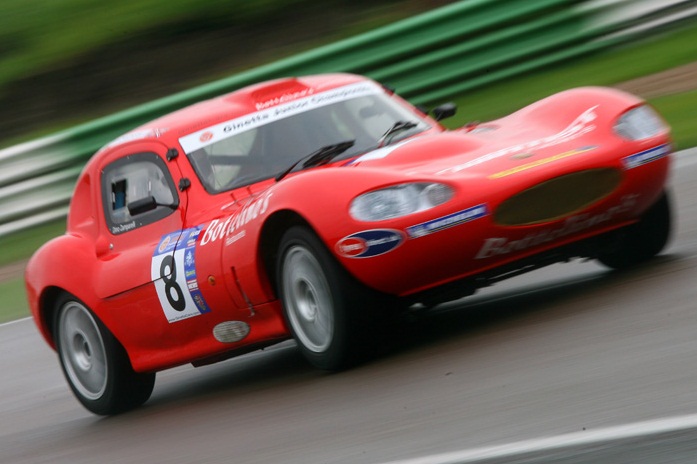 At the age of 14 Dino started his career in car racing, competing in the Ginetta Junior Championship in 2007. Here, his racing pedigree
Following this successful stint, Dino was ready to tackle the fast and furious Formula Renaults the following year, which would truly test his skills in the difficult transition from cars to single seaters. "It was actually really tough," Dino recalls. "Ginettas were a completely different driving style to Formula Renault. I think it would have been easier to go from karting to Renault with the amount of testing I did which was quite limited."
Formula Renault was a similar success story for Dino. "In the first year of Formula Renault I was third and that was a good strong year. In 2010 I had a sponsorship issue, and then in 2011 I came back and won the Formula Renault championship. I learned a great deal and I got lucky that I was able to go back in the year after and proved that I could win. It wasn't easy, but now I've gone from Formula Renault to Formula Two which isn't easy either. It all takes time. It's all about learning – I learn as quick as I can and go from there."
Dino's achievements certainly didn't go unnoticed, either, as his stellar performance earned him a nomination for the momentous McLaren Autosport BRDCYoung Driver of the year award – the very same award that a little known driver named Jensen Button won not long before he became an F1 star. "It was a great award to be nominated for and it was amazing driving the DTM cars. Unfortunately I didn't win it, but from the year I had in 2010 that to me was just a bonus to be there." You can watch Dino thrashing the aforementioned Mercedes DTM car here.
It wasn't all plain sailing, however, as sponsorship setbacks meant that Dino was unable to compete in 2010 before his triumphant return to Formula Renault a year later. Raising money remains a constant battle for Dino, however – Formula Two is a self-funded sport, which makes the need to track down reliable sponsorship all the more imperative. "Sponsorship is always tough especially in this current climate. But it's what I'm here for now at the Bristol Motorshow pushing myself, trying to get people aware of who I am. I've got my Facebook racing page, my Twitter and my YouTube accounts which I'm trying to promote as much as possible. The more I can get myself out there, the more chances I have of getting sponsorship."
But perhaps Dino's most effective method of getting himself noticed was one that was completely unintentional, inadvertently giving him more spotlight than he could have hoped for during his debut season in Formula Two. Amassing a respectable 800k views at the time of writing on YouTube, the infamous incident occurred on a rain-soaked Spa and effectively exemplifies Dino's lightning quick reactions and impeccable car control that would surely make even experienced top tier racing drivers flinch.
"I was coming up Eau Rouge and the yellow flags were out so safety car rules. I was trying to keep up with the traffic ahead and then suddenly four or five cars completely slowed down in front of me. I literally had to veer off into the left – I just clipped the car in front with my right rear which sent me sideways straight onto the grass," he recalls.
"It was a fight or flight moment. I reacted instinctively and got away with it – it was literally all instinct and I had to do what I could to get out of it. I somehow kept it away from the barriers which saved me a lot of money. That was a bit of luck, but the whole weekend was unlucky in a sense that I wasn't able to get the result I wanted."
As for the damage? "Just the right rear rim was cracked. I got very lucky with that, it could have been a lot worse for sure."
Competing in the recently-revived Formula Two championship is an achievement in itself for Dino as the winner will be granted a test with the Williams Formula One team, which makes Dino's goal to become a Formula One world champion that little bit more tangible. "That's the nearest goal I can hope for and I will keep pushing for that. I'm confident in my ability," he says assuredly. "There's some things outside my handling but I'll do the best I can in terms of sponsorship and my driving."
Of course, with the name Dino it would be somewhat fitting if he finds himself driving for Ferrari in the future. I therefore couldn't resist asking if this could be a moniker for his future career: "My real name's actually Armando. Dino was shortened and I got into racing after that so it is a coincidence. With a name like Dino I would of course like to be with Ferrari, but as long as I'm there with a winning team then that's cool." It therefore comes as no surprise to learn which driver Dino aspires to: "I used to love Michael Schumacher because he used to win at all costs and I took that away when I was younger."
Despite its lower tier, Formula Two isn't too dissimilar from Formula One in some respects. Spread across eight grueling rounds with 16 races across familiar circuits, including F1 favourites Silverstone, Spa and Monza, Dino races in a Williams-designed JPH1B racecar equipped with a turbocharged 1.8-litre Audi engine that's capable of 500bhp and a top speed of 180mph. Not quite on the same level of a modern-day F1 car, then, but not exactly a slouch either.
At the time of writing, Dino is currently in 8th position in the Formula Two championship. Luck may not have always been on his side this year, but there have been several standout moments that prove his future potential.
His last race in the Hungarian Grand Prix was particularly memorable, as Dino shot from 12th to 6th before securing another place on the podium after finishing in third place during the second race – an impressive feat considering he had never tackled this track before.
But as his first Formula Two season draws to a close this weekend in Monza, Dino sets his sights on his most pivotal goal yet: to secure that all-important first race win.
We wholeheartedly wish Dino the very best of luck in achieving his driving dreams.You can show your support by joining his Facebook and Twitter pages.
Photo credits: www.dinozamparelli.com and Martin Bigg at the Bristol Motorshow.