In 2006, Eden Games' revolutionary Test Drive: Unlimited pioneered the Massively Multiplayer Online Racing scene. Set in the idyllic Hawaiian island of Oʻahu, we still have fond memories of basking in its glorious open world paradise of multiplayer motoring exploits, fueled by the passionate petrol-head community. Pity, then, that TDU's online roads were closed as of September 2012.
TDU went on to influence the current trend of persistent online open world racing games, from Need for Speed: World and Burnout Paradise, to Forza Horizon and Need for Speed: Rivals. But none of these managed to recapture TDU's sense of unbridled freedom and community spirit – not even Test Drive: Unlimited 2, which was panned by critics and the TDU community alike. Principally because it was fundamentally broken the moment it raced off the starting line – the frustration of being unable to connect online even a month after launch still stings.
Part of the problem was that several staff from Eden Games who worked on the original TDU had no involvement with the slated sequel. That's because they've been busy for the last seven years at their newly-formed studio creating their most ambitious project to date: The Crew. With its massive open world recreation of the entire United States of America, social team-based racing and co-operative play and deep RPG-like car customisation, The Crew aims to pick up where TDU left off and revolutionise MMOR games for the next-generation. Its surprise unveiling at E3 2013 took the gaming community by storm, and expectations have been considerably high ever since.
I was invited to Ivory Tower's studio in Lyon, France, along with six resident TDU fanatics from various corners of the globe who run renowned community fansites such as TDU DriveTime, TurboDuck, TDU-France and The Crew's Reddit page for an exclusive test drive of The Crew, a behind the scenes tour of the studio and a chat with Creative Director Julian Gerighty, whom I'm ashamed to say I initially didn't recognise due to his new-found facial hair.

Ivory Tower was formed seven years ago hot on the release of TDU, currently comprising of around 90 former team members of Eden Games who worked on TDU and V-Rally. It's led by The Crew's Game Director Stephane Beley, known by the team as Fergus, along with three other founders. And it's Stephane's on-going obsession with open world racing games that's been driving The Crew's development for the last seven years.
"He's always had this vision of a massive world that's shared amongst friends in a driving game. It was his obsession in Test Drive: Unlimited, and The Crew is a massive evolution from that," Creative Director Julian Gerighty explains, with the aim to "make the social layer the bass layer so we can get people playing together much more than they used to in Test Drive: Unlimited".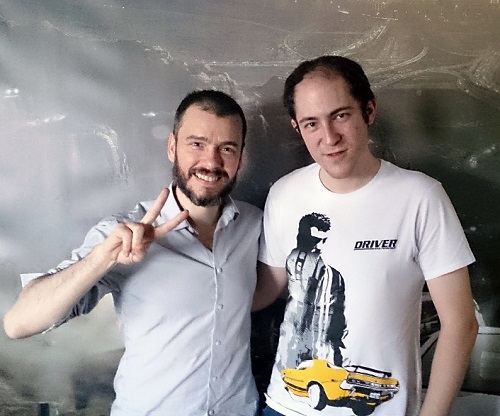 Julian joined the team three years ago to oversee The Crew's creative direction. Before this point, development time was solely dedicated to creating The Crew's in-house engine: "I think throughout all the years of development, much of that time was building the technology. It's been Stephane's and the team's single-minded focus," says Julian. "I joined to help them create something that was up to the quality standards that Ubisoft would have wanted. I've been working very closely with Fergus; I love the team. I completely understand that this is an obsession they've had and I'm working within those boundaries to make something that's compelling."
Julian's path to the gaming industry began after he studied Psychology in England, where he achieved a BSC: "I became a teacher after the degree and I saw how kids were reacting to video games," he recalls. "I saw how games had the potential to become really influential entertainment and affect kids and adults. At the time, there was the launch of Super Mario 64. When I saw the cultural impact, I thought 'this is really something I want to do', so I worked for a few more years and made enough money to go to a business school that allowed me to send my CV as a Business Major to some video game companies."
"The first company I sent a CV to was Ubisoft, and the first job I applied for was maintenance. I didn't get picked up for that. So I insisted and hustled and got a job as a Market Analyst in a newly-formed research group. Ever since, I've been changing my job every two or three years to get where I want to be, which is an operational job looking after the creative direction of a title. That's 14 years at Ubisoft in a nutshell! I love Ubisoft; I love the way they work. This is exactly where I want to be and what I want to do."
But to create a project as ambitious as The Crew, Ivory Tower needed some extra hands to carry their fast-growing baby. Enter Ubisoft Reflections, a team that is no stranger to driving games having developed the criminally underrated Driver: San Francisco. They are also currently working on the driving portions for Ubisoft's Watch Dogs.
"Like any of these projects, Watch Dogs, Assassains Creed etc, it's too big for one team. And it's good to have the input of all these talented studios that Ubisoft has access to today. And what better studio, not only in Ubisoft, but probably in the world, to work with than Ubisoft Reflections?" says Julian. "We started working with them when I joined, so it wasn't something that was being done before. And it's something that's worked really well. It's a good separation of tasks and it's a really interesting evolution of how video games are made. Before, it used to be tiny teams, then bigger teams. Now it's humungous teams, but spread over different time zones, different countries and different talents too, so it's been a huge learning experience for me as well. I've really enjoyed working with those guys."
"The only way to make collaborations like this work is to give full modules of something to a team and say 'this is your responsibility, let's make this work'". Responsibilities delegated to Reflections include the entire development of the PS4 version, along with The Crew's Skill games, narrative and environmental elements. "They've done a phenomenal job on all of those subjects."
Coast to Coast
To say that The Crew's sprawling open world is mind-blowingly-massive is a serious understatement. At 5,000 sq km, it's one of the largest open world maps to feature in a game by some margin. It's so vast that it takes around 90 minutes – two hours to drive from coast to coast. And that's if you drive a high performance car like a Lamborghini. In a Mini, it could take up to four hours according to Julian.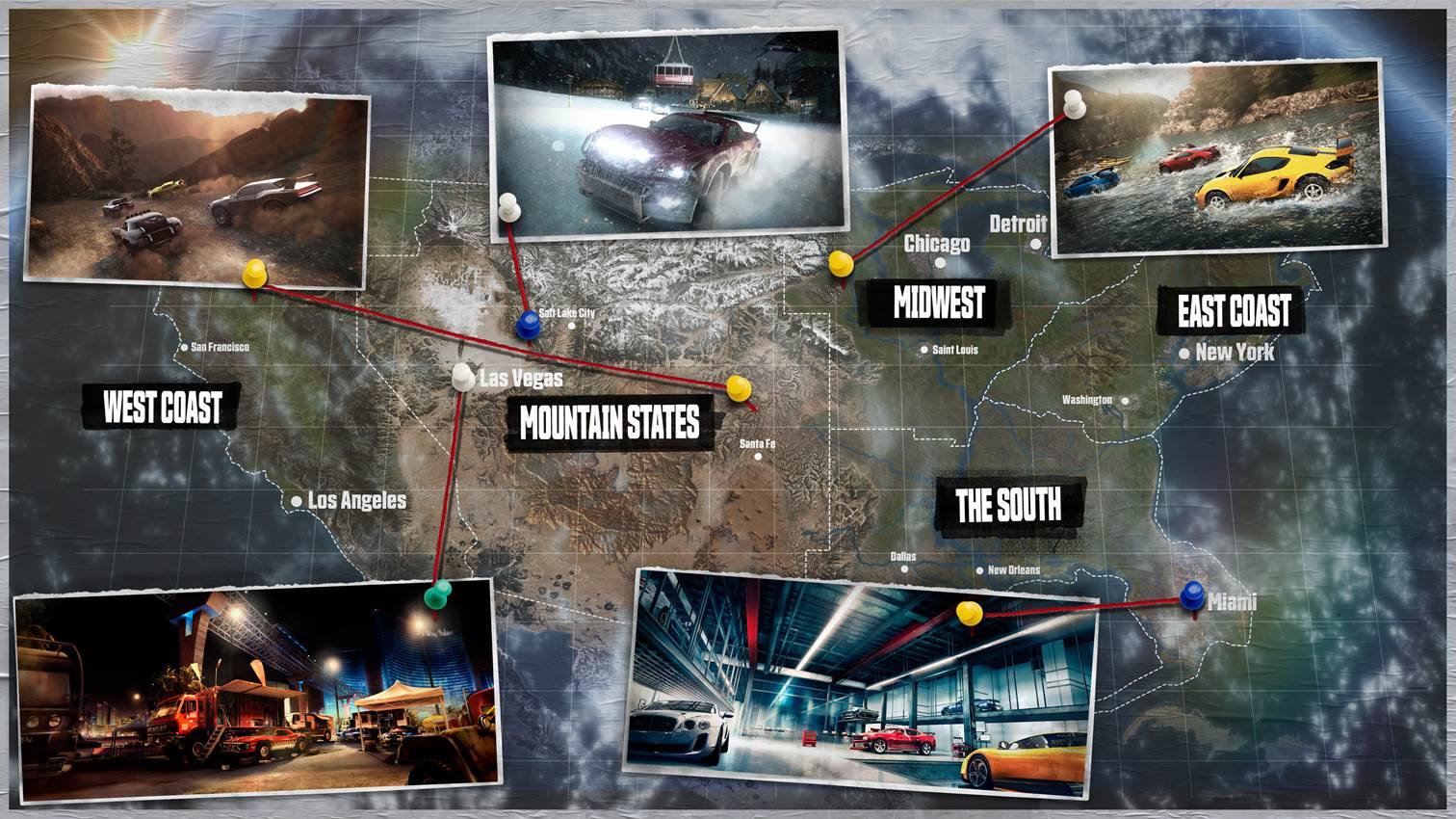 To put things into perspective, Julian presented us with an overview of the map showing how its size compares to other open worlds in familiar free-roaming games. Staggeringly, it revealed that The Crew's recreation of the United States is bigger than GTA V's Los Santos, Red Dead Redemption's Wild West, Forza Horizon's Colorado, Need for Speed: Rival's Redview County, Far Cry 3's tropical island and Skyrim combined. All of these worlds slotted neatly inside The Crew's expansive map, which makes you appreciate the biblical scale of the world you'll be exploring. It absolutely dwarfs almost every open world racing game before it.
"In terms of size, our New York is about the same size as Liberty City in GTA IV," Julian explains. "But on top of that we've got Chicago, Detroit, St Louis, Miami, Dallas, Las Vegas, Seattle, San Francisco and all of these cities. I insisted on including Detroit because of the heart of Motor City. But it's not just these cities; it's everything in-between. So it's a very big game."
But it's not the size that matters – it's the diversity within the world.
In truth, The Crew's map isn't the biggest ever seen in a driving game. That honour goes to the deeply flawed and largely forgotten Fuel that Codemasters regretfully put their name to in 2009. But it's certainly one of the most diverse. Unlike Fuel's boring barren wasteland, The Crew's environment is extremely detailed, with sprawling urban city streets, congested highways and off-road trails to explore, creating a plethora of gameplay opportunities.
Cruising down the sunny beaches of Miami is a completely different experience to charging through the congested streets of New York or tearing up the cornfields of Kansas. Each city feels alive, too, with realistic traffic density depending on the time of day: New York was practically gridlocked during the daytime, making for some intense racing as I weaved through heavy traffic. And yes, you can drive down a condensed version of Route 66, which was apparently the original working title for The Crew. Packs of pedestrians stroll on the pavements and wildlife can be seen roaming around the countryside. This isn't GTA, though, so you can't run anyone over.
You can even visit and race on five licensed, real world racetracks located within the open world at actual locations, including Indianpolis, Sebring, Pikes Peak and Laguna Seca. Despite my extensive playtime, I only saw a fraction of what the mammoth game world has to offer. The wealth of things to see and do is awe-inspiring.
Admittedly, I was concerned that the ambitious size of the map would ultimately be The Crew's undoing. After-all, Fuel, and arguably even Forza Horizon, suffered because, while their maps were massive, there was little variety, resulting in a decidedly dull driving experience. Thankfully, this doesn't appear to be the case in The Crew, as each area is distinct and rife with character. It's genuinely liberating to have access to a driving playground so rich in diversity and discovery with no restrictions whatsoever. If you get tired of being confined to the road network, the map is completely open, so you can simply veer off-road through the rural countryside for miles-on-end. I'm already dreaming up my own Top Gear-style races and road trips with other players. And if the size seems daunting, you can fast-track to locations with public transport via planes and trains for a small fee.
The entire map is open to explore without restriction early in the game after you've completed the prologue, which takes around 10 minutes. During this time, the game installs the rest of the map. From then on, you can freely explore the whole map until your heart's content without completing a single mission if you don't want to. In fact, I enjoyed simply cruising around the map taking in the sights and sounds of the different cities.
Police patrol the map, and will give chase if you 'accidentally' ram into them. They seemed a tad too aggressive, but Ivory Tower informed us they will toning down the difficulty. There's also a GTA-style 5 star wanted level system during police pursuits, where you have to evade the wanted area indicated on the radar, which is made more difficult when backup units and helicopters are brought in.  Like in TDU, getting arrested will net you a hefty fine.
Fast & Furious
Contextualising The Crew's 50 story missions is a narrative that essentially acts as a guided road trip across the map, starting in Detroit before heading to New York, Miami, Las Vegas and finally Los Angeles. You play as an undercover agent who looks strikingly like Breaking Bad's Walter White tasked with infiltrating the 510s, a gang that dominates the illegal street racing scene across the country.
The story is told through a series of cinematic CGI cut scenes and in-game dialogue, complete with animated avatars representing the chattering characters similar to Driver: San Francisco. From the snippets I saw, you can tell it was heavily inspired by Fast and Furious. Granted, it's not exactly an original storyline, but, like Driver: San Francisco, it doesn't take itself too seriously – which is exactly what the developers intended.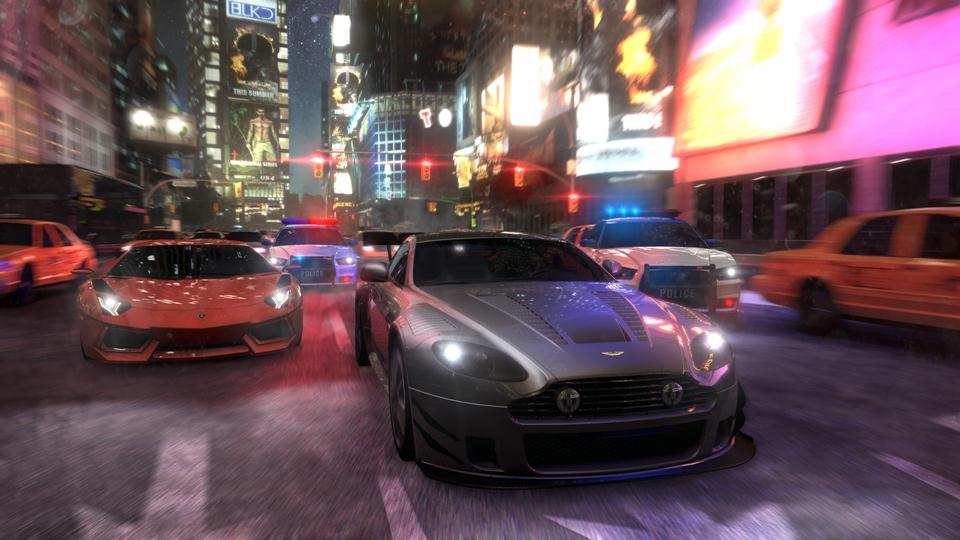 "It's not Shakespeare," Julian jokes. "But I've always been much more motivated by driving games when they've had a small premise. I zipped through Driver: San Francisco in a couple of days because I kept being driven forward by the story. It was the same for the Black Box Need for Speed games."
"Mechanically, my favourites are the Criterion games, but as experiences I love the Black Box ones: Undercover, the original Most Wanted and even The Run had something that was driving me to play a little bit more than just 'here's a circuit' or 'here's an open city and there you go'."
"When I joined the team, with such a huge world I felt it was necessary to bring a structure there to take you on this road trip. It doesn't force you into it, but it's a suggestion: 'There's this premise, there's this flavour in this world – would you like to join us on this road trip?' and I think it works really well."
However, you might be wise not to write it off, because The Crew has some serious writing talent behind it.
The premise was written by Christian Cantamessa, who was the writing Creative Director of Red Dead Redemption, while the actual writing of the game was done by Reflections' James Worrall, who worked on Grand Theft Auto Vice City, San Andreas and Driver: San Francisco, and Ian Mayor, who also worked on Driver.
"It doesn't take itself seriously, because at the end of the day, it's a video game. It's fun; we're not trying to change the world or make a statement about anything in particular. This is pure entertainment in the same way that a popcorn movie is just entertainment."
There is a protagonist in the story, but this isn't the focal point of the game. "To be honest, you play the car. That's the most important thing: your character is the car. There is a character in the game, but I'd much rather you think of it as you, the car and the people that you meet."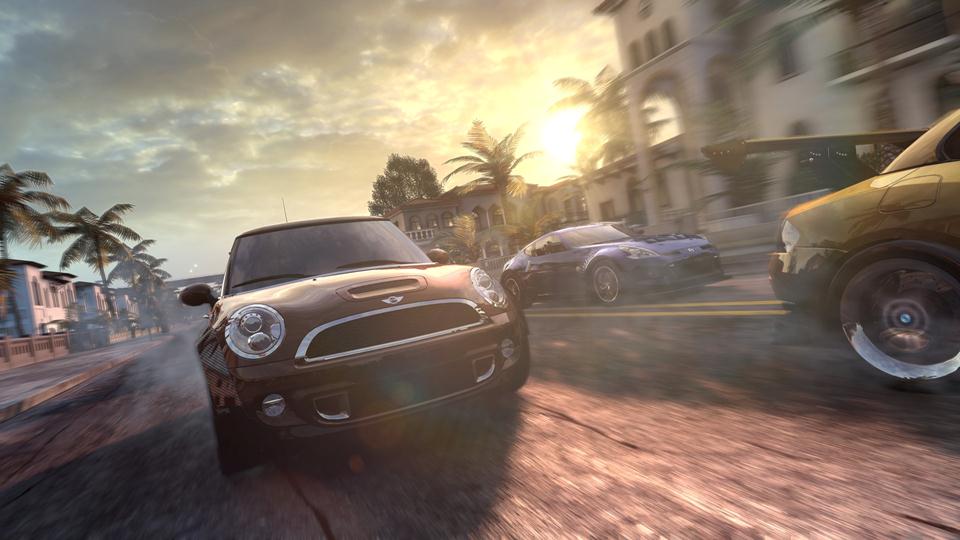 Originally, the game was going to be called Route 66, but was later renamed to The Crew to reflect this premise. "'The Crew' refers to the crew of people that you're going to recruit in the narrative, but it also refers to the multiplayer side of things. "
Some of the missions I played included a high-octane getaway from the police in a Ford F-150 Raptor through fields, a takedown mission where the objective for our crew of drivers was to takedown a target SUV and a night time street race in a modified Chevrolet Camaro through tight alleys to test your driving skills. All missions can be played in single player or cooperatively in crews of up to eight online players without having to wait around in lobbys, as you can invite other players instantaneously.
Dotted around the map are quick fire Skill games similar to those found in Forza Horizon, with challenges such as setting fastest lap times or passing through slalom checkpoints in a minigame called Scramble. Once you complete a challenge, the game will store your ghost to challenge other players in asynchronous multiplayer, ideal for players short on time. Hidden packages are also strewn across the map for you to collect, and finding them all will unlock a secret kit car built in your garage.
The only downside is that, being an online persistent world, The Crew requires a constant internet connection, which was a significant stumbling block for Need for Speed: Rivals as it kicked you from the game whenever a player lost their internet connection. The same is unfortunately true for The Crew, as reports have suggested it will kick you to the title screen if an internet connection is lost.
Location, Location
Creating such a vast open world was an almighty technical challenge for Ivory Tower. Naturally, the team visited the locations to snap photos for reference, but they also adopted other methods to research the locations that were a bit more 21st century: "We sent people on research trips, but we used a lot of Google Maps and Google Images – not to say that we're sponsored by Google, but there's a lot of great information we can get from the internet," says Julian.
"We've got a very filmic recreation of the world. It's not Google Maps-style; we watched a lot of movies that were based in different cities: so Collateral for LA, Miami Vice for Miami and some great movies like 8 Mile for Detroit, so you get this cinematic approach to the artist direction from other pieces of entertainment."
With this in mind, Ivory Tower had to apply some creative license in the building of the map, so don't expect The Crew's recreation of the US to be built to scale. The Statue of Liberty, for example, is situated much closer to the street than in real life to make The Crew a more enjoyable experience for sightseers.
Having said that, the American member of our crew was in awe at the authenticity of some areas in the game he had visited in real life such as the Las Vegas Strip, with its famous fountains and The Roller Coaster landmark all present and correct. Unfortunately however, licensing issues prevented the team from using real building names, so don't expect every bar and casino to match its real life counterpart. Generic buildings can also be seen duplicated in some areas. Even so, the level of detail Ivory Tower has managed to incorporate is astounding considering the scale of this world.
The Crew's depiction of the US really comes to life at night, with some spectacular lighting effects evoking the ambience of American nightlife and the character of each city. Day and night cycles take two hours to complete, which feels about right. In contrast, Forza Horizon's was only half an hour, which was too short in this writer's opinion.
Sadly, we won't be seeing real time weather effects in The Crew. Its humungous map is already stretching technical limits, so implementing rain effects was a bridge too far, although the mountain areas does feature snow effects.
Graphically, The Crew has come on in leaps and bounds since we saw it at Eurogamer last year, with increased environmental detail and lavish lighting effects. But what's really remarkable is that, despite the enormity of the game world, the performance never suffered during my play session and the draw distance was equally jaw-dropping. This is thanks to a system that procedurally loads the world depending on where you are, so the hardware doesn't have too much to handle at one time. As for the framerate, Ivory Tower are targeting 30fps on PS4 and Xbox One at 1080p and 60fps for PC players.
CaRPG
The size, scale and variety of The Crew's world is undeniably mesmerising. But what truly took me by surprise was the incredibly in-depth car customisation at your disposal. In Julian's words, The Crew is the Pokémon of car games.
It's an apt analogy. For starters, there are three distinct car classes: Asphalt, Off-Road and Circuit. Within these classes, you can upgrade your stock car through five spec evolutions that drastically alter your car's characteristics to handle different terrain.
Street spec, for example, makes your car better tuned for street racing, whereas Perf increases the speed of the Street spec but sacrifices some of the handling.
The upshot is that some cars can be upgraded through all five stages of The Crew's spec evolution, as shown in the image above illustrating how a Mustang appears after being upgraded through every spec.
"What we see is that people actually play the game with one car, so they spend 40 – 50 hours with that one car taking it through all the evolutions and boosting it to its highest level possible. And that's very different from a lot of other games when you're trying all of these vehicles and you grind your garage. You can do this in our game too, but it's not the focal point of the game."
And that's before we've got to the performance parts. Simply put that, when it comes to mechanical car customisation, The Crew is unlike anything I've seen before in terms of depth and detail.
Each car has 11 performance parts within the engine and chassis that can be swapped and upgraded, including the exhaust, gearbox, fuel injection, turbo, motorcore E.C.U., suspension, brakes, tires, differential and weight reduction. And whilst you're modifying your car, a slick, Transformers-style animation depicts your car being stripped to its bare naked chassis, allowing you to see every working mechanical component, from the moving pistons in the engine to the spinning gears in the gearbox. This allows you to see exactly how the parts you've changed will affect your car's perfromance and aesthetics. Once fitted, you can watch how each assembled part works in real-time by pressing the accelerator trigger. It's like an interactive Haynes manual.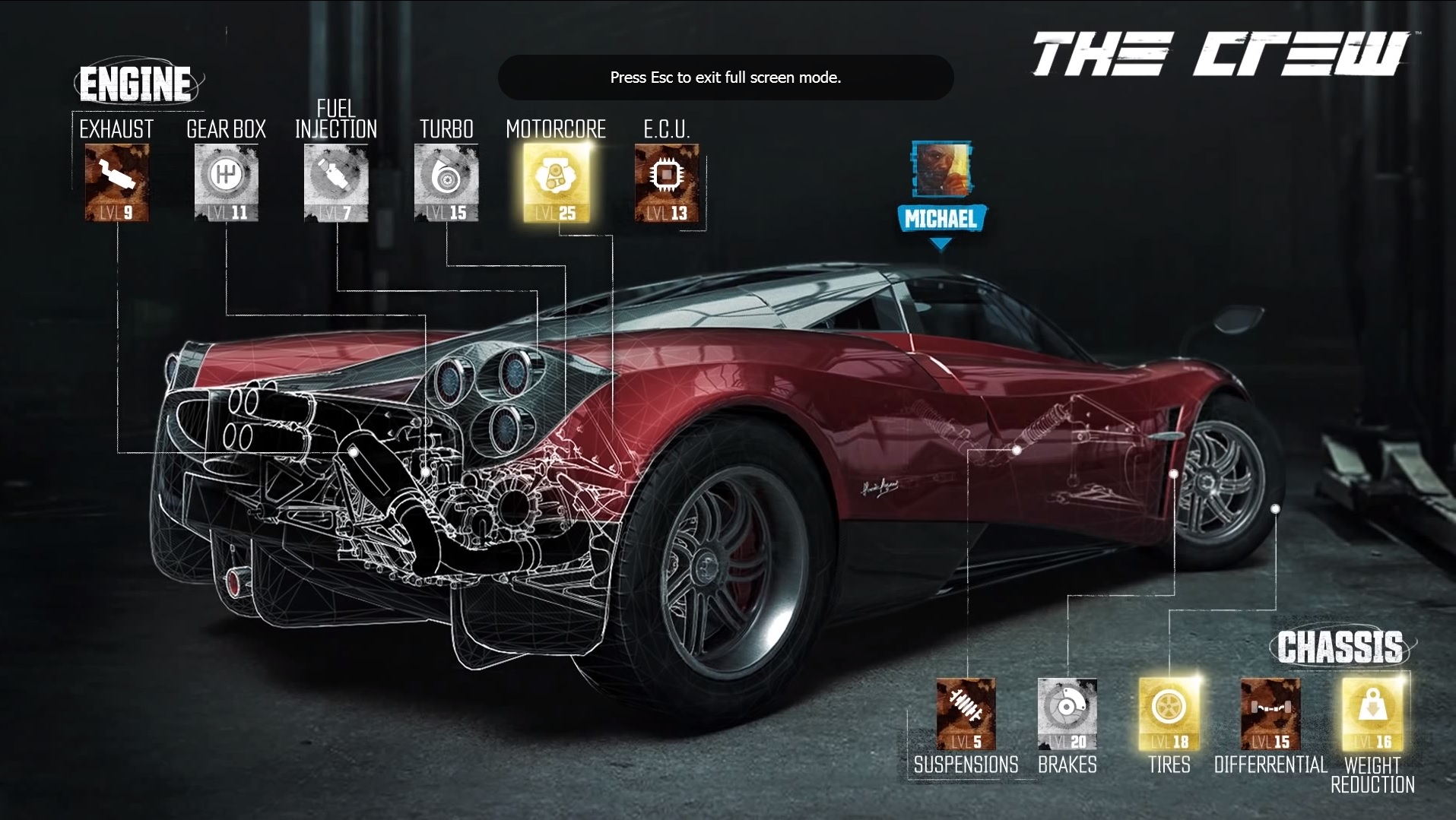 It's a testament to the team's incredible attention to detail. "Something like that is is the fruit of passionate people who wanted to see that. It's a very expensive thing to do in terms of production, but I think it's worth it because we're coming back to the level of customisation and personalisation that I love in cars," Julian muses.
"To be honest, in an MMORPG you want your vehicle, your character, to stand out and be noticed by everybody else, so for me that's something that's essential for this type of game. It's a lot of work, and it's a very close relationship with these manufacturers too, but I think it pays off. I think when Ford or GM sees their vehicle in the HQ with the Transformer effect and seeing inside the engine, they're like 'okay this is super cool.'"
In addition, eight cosmetic parts can also be swapped, and you can even customise the interior, with options to change the colour of the dashboard and upholstery, right down to the stitching pattern of the seats. Combine these extensive mechanical and cosmetic customisation options with the five evolution spec stages, and you begin to appreciate that The Crew's ambitious scope doesn't only apply to its huge open world – we're talking hundreds of thousands of possible combinations according to Julian. And you can do all this with just one car.
And yet The Crew delves deeper still. Every performance part has an individual ranking level of one to 50 attached to it, so you're going to be busy for quite some time if you're an obsessive type of player who has to reach the top level for everything.
"Every single mission, skill and challenge in the game will give you experience for your player level -that's the level cap to open up the country, money for parts and new vehicles and also one part," Julian explains. "This part will be influenced by your performance achievement, i.e. bronze, silver or gold and it will have a level attached to it. Like any RPG, your car has a character sheet, and you'll see its evolution throughout your play session of all of those pieces, and there are 11 performance pieces per car. Not only do you have these evolutions in terms of the shape and performance in terms of terrain of the vehicle, but you've also got a pure performance indicator too. It's a little more complex than just right trigger to accelerate, but that's what makes this game's charm."
I quizzed Julian to find out how long it will take on average to level up one car to the top rank, to which he replied around 25 – 30 hours – and that's if you play the narrative.
So, not only is The Crew an open world MMO driving experience, it's a fully-fledged caRPG which no game has done before according to Julian. Combine those elements, and you have a unique, deep driving experience that should keep players on the road for a very long time.
Vehicle customisation can also be applied in The Crew's companion app, a second-screen mobile application that works in tandem with the game. "One part is the customisation in the garage. It's the same assets: you can play around with your vehicles and then send them to the HD experience for the evening's play session", Julian explains. "The second is the social aspect: getting in touch with your friends, organising the trips and different play sessions for the evening too. The third is a free-to-play game that influences the experience and the cashflow that you have in the HD experience too. They're well-integrated – it's a great companion." More details surrounding the companion app will be unveiled closer to release.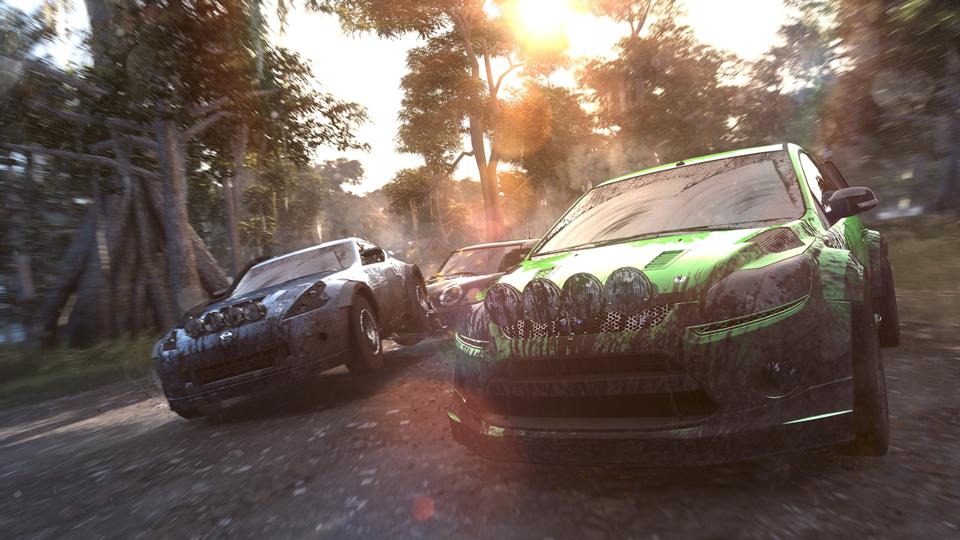 As you'd expect for a next generation game, each car has been modelled in exquisite detail. One of the car modellers explained how it takes six months to construct one car from start to finish, from the modelling and handling physics to the licencing agreements. Each car sports up to 50,000 polygons, but don't forget that the team has to model each working mechanical component for the customisation as well as the exterior and interior.
With such insane levels of detail, don't expect the car list to be exhaustive: think quality over quantity. However, there's still a varied selection of cars covering a variety of classes, from muscle cars such as the Shelby Mustang GT500 and Chevrolet Camaro and off-road 4x4s including the Ford F-150 Raptor and Hummer H1, to Japanese imports such as the Nissan Skyline and 370Z and exotic hypercars like the Lamborghini Aventador and Pagani Huayra. There's still plenty of surprises to come too, as Ivory Tower secure last-minute licence agreements which are being kept closely under wraps for now.
Cars will take damage, but don't expect obscene Next Car Game levels of soft body deformation. Strict manufacturer restrictions mean that the licenced cars will crumple on impact, but the panels will not detach. It's still better than the damage modelling in Forza, however, as the cars do damage dynamically – the  front of my Camaro was a mangled mess after ploughing into one tree too many. Dirt will also accumulate on the bodywork according to the terrain, which was also lacking in Forza Horizon.
Drivetime
TDU may have got a lot of things right, but the car handling left a lot to be desired. Then again, we were probably too intoxicated by the lush environment to really notice. Thankfully, The Crew's physics have been vastly improved, with a fluid, customisable handling model developed by the same physics programmers of the original TDU. Each vehicle's handling characteristics felt distinct, whether you're driving a heavyweight pickup, tail-happy muscle car or nippy hatchback.
There are three handling models in The Crew with different assists applied: Standard, Sport and Hardcore. Initially, the handling felt unresponsive when playing with the pad on Standard settings as the assists made it difficult to get the cars to oversteer, but tweaking with the steering sensitivity helped somewhat. In contrast, the Hardcore setting essentially turns all the assists off, which ramped up the difficulty considerably. Taming the car at speed was challenging, as applying too much power kept making the wheels spin and causing loss of control.
For pad users, the Sport handling model offers the best balance between accessibility and realism. You can have fun throwing the car round corners, but there's still enough depth in the physics that requires skill from the player to stop the car from spinning. Keeping the car under control on Hardcore mode requires more finesse, which makes it better suited to wheel users.
Many open world racers simply aren't suitable for playing on wheels because of their twitchy arcade physics – there's a very good reason why Driver: San Francsico didn't have wheel support. Thankfully, wheel support for The Crew is a high priority for Ivory Tower, as a dedicated team has been appointed to ensure it supports as many wheels on the market as possible, which was evident by the mountains of wheels lovingly on display in the studio.
Playing The Crew on a triple screen setup with a Thrustmaster T-500 wheel was simply sublime. Sadly, the triple screens weren't working, but the ferocious force feedback more than made up for it, as you could feel every nuance of the car's suspension reacting to the different terrain – the bouncy physics made driving over beach sand dunes at high speed particularly hair-raising, as I scrambled for control at the wheel with 900 degree steering during an intense takedown mission.
On Hardcore mode, my Camaro was a handful to drive with the wheel, which heightened the challenge, intensity and therefore my enjoyment. I always felt like I had complete control of the car and a tangible feeling of grip. I found myself deliberately braking hard to lock up the wheels and offset the car for an upcoming powerslide, before applying the handbrake to throw the car around tight turns which required some serious throttle control and measured steering inputs. Getting it right felt immensely satisfying, leaving me with a big grin on my face.
All-in-all, I was pleasantly surprised by the depth of The Crew's handling model in a genre not normally associated with authentic driving physics, and there's enough options to suit players of all skill levels.
That's not to say The Crew offers a simulation handling model, but it does have more depth than the majority of arcade racers. "I think we're very much arcade but with control," Julian explains. "In recent years, I found that arcade racers have gone to this level where it's almost like a pinball game. You've lost the control of the vehicle and the pleasure of driving. I think Driver did a great job at giving you super control within an arcade racer. I think we're going down that road too. It's important for me to be able to feel like I'm driving a vehicle and not just doing Wipeout with a licensed vehicle."
Not only do The Crew's cars handle well, they sound authentic, too, as Ubisoft Reflections took the time to record the engine sounds from the real cars.
Brave New World
As a new racing IP being let loose in the wild, The Crew has a lot to do to prove itself – particularly as Forza Horizon 2 is rumoured to be pulling up alongside it later this year. Indeed, this year's E3 will be pivotal for Ubisoft to effectively convey what sets The Crew apart, which Julian admits has been one of the most challenging aspects of the development whilst balancing press events.
"At E3, we have to deliver something that puts forward the experience and at the same time finish the game. It's really challenging. Again, we're a big team, but I'd rather focus on the game instead of trying to make these big events big hits like we were last year. It takes a lot of energy and a lot of time. I understand the necessity, but it's a challenge getting that balance right."
With its detailed and diverse open world, RPG-style car customisation and deep driving experience, The Crew has safely surpassed my expectations. The passion poured into this seven year-long project is abundantly apparent, and the result is potentially an exciting evolution of TDU.