Our resident Top Gear fanatic Martin Bigg recently attended this year's annual Top Gear Live event at the NEC in Birmingham. But did it turn out to be his idea of motoring heaven? Find out in his honest account of the day in our in-depth Top Gear Live 2012 show review.

It's no secret that I'm a rabid Top Gear fanboy: I've seen every episode since its revival some 10 years ago, own every annual Clarkson Christmas DVD since they started in 1996 (it's fun to watch Clarkson's hair gradually fade over time) and live in a house stocked with copious amounts of Stig-branded memorabilia.
And yet I've never managed to attend a live filming of the show. Partly because I'm not pretty enough (seriously, it's no coincidence that all the buxom birds are purposely placed to peer behind Clarkson's shoulder on camera) and partly because tickets are in impossibly high demand. Nevertheless, I still live in hope that, one day, I'll be part of the lucky few forced to stand all day in a chilly airfield hanger somewhere in Guildford just to watch three middle aged blokes swear at each other and occasionally talk about cars.
This year saw my level of Top Gear withdrawal reach an all-time high as the summer series was unceremoniously delayed until next January thanks to the ratings-hogging talentless oafs that populate prime time ITV1 every sodding weekend this time of year. Curse you Mr. Cowell.
Consequently, this meant it would take 10 arduous months for the next series to arrive after the last finished airing back in March. 10 months without Top Gear? How on earth would I cope? Sunday nights were about to become more unbearable without Clarkson, Hammond and May to distract me from the impending Monday morning monotony.
Mercifully, Top Gear Live was just around the corner to cure my cravings. Originally known as the MPH show starting in 2005 before being rebranded into the colossal world tour that is now Top Gear Live in 2008, it gives ardent fans a yearly opportunity to watch a live rendition of the TV show played out in a grandiose arena, as a selection of screeching supercars tear around an indoor track, whilst retaining the comic challenges and all the banter between the hosts the show is renowned for.
As if my fandom wasn't already obvious, this year marked my seventh consecutive year of attending the Birmingham NEC show. Curiously, Top Gear Live didn't take place at Earls Court in London for the first time this year, so the tour's one stop in its homeland was packed with more visitors than ever before. At times, navigating through the overcrowded hall was like a bad day on the gridlocked M25.
Supercar Paddock
This was particularly true in the Supercar Gallery exhibition, a massive hall adorned with past and present exotic car displays from a plethora of prestigious manufacturers en route to the live show arena.
Indeed, many manufacturers were present including Mercedes-Benz, Nissan, Porsche and Ferrari but, with the exception of the Citroen DS3 Cabrio ahead of its launch next year, the exhibition was devoid of new car launches compared to larger motorshows. To compensate, there were at least a handful of reputable racing cars on show, such as Gordon Sheddon's BTCC championship-winning Honda Civic and 7 times WRC champion Sebastian Loeb's Citroen DS3.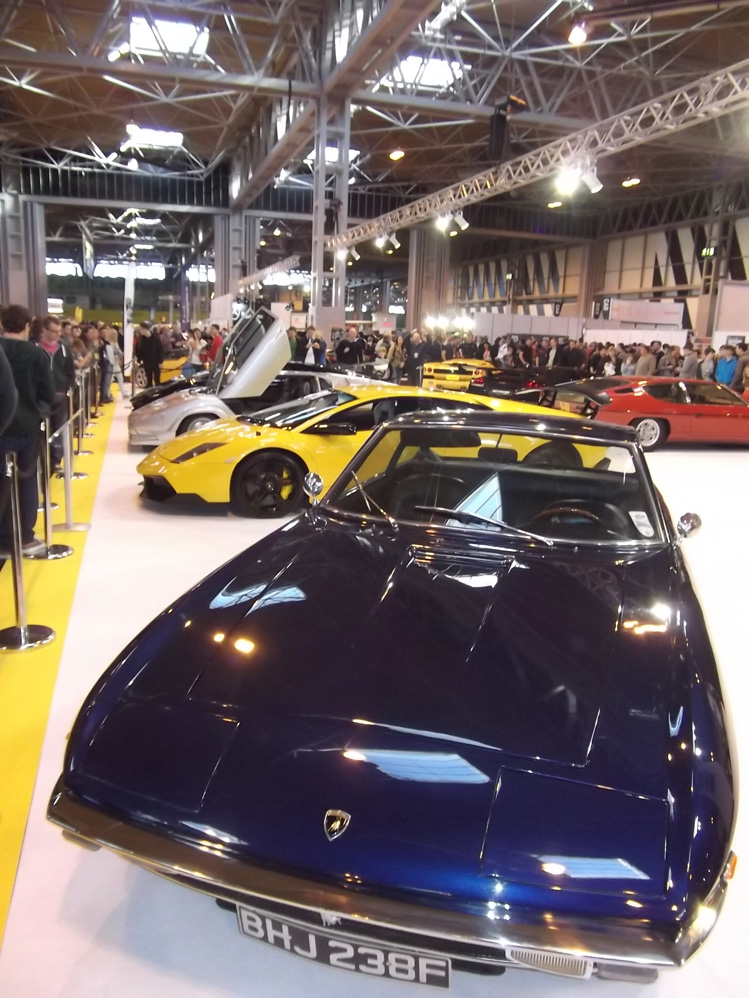 Lamborghini arguably had the most lavish selection, with a gallery from the Lamborghini owners club that illustrated the weird and wonderful shapes from the eccentric Italian manufacturer's history. Among them was a classic Countach and a beautiful Muira and a Diablo VT that instantly conjured up memories of old Need for Speed games, along with a contemporary Gallardo and Murcielago and some novelty surprises including the elongated Espada, a rarely-seen Jalpa and, er, a tractor.
As a die-hard Aston Martin fan (I still believe I should be entitled to one on the house considering that, you know, we share the same name) I unsuccessfully spent most of my pre-show time searching for the British car manufacturer's spot. When I finally found it, it didn't disappoint.
Queues were especially long in order to be granted entry into the stand to get a closer look at these British beauties, but among the cars on display was the V12 GT3 driven by Andrew Howard from the British GT Championship, the dashing new Vanquish and the lean-looking One-77, a car so devoid of flab you can practically see its ribs.
For me however, the undisputed highlight of the exhibition was not one of the many swanky supercars on display, but a historic Alfa Romeo 6C 2500 S Berlinetta from the 1930s. Yes, you read that right.
Sat next to a gleaming Ferrari 250 Testa Rossa racecar, this majestic monument was not only in immaculate condition with its glistening, all-aluminium bodywork built by Touring and even an original 1939 tax disc, but also had an interestingly notorious history.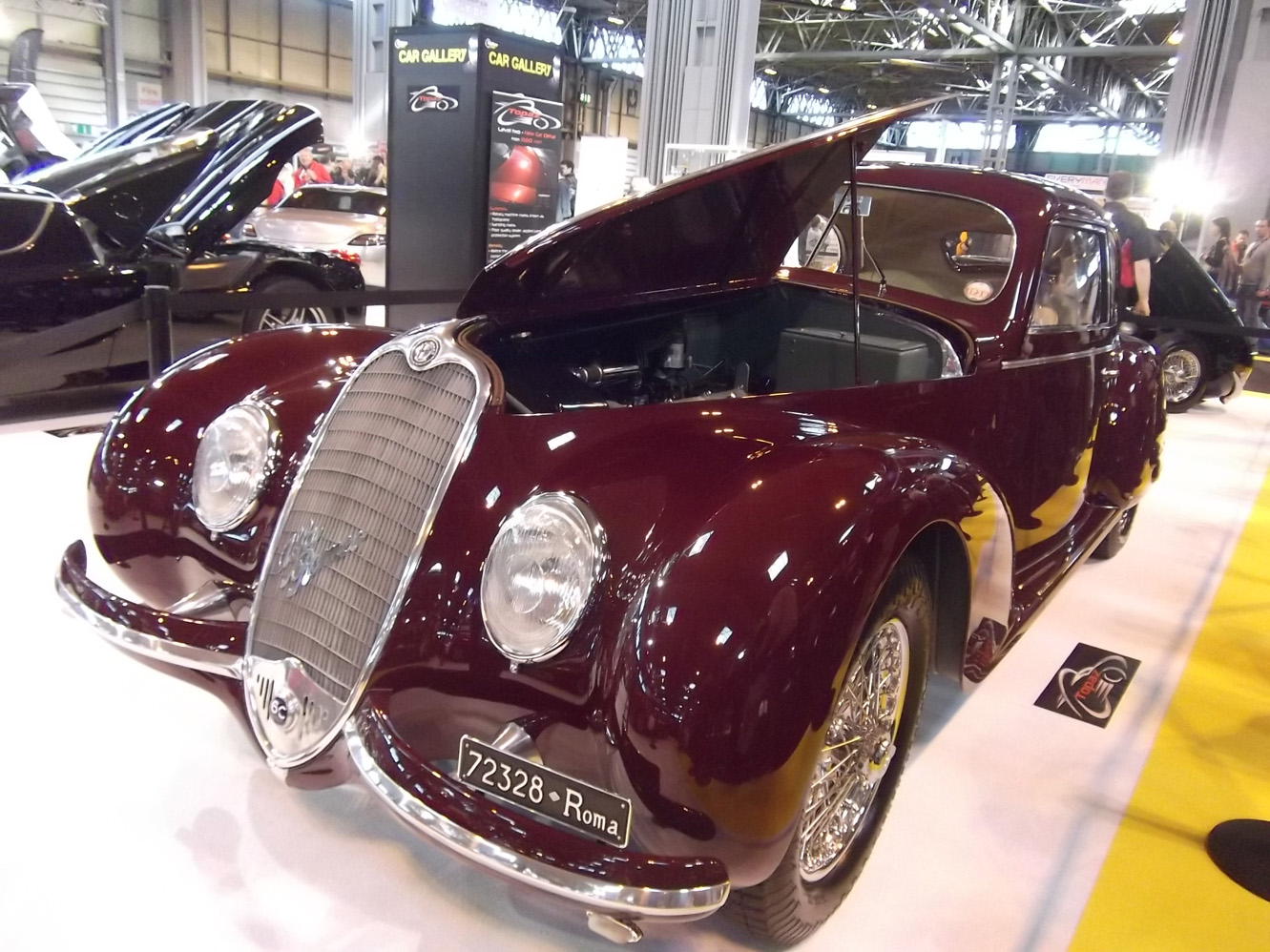 Speaking with one of the reps revealed that the car originally belonged to Italian dictator Benito Mussolini, who later passed it on to his mistress Claretta Petacci – both were executed after being captured during an attempt to cross the Swiss border in the Alfa to escape the war in Italy.
Every year, Top Gear Live gives gamers a chance to sample the very latest driving games. And every year, EA predictably hog the event with a booth containing the latest annual Fifa and Need for Speed games. This year, however, it was Microsoft's turn to show off Turn 10 and Playground Games' Forza Horizon.
There was good reason for its appearance, too. Not only is Forza Horizon a superb game for petrolheads that makes it an easy sell for the like-minded crowd wandering around the showfloor, but Top Gear Live happened to be the final destination for the Escape the Grid competition, a Top Gear-style road trip that pitted ten supercars in race from France to Birmingham all in the name of promoting Forza Horizon on the highways and byways of the journey.
Situated in a colourful corner of the show floor, the stand's extravagance was effectively eye-catching in an attempt to embody Forza Horizon's festival atmosphere, adorned with racing seats (without an accompanying wheel setup, oddly), a live DJ stage and a selection of cars that took part in Escape the Grid, including, of course, our Cat's Jaguar XKR-S, a.k.a. 'The Mistress' – albeit with plucked eyelashes. Sorry Cat.
Elsewhere, there was plenty of fan service for Top Gear show junkies. As with every Top Gear Live event, a selection of the show's 'ambitious but rubbish' challenge cars were on display with prominent 'do not touch' signs – rules were meant to be broken, right? Oops…
Dominating the stand was the indestructible pickup made famous for surviving everything Clarkson could throw, drop and crash into the hunky Hilux, but this year they managed to showcase a few new attractions – namely the custom mobility scooters and Richard Hammond's amphibious Lotus from the Top Gear Bond special before the show had even aired.
You could also have your photo taken in a replica of the studio (which in reality was just three green leather seats and a table vaguely resembling the presenter's spot – a backdrop would have at least made it more worthwhile), fiddle with an interactive Cool Wall and try not to vomit in the Stig track simulator. Of course, no Top Gear Live visit is complete without the traditional trip to the overpriced merchandise stand selling rehashed tour t-shirts every year at £20 a pop for suckers like me to lap up. Now I know what I'm getting for Christmas…

Overall, while it was enjoyable to see so many supercars you would never have a hope in hell of affording (I'd be interested to know the total value of all the featured cars) in the flesh all under one roof, the exhibition wasn't as vast as a full-blown motorshow such as Goodwood – you could easily see everything in an hour if you rushed through it.
It was also littered with one too many incongruous advertising stands trying to sell you remote controlled flying helicopters, perfume and even Barbie dolls at a car exhibition for my liking. At times it was like sifting through a tatty market stall – a far cry from the illusion of a prestigious motor exhibition they're trying to portray. Spreading it out into multiple halls would have helped ease crowd congestion as well as allowing for more attractions on display.
But then it was never meant to replace traditional motorshows with multiple halls of manufacturers and new car launches – think of it more like a fantasy car garage, designed to set your engine revving in anticipation for the main event.
The Track: Grudge Match
That main event was of course the live show, and Top Gear Live 2012 continued last year's format with two separate performances. Presented, perversely, by Fifth Gear's Tiff Needell and the ever-giggly Vicki Butler Henderson, the first catered for petrolheads more than the Top Gear trio's infantile hijinks, with an emphasis on head-to head duels, races and challenges.
The organisation left a lot to be desired as I made my way into the Live Arena, however. The scheduled 3:45 performance was delayed due to a "technical problem", leaving us practically stranded in the huddled queue with little explanation bar the odd muffled announcement. Even disgruntled VIPs were left standing in the same gridlocked queue for over half an hour, which at least raised a chuckle – heaven forbid they had to mingle with normal ticket holders. It was nothing short of organised chaos, to the point that some punters were scrambling between the barriers to jump the queue.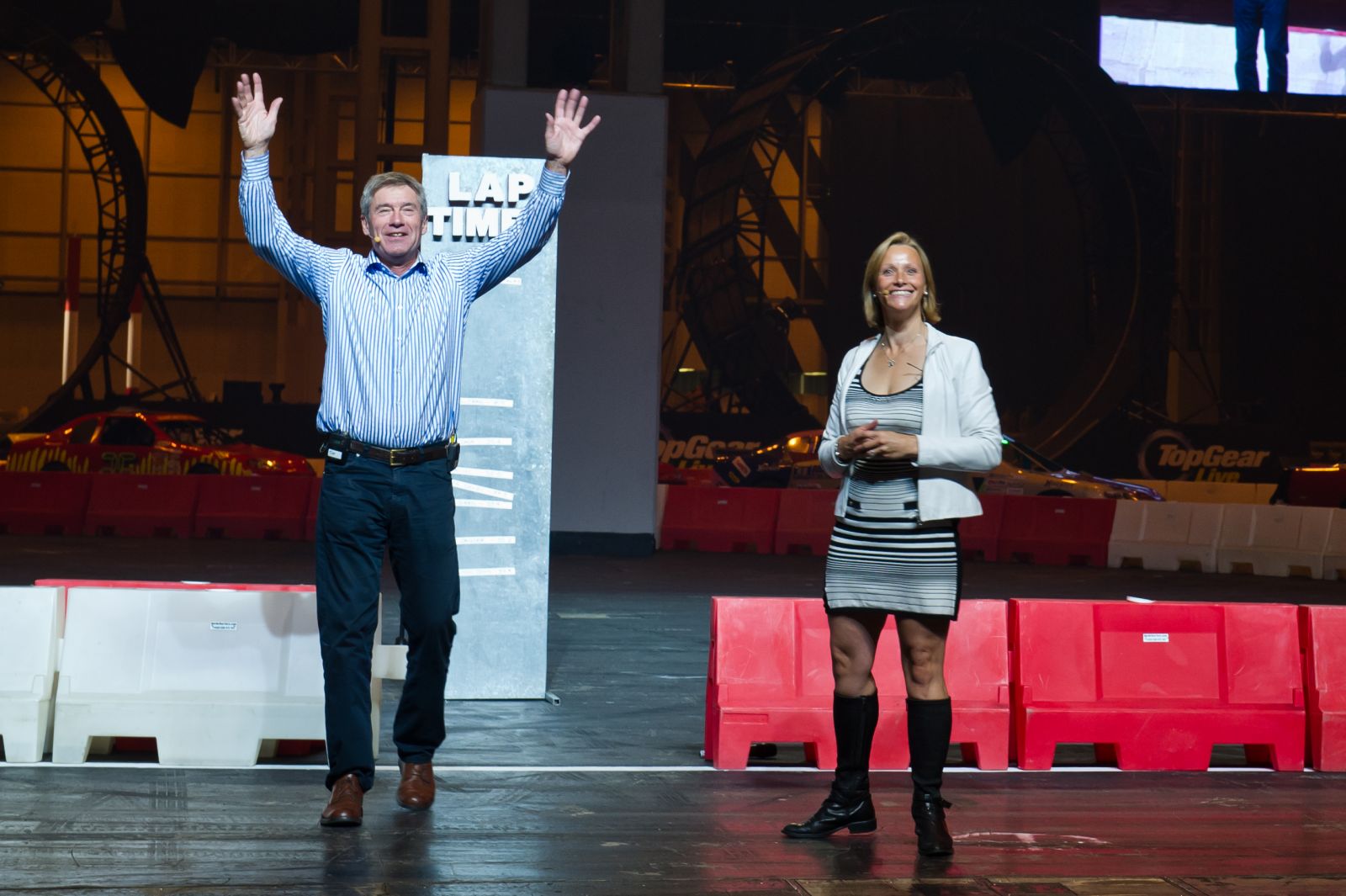 When we eventually took our seat, the show followed a 'Grudge Match' format – essentially an excuse to pit high performance cars in a series of automotive duels. The bar was set astronomically high by the introductory grudge match, which saw Tiff vs. the Stig in a Toyota FT86. It's impossible not to admire Tiff's god-like driving ability, and he was certainly on fine form here, effortlessly sliding around the circuit whilst almost skimming the side of the wall and delivering his usual brand of animated commentary. It was trademark Tiff, and I wouldn't have it any other way. Suffice to say, Stiggy was triumphant – it takes one talented driver to outdo Tiff. Maybe Tiff isn't the Stig after all.
As you can probably tell from the video below, each duel was an absolute aural assault, the satisfying sound of squealing tyres only amplified by the acute echo of the arena. The track itself was also devised by Lotus, who created the famous Top Gear track seen in the show, complete with novelty nicknames for some of the corners: Clarkson Curve, Hammond Head and James May Maze.
Things got more interesting when a slew of retro rally cars took to the track in an effort to see which could achieve the fastest time in a series of time trials. Among them was a Mitsubishi Galent, Toyota Corolla and, naturally, a '90s Subaru Impreza – the Corolla let the side down by stalling, but it was the Galent that was victorious. It was undeniably nostalgic to witness these golden greats from a defining era of rallying get a good thrashing, much to the delight of the packed crowd.
This theme continued in a series of hot hatch duels, including a Citroen DS3 vs a Focus ST, a Vauxhall Astra VXR against a Renault Meganne and a Golf GTi against a Fabia FTi, all of which were entertaining to watch.
Celebrity drivers also made an appearance in the fabled Star in a Reasonably Priced Car, setting times around the track in the traditional Kia C'eed. Broadcaster Johnny Vaughn starred in the show I attended, while a line-up of other guests filled up slots in the remaining shows including Johnny Vegas, The Gadget Show's Otis Deley, Blue Peter presenter Zoe Salmon, celebrity chef Paul Hollywood and Olympic medallists Anthony Joshua and Max Whitlock.
Shane Lynch may be best known for his role in Boyzone, but did you know he is also a professional drift driver? In the penultimate grudge match, both Shane and someone called Shay O'sullivan competed in a dazzling drifting competition in a pair of ferociously powerful Nissan Silvias boasting a whopping 750bhp each.
Indeed, it was almost harrowing watching these two evenly matched hot heads weave around such a narrow indoor track with nail-biting precision, not to mention the sheer amount of suffocating tyre smoke produced. When it came to the voting, Lynch managed to clinch the audience vote, although this was largely down to his immaculate torso rather than his driving skill. Did you also know that I was once a drifting world champion too? Well, on the Gran Turismo 5 leaderboards at least. For about 3 days.
The show concluded with a light-hearted race between Tiff and Vicki among others in half cars that were kitted out with 130bhp motorbike engines. Let's just say they didn't manage to stay on the track for very long, which set the tone for what was about to come.
Top Gear Live Arena
After a 15 minute interval allowing us to bask in the sweet smell of burning rubber left from the last show, it was finally time for what we had all been waiting for: the Live Show featuring everyone's favourite Top Gear trio. Wisely, both shows were slotted together in the same arena unlike last year, so there was no additional queuing.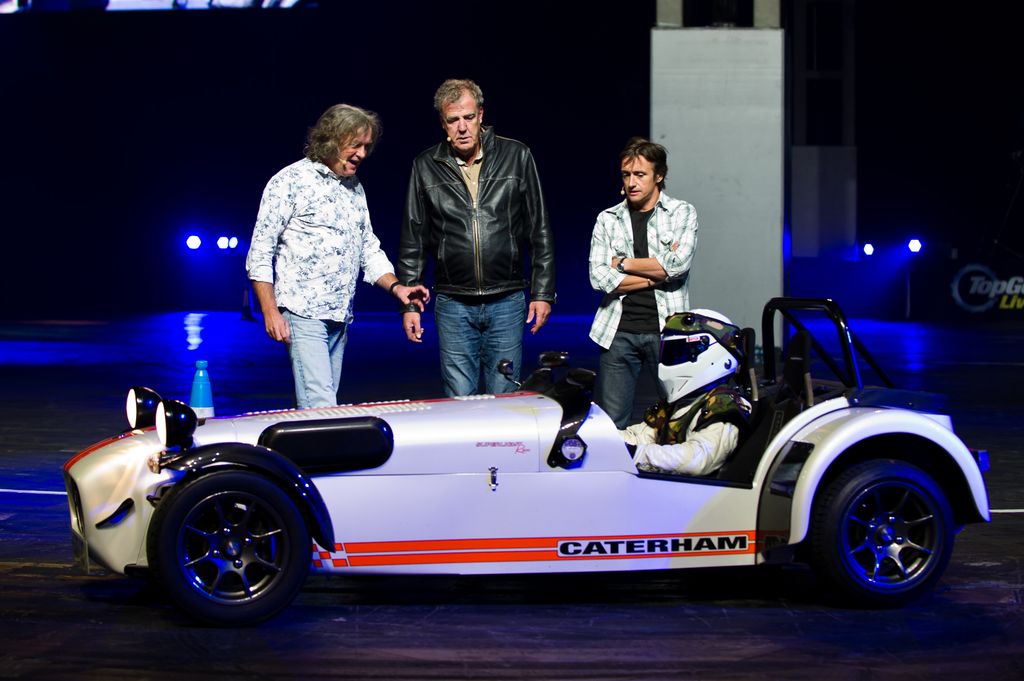 It all kicked off with typical Top Gear hilarity and infantile ingenuity, as the terrible trio arrived with aplomb on a motorised version of the studio. This joke was actually rehashed from last year, albeit with a new twist – this studio sported a 580bhp V8 engine, the very same one that powered the modified food blender seen in the TV series, apparently. Cue Clarkson demonstrating the power of this machine by performing 'the world's first studio doughnut', much to the scripted dismay of Hammond and May.
Whereas Top Gear Live 2011 followed a strict Olympic theme ahead of London 2012, this year's was loosely based on James Bond, commencing with an Aston Martin tribute to commemorate Bond's 50th anniversary. A fleet of familiar Bond cars including the iconic DB5 and V8 Vantage filled the stage before the Top Gear Stunt Driving Team performed what can only be described as an elaborate car ballet with Aston Martin Cygates (rebadged Toyota iQs, in reality) whilst a woman dangled precariously on a ribbon above. It's just a shame that, for a Bond tribute, the actual Bond cars were seen on-stage far too briefly. The Cygate display, while well co-ordinated, also felt a bit tame, but the lighting and music achieved the desired ambience.
Then it was back to traditional Top Gear tomfoolery. Continuing the Bond theme, Hammond proceeded to spin a skeptical Clarkson and May sat in Ford Fiestas in a vague ode to the Centrifuge scene in Moonraker, knocking them into parked cars. It went on a bit too long and was a bit pedestrian for their standards, frankly.
By comparison, The Top Gear Stunt Team practically stole the show with their enthralling stunt shows, whether they were vaulting over Citroen DS3s on pogo sticks, or balancing a bicycle on a moving truck. Of course, it wouldn't be Top Gear without something catching on fire, and this remained true in Top Gear Live with a flaming Porsche and bikers dressed in Halloween costumes jumping over ramps whilst on fire. Spectacular stuff indeed.
More cocking about ensued as Jeremy whizzed around at low speed in a rather unique car: an odious, purple convertible G-Whiz. The goal was to avoid being shot by a group of marines who were firing virtual rounds at Clarkson, which was amusing at first but quickly grew tiresome. Meanwhile, the team embarked on a novelty game of sidecar polo where Jezza, arguably the least sporty of the pack, miraculously managed to score a hat-trick. And yes, we were once again treated to the age-old Jeremy 'not knowing how to ride a bike' routine.
Eventually they took a break to talk about cars, as nearly a dozen supercars parked around the stage in a parade of automotive pornography from all corners of the world. It's a routine they do every year, but this was undoubtedly the most salivating selection yet: everything from bonkers Italian exotics like the Lamborghini Aventador and Pagani Zonda F Roadster to the quintessentially British Noble M600 and Morgan Aero Plus 8 that were, presumably, constructed in the back of a shed were on display ready to be assessed.
Tasked to choose which one they would take home if given the choice, both Jeremy and James opted for the Lexus LFA, whereas Hammond, unsurprisingly, went for the Morgan since he owns one. Personally I was swooning over the Ford Mustang GT500 since it resembled Eleanor from Gone in 60 Seconds, a car that I am forever fixated with.
For the grand finale, fans were treated to a rather special stunt that doubled as a world record attempt: the deadly 720 loop-the-loop. In truth, a similar stunt was executed in Top Gear Live in Durban earlier in the year, where a buggy achieved a world record by performing the first double loop-the-loop on 4 wheels. Presumably, whoever dreamt this up spent a lot of their childhood playing with Hot Wheels.
This was already impressive in its own right, but they upped the ante for Top Gear Live Birmingham by performing the death-defying stunt on a bike. Given the lack of seatbelt, safety harness or indeed a rollcage, to say this stunt was dangerous is an understatement – precision was paramount, so there was serious potential for it to all end in a splatter for the rebellious rider.
As everyone watched with baited breath, the stunt was successful and was spectacular to behold, although it wasn't a flawless run – watch the video for yourself and see how close the rider got to mistiming it as he enters the second loop just a tad too cautiously, nearly spelling disaster.
And on that bombshell, it was time to end the show. Clocking in at nearly 3 hours for both shows combined, I was left with a numb bum thanks to the truly terrible seating when it was finally time to leave and reflect on the day.
Ambitious but rubbish value for money
Top Gear Live 2012 was as bombastic as it's always been, but that was the problem: like Top Gear on the telly, I can't help but feel that the format has become somewhat stale.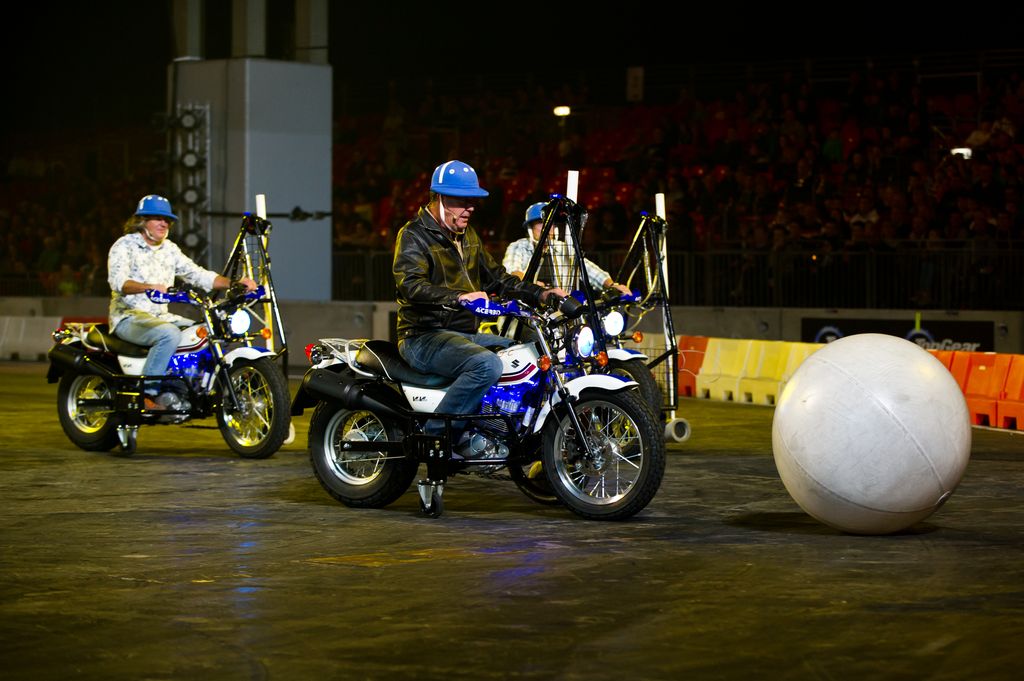 Of course, that's not to say I didn't enjoy Top Gear Live 2012. You could argue that it's like complaining about a band playing the same setlist at a sellout gig every year, and for first-time attendees it's undoubtedly spectacular to watch. But, as someone who's been to the show multiple times before, it felt as if I had seen it all before – Hammond spinning May and Clarkson into scrap cars was essentially car curling again from last year for example, whereas Sidecar Polo was really a rehash of car football, an act that has featured in almost every show since it began.
My other gripe was that Top Gear Live 2012 simply didn't offer the same value for money as previous years. You can spend as much as £99.00 on a top-tier Platinum ticket which, to some, already sounds extortionate, but the price of admission was better justified before. Previously, taking the plunge and purchasing a Platinum ticket would get you a complimentary 'posh nosh' pie in a box meal (actually more scrumptious than it sounds), stacks of free drink vouchers, free entry into the additional Classic Car exhibition and a behind the scenes Paddock tour of the live show.
This year, food wasn't included, the Classic Car exhibition was nowhere to be seen as it was scheduled at a later date as a separate show and the Paddock tour was replaced with a rather lackluster 'Behind the scenes of Top Gear Live' hall. It was no substitute, containing a handful of custom cars seen in previous shows along with a 'Paddock' that, as far as I could work out, had nothing to do with Top Gear or the Live show. Even the car parking was bumped up from £8.00 to £10.00 this year just to rub salt into the wounds.
You therefore get the feeling that privileges have been continually downgraded year after year, making it increasingly difficult to justify forking out the extra cost for the higher level tickets, especially when the perks between the Gold and Platinum tickets were far harder to distinguish this year. Some Gold ticket holders reportedly had front row seats, yet I was sat almost halfway up the arena with a Platinum ticket.
And therein lies the problem:Top Gear Live has essentially become the automotive equivalent of Call of Duty, rehashing the same formula every year whilst relying on its ubiquitous brand recognition to sell tickets. They know die-hard fans will pay, no matter what the asking price.
For Top Gear fanatics, Top Gear Live is a no-brainer. For petrolheads, though, there are probably better ways to spend your hard-earned cash – the Goodwood Festival of Speed or even a day out in Silverstone would offer better value for money, for a kickoff.
And on that bombshell…
So, will I be going again next year to inflate Clarkson's extortionate income that little bit more then, you may ask? But of course. But a few more perks for Platinum ticket holders next year would go a long way into making Top Gear Live feel less like a malevolent money-making venture.
More videos from the event can be found on my personal YouTube channel and we've also cobbled together some photos from the Supercar Paddock in the gallery below for your viewing pleasure.