For nearly a decade, developer Slightly Mad Studios have had an unrelenting vision: to deliver the definitive hardcore racing simulation appealing to the masses and motorsport aficionados alike.
It started with Need for Speed Shift. At this point, the long-running series was going through something of an identity crisis, so EA handed over the keys to Slightly Mad Studios in an attempt to reinvigorate the stalled series and steer it in a more simulative direction. It's easy to see why they were enlisted: the team were comprised of ex-SimBin staff who worked on the legendary GTR; a series long regarded as the pinnacle of PC racing simulations.
Unfortunately, publishers perceive specialist racing simulators as harder sells on mass market consoles, which is why Shift was comparatively accessible under EA's direction, despite it being billed as a simulation. Its inevitable sequel Shift 2: Unleashed veered closer to Slightly Mad's vision, depicting the thrills of taming a high powered race car with striking gravitas whilst bringing a number of pioneering new features other games have since adopted such as the then-innovative driver's eye helmet camera.
After a short stint with the Test Drive series with the forgotten Ferrari Racing Legends, Slightly Mad decided the time was right to develop a new racing IP free of publisher constraints to fully realise their hardcore racing game vision – which brings us to Project CARS. To say that Project CARS is the developer's most ambitious game to date is an understatement, particularly as the game isn't solely the work of Slightly Mad in truth.
Originally known simply as C.A.R.S. in its inception, Project CARS is a "Community Assisted Racing Simulation." Aside from being a slightly forced abbreviation, this alludes to the fact that the game's unconventional development has been a collaborative community effort:  Slightly Mad enlisted 80,000 players along for the ride as part of the World of Mass Development programme, an experimental scheme that gave supporters access to regular developer builds (over 3000 were released in total), an opportunity to shape the game with requested features long before the days of Steam Early Access and the added incentive of financial gain through investment.
In addition, Slightly Mad recruited real life racing drivers Ben Collins, Oli Webb and Nicolas Hamilton to lend their expertise on car handling, racing techniques and disciplines in an effort to make Project CARS reflect real life racing as closely as possible – it's certainly deserving of its "for racers by racers" tagline.
Initially only slated for PC, the decision to port Project CARS to the current-gen consoles is a significant milestone for the sim racing genre. While they're available in abundance on PC, hardcore racing simulations are rarely seen on mass market consoles due to publisher's reluctance to gamble on new IPs in a niche genre. Case in point: the last hardcore sim racer we saw on console was SimBin's underrated Race Pro on Xbox 360, arguably a precursor to Project CARS, which sadly failed to make an impact despite SimBin's reputation on PC.
While Forza Motorsport and Gran Turismo may be realistic, they can't match the level of depth in hardcore PC racing simulations such as iRacing, rFactor and Assetto Corsa, which have established communities of dedicated drivers. That's not to say Project CARS can't hold its own against the current crop of PC racing sims, however. Being a multiplatform release means you're getting the best of both worlds: it has the depth of a PC racing sim with all the features you'd expect from a fully fledged console game, i.e. a full single player campaign and AI. No matter which platform you're playing on, Project CARS is undoubtedly one of the most seminal racing games in years.
It's also one of the most delayed: it's incredible to think Project CARS was originally going to a free-to-play game set for release in 2013. Four years in the making, is Project CARS the hardcore racing simulator console players have been craving?
Pro Race Driver
On console, Slightly Mad pitched Project CARS as a direct rival to the console racing titans Forza Motorsport and Gran Turismo. But it isn't, really: all three series can be broadly classed as racing simulators, but Project CARS manages to squeeze through a gap in the market and set itself apart as a viable alternative.
Forza and Gran Turismo are built on a tried and tested racing game formula: you race, rank up, earn credits and build up a coveted car collection featuring the prestigious manufacturers adorning your Top Gear wall calendar that you often fantasise about.
Project CARS on the other hand bravely breaks from tradition and attempts to rewrite the racing game rulebook: instead of grinding for cash and collecting cars, your aim is to simply win championship points and sign team contracts.  Everything is unlocked from the start and there is no in-game currency to worry about since cars are provided by your team, as in real life. This allows the racing to be the core focus as you fight for your position – it's surprisingly refreshing to see your championship points affect your overall race standing rather than your bank balance.
It's this level of authenticity that sets Project CARS apart as a thoroughbred racing simulator that motorsport fanatics will appreciate, delving into just about every facet of track racing imaginable and all the rules and regulations that go with them, from tyre setups and qualifying sessions to mandatory pit stops. Remember Toca Race Driver? This is its current-gen spiritual successor. Project CARS is the first game to make you feel like you're living the life of a professional race driver since Codies' classic Race Driver series.
The result is a racing game that's as lightweight as a thoroughbred track car. If it was a car, Project CARS would be a Noble: British-built, lightweight, brutally powerful and a handful to drive, yet still an underdog against, say, Aston Martin.
The beauty of Project CARS' career, though, is you can approach it however you like. Rather than relegating you to a crummy car you have no desire to drive and ask you to laboriously grind your way up to the good stuff, Project CARS gives you complete freedom of choice, allowing you carve your own career path with any of the game's 12 distinctive disciplines. Traditional players can still work their way up through the tiers, or you can just skip straight to the top if that's your preferred playing style.
There's some real life logic applied to the career paths, too. Take the single seaters, for example: many Formula One drivers start out in karting, and Project CARS faithfully replicates this progression. Unlike the official Formula One games, all Formula classes are represented, albeit without any official licenses: Formula Three and Formula Two are simply "Formula C" and "Formula B" in Project CARS, while Formula One is, you guessed it, "Formula A." If it wasn't for the lack of official licenses, Project CARS would be a worthy substitute to standalone F1 games.
Or if you fancy tearing up the track in tin pot touring cars, you'll start out in evenly-matched Renault Clios cup cars (oh how the memories of Toca Race Driver 3 instantly flood in), experiencing the exciting bumper-to-bumper racing the sport is renowned for. This class is fleshed out with a number of GT cars and even Retro Touring Cars, from the DTM BMW M3 E30 and Mercedes-Benz 190 E-Klasse to the feisty Ford Sierra Cosworth.
Le Mans is also fully represented with the full range of prototypes, which will no doubt delight devoted motorsport fans – and yes, you can race a full 24 hour Le Mans endurance race if you desire. There's enough variety here to suit every motorsport fan's taste, and you can run multiple careers simultaneously at any point if you fancy tackling a different discipline.
Your racing career pans out over championships divided into seasons, which are represented in an interactive calendar displaying all current and future events, each divided into race weekends with optional practice and qualifying sessions before the race, while a Milestone-esque faux social media feed relays fan reactions to your performance. Meanwhile, an overdramatic orchestral score plays over the proceedings, practically gearing up Project CARS to be the second coming of racing games. It takes itself so seriously, it might as well come packaged with a real pair of racing overalls, gloves and a helmet.
For console players born and bred on achieving objectives, unlocking cars and acquiring cash to spend on upgrades, delving into Project CARS' open-ended career is all a bit mystifying at first; a byproduct of its PC heritage where players are content with simply hot lapping for hours on end. Thankfully, players who need more than the personal satisfaction of winning championships to give the game a sense of progression haven't been left out either, as Slightly Mad have added historic goals to aim for, smartly catering for all player types: the Zero to Hero goal will suit players who enjoy working their way up through the disciplines from karting to the pinnacles of motorsport, whereas Defending Champ rewards players who stick to their favourite discipline and dominate it over consecutive years Sebastien Vettel-style. Likewise, Triple Crown embraces players who find success in a multitude of disciplines. Again, these goals reinforce the freedom you have to approach your career path in Project CARS.
Performing well will attract the attention of sponsors who will invite you to one-off events in other disciplines. Confusingly, you're not given the option to accept or decline them directly from your inbox. Instead, the calendar displays every event in the season including invitational events outside of the discipline you're contracted to which you can opt to participate in at will. You can choose to ignore them and skip to the next event in your contract, but it isn't explicitly clear – enter an invitational, and you'll then be tied to it throughout the season with no option to leave other than continually entering and retiring each race.
Admittedly, Project CARS' career isn't quite as ground-breaking as Slightly Mad proclaim. Its structure isn't a completely new concept – it's really an evolution of what TOCA Race Driver, Race Pro, and the more recent Grid Autosport set out to achieve.

While the career is undeniably engaging, without the incentive of unlocks pushing you forward or a clear end point beyond replaying seasons, I found myself becoming less compelled to compete in the career as it panned out and spent more time simply creating my own experiences, experimenting with different car classes, tracks and configurations – Project CARS is best described as a racing simulation sandbox rather than a racing game. You very often have to find your own fun: this is a game designed primarily for purists who take pride in their lap times. That said, in a genre that often comes under fire for shoehorning unwanted social features and storylines, it's invigorating to find a game that puts the racing right at the forefront.
Car contradiction
While the career is undeniably comprehensive, there is a downside to covering such a wide range of racing disciplines: when it comes to the car selection, Project CARS spreads itself too thinly. Indeed, the car list isn't quite as extensive as we had hoped: there are 65 cars in total (excluding DLC) all unlocked from the outset, but only a handful are available in each class. You could argue a case for quality over quantity, but the selection is sporadic, to say the least. This could limit the longevity if only a few car classes appeal to you.
There are some real gems, though: taming a turbocharged Lotus 98T single seater without assists provides all the harrowing thrills you could want in a racing game and some, requiring delicate dabs of the throttle to temper the wild wheel spin.
But console players used to the comprehensive car catalogues its rivals offer will likely be left longing for more when browsing Project CARS' scant selection of road cars: the Audi R8, McLaren P1 and Gumpert Appollo are all fine examples of contemporary road cars, but the only Italian manufacturer you'll find is Pagani with the Zonda Cinque. Japanese and American manufacturers are largely underrepresented, with only the Mitsubishi Evo 10 and a handful of Fords. If you were hoping to drive road-going Ferraris and Lamborghinis you'll probably be disappointed, because Project CARS specialises primarily in purpose-built race cars and makes no apology for it.
Again, this is indicative of Slightly Mad's ambition to speak to motorsport fans, but there's a danger (at least on Xbox One) that the formidable Forza Motorsport 6 could dent Project CARS' diversity when it's unleashed. In addition to standard roadcars, touring cars, historic racecars, V8 supercars, Open Wheel will be part of Forza 6's eclectic line-up of 460 cars, including the full Formula E line-up. . And unlike Project CARS, every race car is officially licensed. This is less of a problem on PS4 however, since we're unlikely to see a new Gran Turismo game until late 2016 at the earliest.
As with most modern racing games, Slightly Mad have an extensive "On Demand" DLC plan to help expand the car roster, including monthly free cars along with pay-for packs, but you have to wonder how enticing future content will be with the knowledge of plans to include over 200 cars in the sequel from the outset, even if it's most likely a few years down the line.
Fortunately, you'd be hard pressed to have any complaints about Project CARS' terrific track selection, which reads like a motorsport fan's dream list. Set across 29 locations and 73 track configurations, Project CARS offers by far the largest and most diverse roster of racing circuits in a game to date. It puts Forza Motorsport 5 to shame.
A broad range of continents are represented, from underused circuits such as America's winding Willow Springs to Australia's magnificent Mount Panorama circuit, to legendary motorsport venues such as Silverstone, Imola and Spa. However, Slightly Mad's English heritage means there are is a slight bias to some old British favourites, as Snetterton, Oulton Park, Brands Hatch and Cadwell Park all feature– not that we're complaining.
The only downside is that only these aforementioned British tracks were given the full laser-scan treatment – its PC sim competitors have the edge here, where laser-scanned tracks are practically expected now. To some the differences are probably negligible, but there's no denying the advantages: laser-scanning offers a more accurate representation of the detail, surface and camber of a track, allowing for a more authentic recreation. Turn10 have started to realise the benefits of the technology, which is why more tracks in Forza Motorsport are being laser-scanned than ever before. It's a shame Slightly Mad didn't have the resources to laser-scan more circuits, but this would have extended the development time significantly.
Despite this, Project CARS arguably has the best recreation of modern-day Monaco (or Azure as they have to call it due to licensing restrictions) in a game to date right down to the placement of its stunningly detailed 3D model buildings and backroads. The handful of fictional road racing circuits also provide a welcome break from the real racetracks: the 12 mile coastal California highway wouldn't look out of place in Need for Speed with its sweeping bends, scenic views and extended straights allowing you to max out your speed.
Best of all, unlike some of Project CARS' rivals, the time of day can be altered for every track, as can the weather effects with up to four options allowing you to set different intervals.
Ironically, most racing games get the balance wrong, hastily releasing additional car DLC month after month but failing to give you any new tracks to drive them on. Project CARS has the opposite problem: in a rare situation for racing games, it's overstocked with tracks and deprived of cars.
Get a grip
While perhaps not as demanding as its PC bretherands iRacing, rFactor and Assetto Corsa, the core driving in Project CARS is far less forgiving than Forza and Gran Turismo, accurately simulating weight distribution, suspension and body roll of the various car classes more convincingly than any other game I've played on console. If you're transitioning from DriveClub, be prepared for a very steep learning curve: Project CARS' tyre model is very advanced to the point you have to warm them up during qualifying sessions, so you have to be progressive with your inputs – hammering the power and brakes like in other games and you're likely to spin out into the nearest wall. Part of the fun is finding the limit of grip, and this is well communicated in the controls, which give you tactile feedback when the brakes lock up or the tyres lose grip.
From grippy GT cars and twitchy karts, to wallowing road cars being pushed beyond their comfort zone, every car in Project CARS offers a distinctive driving experience every time you get behind the wheel.
Unfortunately however, the advanced physics don't translate very well to the limitations of a control pad, which will be the standard setup for most console players. Using a wheel is therefore a must as playing Project CARS on a controller is simply nowhere near as intuitive or satisfying. Attempting to drive without assists on a controller is very challenging to the point some cars are a handful to keep in a straight line. As with most racing games, a wealth of driving assists can be applied, but this dilutes the driving significantly. It's a shame you also can't apply assists mid-race, rather than having to jump back into the main menu just to switch off the traction control.
Unsurprisingly, Project CARS was designed primarily with wheel users in mind, but wheels tend to be less common on consoles than they are on PC. Fact is, not everyone is willing to pay almost the price of a console for a peripheral – consequently, this means the majority of players won't get to experience Project CARS at its full potential.
Still, if you've been waiting for an excuse to take the plunge and purchase a racing wheel peripheral, this is it. Force feedback response is simply superb, allowing you to feel every nuance of the road surface and gain a greater understanding of the car's behaviour. It goes without saying, then, that a force feedback wheel enhances the experience considerably, so it comes as no surprise that wheel sales have soared since the release of Project CARS. It's not quite been a flawless experience however, as unfortunately there were occasions when I experienced a loss of force feedback at crucial moments.
Under the bonnet
Project CARS' lack of accessibility is compounded when you lift the bonnet and tinker with the components. The default controller settings are far too sensitive causing the cars to be overly twitchy, while wheel users will probably want to adjust the force feedback. But browsing through the mindfield of options is like trying to configure the convoluted iDrive system you get in a BMW, with many options offering little explanation for newcomers. For example, you'd expect the three main controller input mode presets to affect the options, yet cycling through them has no effect on any of the sensitivity settings whatsoever. I'm still none the wiser as to what the input modes actually do. The force feedback options are equally comprehensive, but more user friendly thanks to on-screen explanations and presets for different playing styles that were added in a recent update.
Likewise, you can also tune your car's mechanical setup, with options you would expect to find in a sim that let you tweak the tyre pressures and brake balances among other mechanics to shave those vital seconds off lap times although you can't upgrade or add parts. Again, it isn't very intuitive as only players with an in-depth knowledge of car mechanics will benefit. You have to be prepared to put in a lot of work to set up the controls to your liking – PC owners are used to this trial and error-style of configuration, but console players expecting a pick up and play experience may lose patience. Fortunately, a wealth of setup guides compiled by the community can be easily found online.
Project CARS' incredible versatility more than makes up for this, however, as just about everything can be dialed to your exact preference. Handy pre-race options allow you to configure everything from the time of day and number of AI opponents and laps to the changing weather patterns, and yet the options go deeper still when you discover you have full control over the visual effects and FOV settings. Is the lens flare too distracting for you? Switch it off. Not happy with the angle of your viewpoint? Project CARS lets you change the height of every in-game camera, so wheel users can move the camera closer to the dashboard to hide the in-game wheel or just remove it completely. Access to these types of options is necessary for PC owners to help improve performance for less capable machines, but it's a welcome novelty in a console game where it's not even necessary since the hardware specifications are unified. Every racing game should have customisation options that let you delve deep under the bonnet, frankly.
Racing Rivals
All of Slightly Mad's efforts would have been redundant if the actual racing wasn't up to speed. Fortunately, this is where Project CARS really excels.
Fighting for your race position is perpetually pulse-pounding, thanks to smart AI opponents who are actually aware of your track position. Unlike the Gran Turismo's oblivious opponents who never deviate from the racing line, Project CARS' AI has a decidedly human personality.
These drivers will take risks to pass you which can sometimes seem aggressive, but you never feel like you've been deliberately shunted unlike the merciless rivals in some other games. They'll have their own battles, actively block you to defend their position, and even take avoiding action, swerving off the track to avoid accidents in some cases, yet they'll still make mistakes of their own accord.
Best of all, the AI difficulty can be fully adjusted, with a sliding scale of 50 behavioral levels replacing standard presets, so you can fine-tune the opponents to precisely match your skill level before each race. There were a few occasions where the AI seemed inconsistent in certain track and car combinations, but for the most part Project CARS' opponents provided some of the most exhilarating and engrossing offline races I've ever experienced in a game, where finishing below the podium can still feel like a victory in a hard-fought race. It's the first time in a long while that the actual racing in a game has been consistantly edge-of-your-seat exciting.
Accidents are inevitable when you're jostling with such large packs of cars, but pileups look comical rather than dramatic thanks to some peculiar collision physics that sometimes causes cars to bounce around unrealistically. The car damage is at least acceptable, as the bodywork buckles and parts detach on impact, but the crashes lack spectacle – we weren't expecting Burnout-style wrecks, but you'd expect to see a shower of debris if you wipe out at triple digit speeds.
The immersion is only heightened when you switch off the HUD and drive with the helmet cam. Showing a driver's eye view of the action, it's largely the same as when we first saw it in Slightly Mad's Shift 2 Unleashed, with the camera simulating the driver's head movements and field of vision, focusing in and out of objects and shuddering violently during collisions. Granted, this visceral viewpoint is not for everyone, but for players who want the extra challenge and dramatics, it's there.
But using the helmet camera means your ears won't be treated to Project CARS' potent engine sounds. Slightly Mad have gone to great lengths to record the intricacies of each car's sound as meticulously as possible, and it certainly shows: put your foot down in a Pagani Zonda Cinque, and the volcanic V12 roar when it reaches maximum revs will cause your speakers to shudder. Every exhaust note has been expertly captured, and you can even make out subtleties in the sound design such as brakes squeaking and windscreen wipers rubbing against the windscreen. If anything, the engine notes are over-amplified as my standard sound settings seemed to be noticeably louder in Project CARS. If you have a sound system, you're definitely in for a treat.
Yes, I know I previously declared DriveClub as having some of the best engine sounds in a game, but Project CARS takes it to a whole new level, coming close to R3E on PC. This is extraordinary sound design up there with the award-winning team at DICE – Project CARS does for car engines what Battlefield does for gun shots. In what feels like a first in a racing game, there's no in-game music presumably to cut down on licensing costs, but PS4 users can at least on switch on Spotify.
Super Model
At an early stage, Project CARS quickly gained a reputation for its preposterously pretty visuals. The first immaculate render of a Lotus race car was a statement of intent on Slightly Mad's part, but regularly-released community galleries disguised as screenshots effectively gave Project CARS free publicity with the promise of photorealism. If you have the luxury of a powerful PC that can run Project CARS at 4k and even 12k resolutions then Project CARS is unmatched, but this is a pretty exclusive experience.
On console, Project CARS isn't quite as dazzling in some areas: it's undeniably pretty, but there are imperfections visible on its otherwise gleaming bodywork. There were many occasions where I felt the same sense of awe I did when I first gawped at the work-in-progress screenshots all those years ago, but there were just as many moments that shattered the illusion.
For every time I stared in awe at the detail on display in the lovingly constructed car models or became blinded by sun rays that showcased the lavish lighting effects, I was underwhelmed by low track detail, noticeable texture pop-in and screen-tearing. The over-abundance of distracting lens-flare effects look impressive but cast the game in an unrealistic hue with its Michael Bay-esque colour filter, but they can be mercifully switched off.
Visually, on PS4 Project CARS was inevitably going to be compared to the oh-so-dashing DriveClub, a game that's still considered the graphical benchmark of current-gen console racing games and still has gamers swooning. In truth, DriveClub's visual splendor outshines Project CARS in some areas: DriveClub has more detailed car models both inside and out, superior environment detail and phenomenally realistic rain effects that blow Project CARS' equivalent effects out of the water.
On the subject of weather, not to be outdone the recent 3.0 update introduced revamped rain effects which added dynamic droplets, but Slightly Mad's efforts still aren't quite on a par with DriveClub – the water doesn't dynamically slosh around the windscreen when you throw the car into a corner like it does in DriveClub.
Nevertheless, Project CARS' weather effects still manage to impress, especially with its atmospheric lighting effects, headlight reflections that illuminate water logged tracks and the vast water spray lashing from your opponents that obscures your view. In a novel touch, you even have to manually turn on the wipers when the heavens open, as I discovered when I was frantically scrambling to find which button activated them in the midst of a heated race. Wet weather also has a profound effect on the car handling as well as your overall racing strategy, as the unpredictability of the racing conditions adds to the excitement of the race.
In reality, comparing the two games is futile. Not only is DriveClub a first party developed game backed by a major publisher with an astronomical budget and an arcade racer, it's locked at 30fps and only has to handle 12 AI opponents on track. Compare that to Project CARS which was independently funded for the most part, yet runs at 60fps with up to 46 cars on track at once whilst having to cope with a complicated physics engine – a feat no other console game can match right now.
Project CARS is undoubtedly pushing the hardware to its limits, and this strain can sometimes affect the performance. While Project CARS does indeed run at 60fps as promised, the frame rate isn't consistently solid, and you will notice some inevitable dips when you add intensive weather effects and large AI grids, but it's not as severe as you might think. Likewise, the otherwise cinematic TV-style replays are marred with graphical glitches and stuttering cars. Project CARS' performance is continually improving though, as Slightly Mad are optimising the frame rate with each passing update. It's clear, then, that some sacrifices were made to the fidelity to achieve 60 fps, but the benefits were more important to Slightly Mad – when the extra fluidity results in a better sense of speed and control response, it's hard to argue that it wasn't a worthwhile compromise.
All things considered, Project CARS is a tremendous technical achievement, innovating in areas that arguably matter more to racing game fans – jostling for position in huge 46 car grids at 60fps is an exquisite experience that no other console game can match right now. While some of its rivals are still catching up, Project CARS sets the technical standard we've been waiting for current-gen racing games to achieve.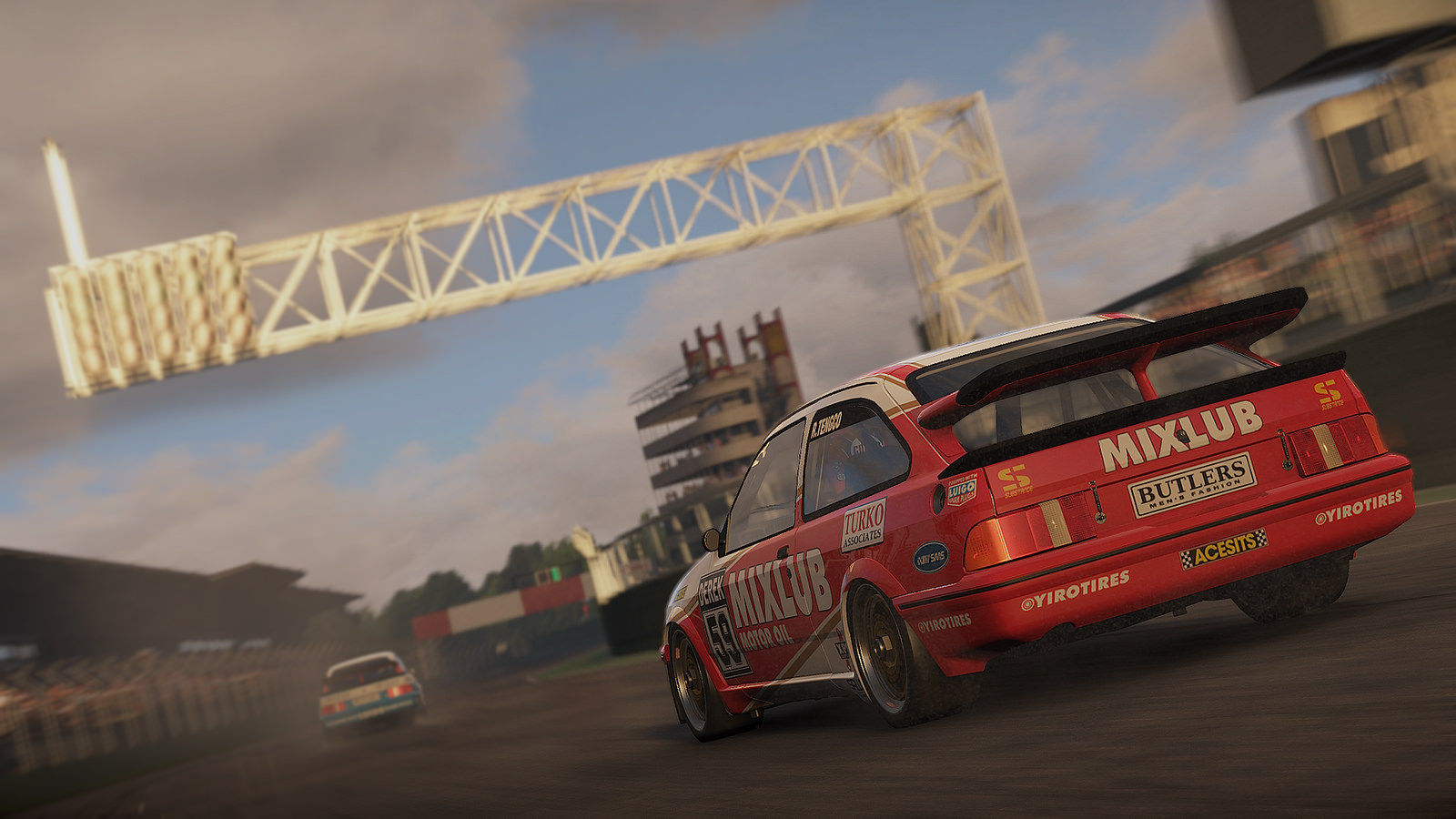 Completing the package is a robust, if rudimentary 16 player online multiplayer that's establishing a strong close-knit community of considerate drivers who enjoy racing fairly. Indeed, Project CARS' players seem generally more well-mannered than some of DriveClub's disruptive drivers who turned some races into farcical free-for-all destruction derbies. With the right people, playing Project CARS online is a joy – I've had some gloriously competitive and memorable online battles.
Like in the single player, you can participate in full race weekends with practice and qualifying sessions which seem to be the most popular choice, making it less ideal for quick sessions. Various filters for racing classes and player skill levels allow you to tailor your experience, and online racing seems smooth across the board, while community events and leaderboards keep the competition alive.
But while there are player skill filters to help reduce the likelihood of bumping into accident-prone players, it's surprising to find there's no online player ranking system to improve the matchmaking and give you something to aim for. The system could also do with some collision penalty systems or user reporting for those who want to race cleanly.
Driving you slightly mad
Despite its extended development time, a number of belligerent bugs managed to crawl through the chassis and chew on some of Project CARS' mechanics on release, which takes the shine off somewhat. Issues I encountered ranged from the moderately irritating, such as introductory race camera pans playing beneath the scenery, races failing to commence with the grid stalled at the start line and the camera not switching back to my preferred viewpoint after exiting pit stops, to the more frustrating – on one occasion my car got stuck to the pit wall on exit while my car was being AI controlled and proceeded to dismember itself. Amusement quickly turned to aggravation when I had to terminate the race and restart.
Then came the release of the 1.4 update, which fixed a number of user-reported issues but also added a few more of its own accord: one particularly damaging bug kept deflating my front right tyre on exit from the pits during mandatory tyre changes, ironically rendering my car completely undriveable. These are the sorts of issues you expect to encounter in an Early Access release, not a supposedly finished game that had a prolonged development.
To be fair, these issues are fixable and Slightly Mad have been buffing out the blemishes through patches since release, rectifying reported issues whilst boosting the performance, adding new graphical effects and introducing new features, with animated pit crews one of several new promised features in the pipeline. Mercifully, things have improved since the release of the major 2.0 and 3.0 updates, but there are still many unresolved issues highlighted by the community.
The only consolation is Slightly Mad's strong community focus means you can be confident that any serious bugs will be promptly squashed. Indeed, communication with the community has been exemplary: an active forum is open with regular updates on work-in-progress fixes, and you can report issues which often result in personal replies from studio head Ian Bell.
Clearly, this is a developer who listen to their fans, but the fact remains Project CARS is still in need of repairs. Yes, bug-ridden releases that are then patched up post release aren't exactly uncommon to the point it's now become a despairing reoccurring industry trend, but it's less acceptable when Project CARS was deliberately delayed for six months to "ensure the visibility and quality of the game," to quote Slightly Mad. Still, DriveClub's successful restoration job proves that no game is beyond repair, and we fully expect Project CARS to evolve over the next few months while work starts on the recently announced sequel.
Project CARS isn't for everyone. Its demanding driving and unintuitive setup options make it daunting for casual players, the car list is too compact despite the multitude of disciplines, and you really need a racing wheel to get the most out of it. Trying to appeal to both a hardcore and mainstream audience was always going to be an ambitious aim, but it's the hardcore players and motorsport enthusiasts that will lap it up.
For its core audience, Project CARS is a sublime racing simulation sandbox – and on console where such a thing is in short supply, that's something to be celebrated and embraced. And yet despite its niche appeal Project CARS has achieved mainstream success, debuting at number one in the charts and surpassing one million sales. As a result, it's already paving the way for future racing simulations to follow with the recent announcement of Assetto Corsa being ported to consoles next year. No wonder Project CARS 2 is already in development.
If anything, Project CARS is a bold statement to racing game developers: you don't need negligible narratives, social features or gratuitous grinding mechanics to make a captivating car game; just solid driving physics, an immersive career and intoxicating track racing that puts your heart in your mouth.
Project CARS is a landmark racing game.  It succeeds as a focused and uncompromising thoroughbred racing simulator that bridges the gap between PC and consoles, representing motorsport at its most raw, most intense and most visceral. This is the complete package for the hardcore racing enthusiast that will keep you racing for months, and possibly years to come. If you consider yourself a racing game fanatic with a passion for motorsport, you'd be slightly mad not to take Project CARS for a spin.
Our Review
Summary
Project CARS is a landmark racing game.  It succeeds as a focused and uncompromising thoroughbred racing simulator that bridges the gap between PC and consoles, representing motorsport at its most raw, most intense and most visceral. This is the complete package for the hardcore racing enthusiast that will keep you racing for months, and possibly years to come. If you consider yourself a racing game fanatic with a passion for motorsport, you'd be slightly mad not to take Project CARS for a spin.