With DriveClub still impounded at Evolution Studios until next year, early PS4 adopters have had to turn to the ever-reliable Need for Speed series, now officially the second longest running racing game series after Test Drive in its twentith year, to scratch their racing game itch.
Indeed, you can always rely on Need for Speed for some high speed arcade racing thrills, and Need for Speed Rivals is no different. The result is a game that's reliably entertaining, but ultimately lacking in innovation to move the series forward, despite its best efforts.
Rivals unashamedly welds together components from Criterion's Hot Pursuit and Most Wanted remakes, combining Hot Pursuit's cops vs. racers regime with Most Wanted's sprawling open world. This blatant inspiration comes as no surprise, though, as Rivals was developed by the newly-formed EA Ghost Games, a studio largely made up of former Criterion Games employees who worked on Hot Pursuit and Most Wanted. As a result, Criterion has been left significantly downsized, with a close-knit team of fifteen pursuing other avenues away from driving games.
Ghost Games were seemingly more enamoured with Hot Pursuit, however, as Rivals lets you drive either as a cop or racer once again in two separate branching career paths. Gone too is Most Wanted's daring open-ended structure that unlocked every car at the start of the game, providing you could find them, replaced with a more traditional progression system that unlocks cars after completing events.
Vanishing point
The open world setting of Redview County also feels like an obvious ode to Hot Pursuit, migrating you from Most Wanted's claustrophobic cityscape to a vast open countryside filled with winding roads, coastal stretches, snow-capped mountains, extended highways and desert canyons.
It's a location that's well-engineered for high speed races and chases, with its sweeping country roads providing rare lapses in speed compared to Most Wanted's confined city grid, where it was near-impossible to reach a car's top speed. As an open automotive playground, however, it's less successful.
Unfortunately, the abundance of open roads prove to be Rivals' undoing when you're not engaged in a high speed chase. Outside of the main events, there is little to discover and encourage you to explore other than a handful of shortcuts and jumps, with no collectibles to scavenge, trackside objects or billboards to smash into or hidden cars to uncover.
Supports surrounding a suspension bridge act as a launch pad for gaining huge air, while a condo can be used as a conveniently-placed shortcut mid-race, as you smash through the glass and tear through the building spilling furniture everywhere Lethal Weapon-style before plummeting back onto the road below, leaving you with a smug smirk as you soar over your rivals. Sadly, moments like these are few and far between.
Adding to the sparseness is the surprising scarcity of civilian traffic, eliminating the feeling of danger during races. Even the highways are mostly devoid of traffic. Most Wanted's streets were arguably too congested for high speed racing, but Rivals is the polar opposite to the point the city feels glaringly lifeless.
And while there are distinct areas such as deserts and snow-cap mountains to be found, the road structure remains the same throughout, leaving you with nothing but miles and miles of desolate open road with little variance, making for an unengaging driving experience when free roaming. Driving through each area also results in an abrupt OutRun-style transition as the weather and lighting changes accordingly, which only serves to highlight the fact that Rivals was conceived as an open world out of conformity rather than necessity. Hot Pursuit-style point-to-point road courses would have sufficed and made the game more focused.
Career criminal
At least there's plenty to distract you from these shortcomings. Rivals' career is split into two paths, requiring you to choose between separate Racer and Cop factions, with the option to switch between either at any time. Speedlists act as a checklist of objectives which have to be completed before you can advance to the next rank, ranging from tasks such as maintaining a certain speed for a length of time (no, there isn't a bomb set to explode if your speed dips below 50 mph) or wrecking a set number of rivals. It's a smart incentive to keep you playing, adding variety to what could have been a tiring trawl through samey events as in countless other racing games, even if it acts as a way to disguise the limited number of event types. The objectives get progressively tougher, too, helping to extend the longevity.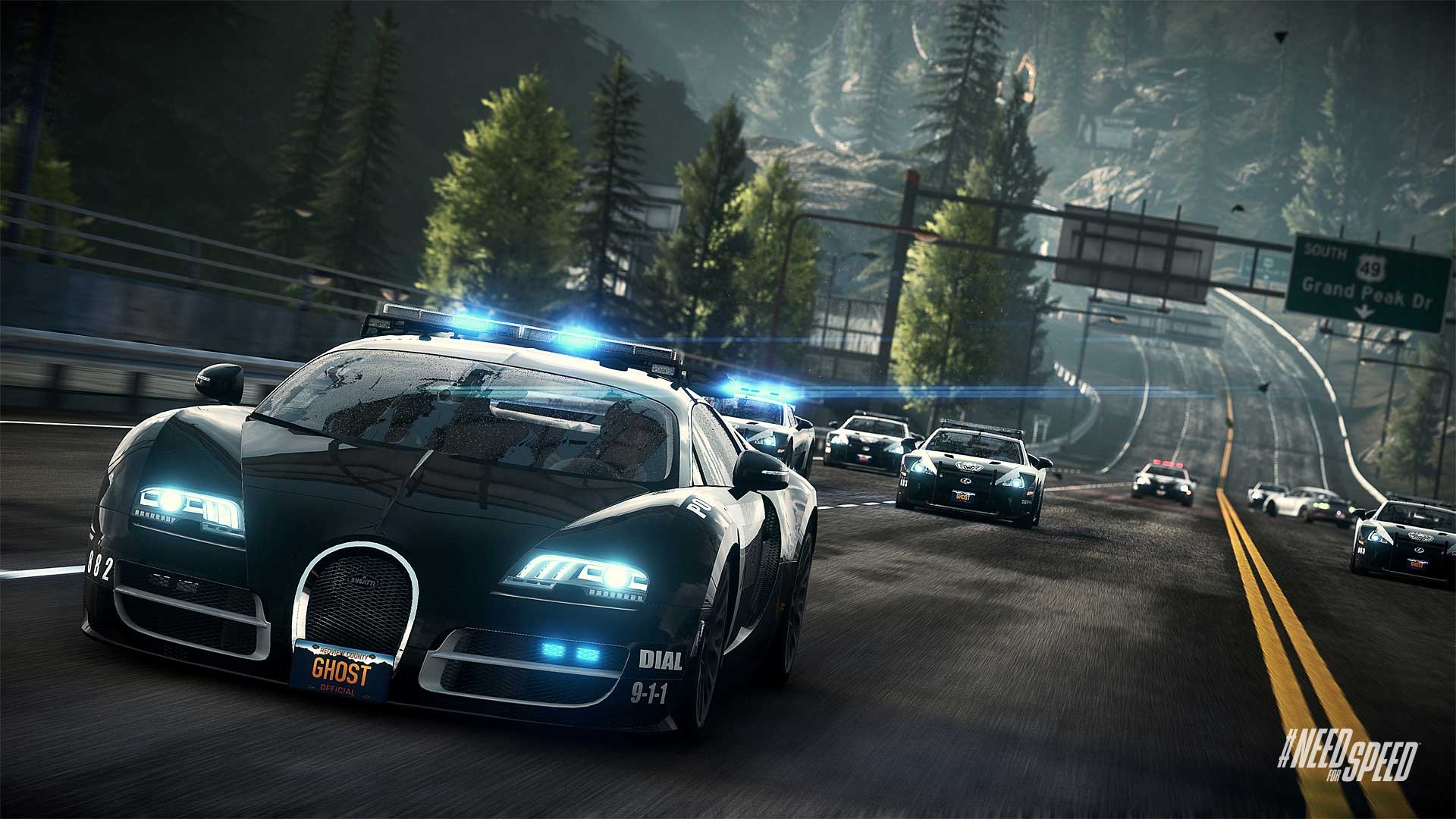 Rivals is the very definition of pick-up-and-play. Head-to-head duels can be activated instantaneously whenever an AI rival blasts past you, while pursuits can be started by flashing your sirens near a Racer within seconds of being let loose into the open world if you play as a cop, providing instant gratification that keeps the game suitably fast paced during downtime.
Of the two factions, Racer is easily the more challenging, exciting and engaging. Here you can buy unlocked cars with earned Speed Points, an in-game currency earned through dangerous driving, smashing opponents into submission, and completing Speedlists and events. The twist, however, is that you have to bank your speed points at designated hideouts located across the map – get busted, and you lose all your points.
Having something to lose increases the intensity of the pursuits immensely – try not to have your heart in your mouth when your damage is flashing critical and you're surrounded by half a dozen cops hell-bent on taking you out when you have a substantial number of points at stake, resulting in a white knuckle dash to stash your cash at the nearest hideout. Trust me, your palms will come out sweaty after gripping the controller so tightly during these high octane moments.
Keeping the cops at bay increases your Heat level, which works similarly to GTA's tried-and-tested wanted level system that encourages the police to deploy more aggressive tactics, setting up road blocks, laying out spike strips and requesting helicopter support. It's a careful balance of risk vs. reward, as the higher your heat, the more speed points you'll accumulate as your multiplier increases.
Conversely, the Cop career is less captivating: you simply have to takedown racers using any means necessary until their damage meter has depleted. There are no Speed Points at stake during chases, although you are able to confiscate racer's points when you bust them with higher cash sums depending on their heat level, and patrol cars are handed to you free of charge so there's comparatively little sense of risk and reward. But then, let's face it: evading the law is always going to be inherently more fun than chasing down felons, no matter what game you play.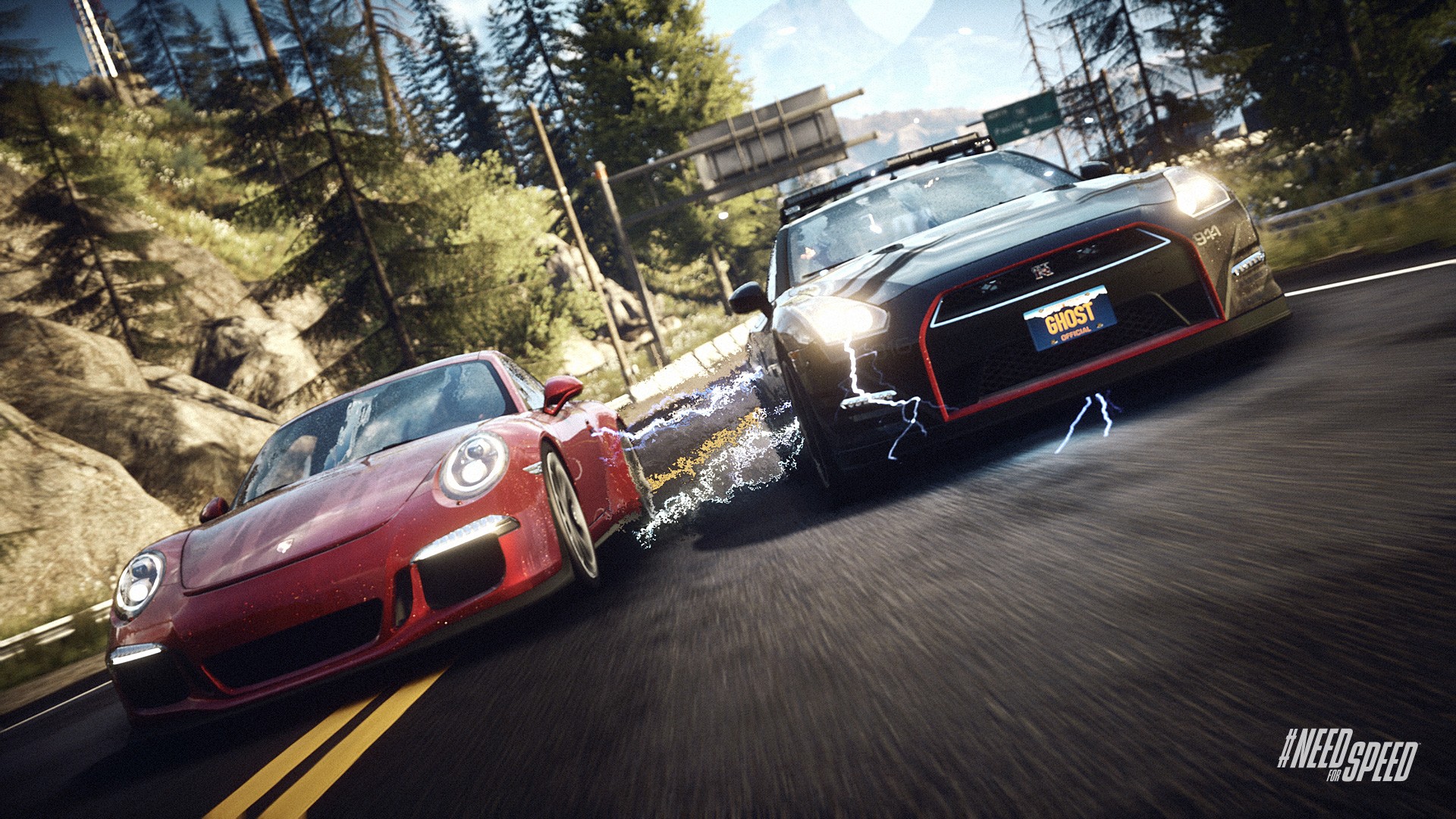 Spicing up the Cop career is the reintroduction of pursuit-tech from Hot Pursuit, allowing you to equip your car with an arsenal of Blur-style weapons and power-ups which can be upgraded with speed points. Shockwaves and EMPs are accessible to both factions, making races hectic and unpredictable – a well-timed EMP blast can often be the difference between winning and losing an event. Racers can also defend against the cops with turbos and handy jammers that jam police communication, while Cops can call in roadblocks and helicopters or deploy spike strips on demand to thwart evading racers. Only two weapons can be equipped at one time, however, adding an element of strategy before you deploy onto the streets.
Racers also have the advantage of being able to upgrade cars, although the options are basic at best. You can use speed points to level up attributes such as acceleration, top speed and stability, but don't expect any in-depth tuning options that let you tweak the gear ratios. Upgrades are expensive, too, so you would be wise to use them sparingly if you wish to save up for some of the faster cars.
Personalisation options, on the other hand, are disappointingly limited. While you can pimp your ride with a plethora of paint jobs, decals and vinyls, the customisation options are purely cosmetic, so you can't fit your car with different engines, exhausts or tacky bodykits. Need for Speed: Underground, this is not.
Why there is still such strong demand for an Underground sequel is beyond me. To me, bringing back the neon lights and bulging bodykits would feel decidedly dated – it's been thirteen years since the original Fast and Furious started this fad after all.  Ghost Games have hinted that car customisation will be a primary focus in their next game, however, so there is still hope.
When all these elements come together, Rivals' high octane races and chases are utterly pulse-pounding, particularly in the signature Hot Pursuit mode where you not only have to race against rivals and outrun the cops, but defend and attack using Pursuit Tech weapons whilst keeping an eye on the road.
There's even a loose narrative driving the career told through cut scenes chronicling the conflict between the cops and racers narrated by a hilariously overdramatic voiceover. Thankfully, it's used sparingly and doesn't take itself too seriously, adding a modicum of context to the events that culminate in an epic final race across the entire map – you'll need nerves of steel, quick reaction times and a well-picked pursuit tech load-out to survive it intact.
Fast lane
But enough about the garnish. Let's speak a language Rivals understands: cars. Rivals' car list is exactly what you would expect from a Need for Speed game, with an abundance of exotic speed machines favouring quality over quantity. Other racing games may have a wider car selection, but Rivals is a case of all killer no filler: every car is a desirable dream machine.
Crucially, Rivals' car list feels current, with topical supercars such as the new Aston Martin Vanquish making an appearance, along with the McLaren P1 and Porsche 918; two hybrid hypercars that have been focal talking points among car enthusiasts this year.
Rivals can even claim to have some exclusive cars; a privilege normally reserved for the likes of Forza and Gran Turismo – at the time of writing, you won't find the new generation 2015 Ford Mustang or Koenigsegg One:1 (a savage Sweedish machine that's being hailed as the fastest roadcar in the world) in any other racing game.
You can tell where their allegiances lie, however. For example, this being an EA game, it's unsurprising to find Porsche take up a significant portion of the car count. Likewise, Rivals marks the return of Ferrari to the Need for Speed series for the first time in eight years after Microsoft dropped their exclusivity rights with the manufacturer (if only EA would return the favour and stop hogging Porsche: hint hint), so you can't blame them for flaunting the license by featuring more cars than any other manufacturer.
As is tradition in Need for Speed, the police force has a ridiculously inflated budget: being chased by a police Bugatti Veyron is an everyday sight on the streets of RedCounty. The only downside is that some cars, such as the Veyron, are only available in one faction, bewilderingly.
Driving is made easy with Rivals' accessible car handling, where you'll spend most of your time drifting sideways. Tap the brake and throttle to flick the tail out, and watch your car defy the laws of physics as it glides gracefully around sweeping bends with ease. It's not exactly difficult to pull off, but seeing how long you can hold a slide is an addicting pleasure fans of OutRun and Ridge Racer will relate to. You rarely have to take your foot off the accelerator.
Rivals' handling model isn't quite as tight as Most Wanted's, though, and the cars feel a tad twitchy as a result. It could also do with some more depth. Yes, it's an arcade racer, but all the cars handle practically the same, requiring little skill from the player.
They sound great, too. Cars scream with fetching ferocity when you're bombing along at breakneck speed; an essential ingredient when simulating the sensation of speed that too many racing games overlook. Indeed, the engine sounds put many of its rivals to shame. But while the engine sounds eccentuate the sense of speed, the bumper camera fails to achieve the same effect; it's far too low to be useable.
Connect Rivals
Criterion are renowned for developing Autolog, a system that capitilised on the current fascination with social networking by constantly comparing your lap times and achievements with your friends. It went some way in revolutionising online multiplayer in racing games, and has been a staple of Need for Speed since Hot Pursuit.
Autolog returns in Rivals, but Ghost Games have attempted to replicate Criterion's innovation with AllDrive, a social system that blurs the boundaries between single player and multiplayer. Essentially, this means an always-online persistent world where other players can intrude on your single player events. Single player and multiplayer progression is therefore seamless, and you can interact with other online players without having to wait in lobbies.
AllDrive is an endearing concept. Except it doesn't quite work.
When not playing with friends, it's also difficult to set up an online game. You can set waypoints on your GPS to follow other online players, but there's no way to spawn next to other players other than starting at the nearest hideout, and it doesn't tell you whether the player you're tracking is playing as a cop or racer. Chances are, they'll be engaged in another event by the time you catch up to them.
Removing online lobbies may sound contemporary, but it makes arranging dedicated race events with like-minded players impossible unless every player meets at the start point, which is difficult to coordinate with strangers. This also means there are no ranked matches, so there's no balance – lower ranked players will often find themselves unevenly matched against high rank players with faster cars. In this sense, AlLDrive is a step backwards.
The 'always-online' connectivity also presents problems. You can't pause the game for a kick-off – surely they could have at least implemented a system that turns your car into a ghost when paused? If you go for a bathroom break, don't expect your car to be in the same condition when you return.
Worse still is the lack of dedicated servers; a cardinal sin for a game that's so reliant on constant connectivity. Consequently, if the host disconnects you get booted out whilst the game migrates hosts for 30 seconds plus. Not only does this destroy the flow of the game and increase loading times, but it's frustrating when it causes you to lose all the speed points you were about to stash. Subsequent patches have reduced occurrences of host migration, but it's still an issue.
Part of the problem is that Need for Speed: Rivals is a cross-platform release. It makes you wonder if these problems would have persisted if Ghost Games were allowed to pour more resources into the next-gen versions.
Visually however, Rivals looks unmistakably like a next-gen game. It gleams like a factory-fresh Ferrari, fully utilising the extra hardware horsepower to produce some stunning sights. Powered by Battlefield's Frostbite 3, Rivals' rousing weather effects are a particular highlight, constantly dazzling you with swirling particle effects that follow you everywhere and awe-inspiring torrential downpours that result in individual rain droplets dripping down the drenched bodywork. In fact, cars are draped with water come rain or shine, weirdly, as if they're sweating in the intense heat.
Cut and shut
Overall, Need for Speed: Rivals feels like a cut-and-shut job of Hot Pursuit and Most Wanted with some next-generation gloss slapped on. Not that this is necessarily a bad thing: the cop chases are as fast, frantic and enthralling as ever, and the PS4 version looks and sounds sublime. It just plays everything a bit too safe.
It's therefore a mostly successful back-to-the-roots cops vs. racers experience, but it's undermined by its own intervention with an online system that falls short of its potential. AllDrive was meant to be Rivals' biggest selling point, and yet it causes it to stall and almost break-down in a cloud of smoke.
Ultimately, AllDrive's restrictions fail to deliver on its next-gen promise, making Rivals another casualty of cross-platform development which consequently holds it back. It's as if it's parked itself in two spaces, with two wheels wedged in the last generation and two in the next generation.
Still, gripes aside, this is the first time Need for Speed has had a solid identity in a very long time. For years, the series has been trying to reinvent itself, as different developers commandeered the wheel and steered it in different directions with varying success as a result of pressure from EA's series annulisation enforcement.
With Ghost Games, Need for Speed now has a stable father figure. As such, Rivals' back-to-basics approach is refreshing, delivering high speed thrills in its purest form with a firm focus on racers, cops and the open road. If Ghost Games can expand the car customisation and take AllDrive to the next level in the sequel, then Need for Speed will be well on the path to victory.