If there's one Xbox racing series that makes PlayStation owners envious as they wait for the next Gran Turismo to eventually show up, it's Forza. The first Forza Motorsport was Microsoft's answer to Gran Turismo and it's arguably stayed ahead of its main competitor ever since, with superior car selections, more realistic damage modelling and, perhaps most importantly, consistent release schedules. Whereas Gran Turismo Sport still doesn't have a concrete release date at the time of writing, Forza has become the Call of Duty of racing games, reliably churning out annual autumn releases from alternating developers.
In recent years, Microsoft has tried to broaden Forza's appeal to difference audiences. Whereas Turn 10's Forza Motorsport caters for fans of traditional track racing, Playground Games' Forza Horizon is its open world sister series. At the time, the first Horizon game was a risky and radical detour for the franchise, but the result was one of the most liberating racing games in years that captured the thrill of the open road, thanks to its memorable Colorado setting which made you feel like you were in one of Top Gear's 'greatest driving roads' segments. Set around a driving music festival, the lighthearted party atmosphere was the perfect contrast to the more serious, simulation-focused Forza Motorsport. If Motorsport is the studious hermit type, Horizon is its raving sibling that stays up partying all night.
Forza Horizon 2 improved on the original in every way you would expect in the series' move to current-gen consoles, with an expanded car selection, a more expansive open-world playground set in Southern France, and eye-popping graphics that showcased the potential of Playground Games' talents. Following Forza Motorsport 6, not only does Forza Horizon 3 have a lot to live up to, it arrives at a pivotal point in the racing game genre. As developers strive to make racing games as realistic as possible, Playground Games reminds us that they also need to be fun. And fun, Forza Horizon 3 most certainly is in spades.
Down under
A compelling location is imperative to the appeal of open-world racing games. Forza Horizon 3 takes place in Australia, a setting rarely featured in racing games other than the momentous Mount Panorama circuit. Initially, this seemed like a less logical location for an open-world driving game compared to the original Horizon's Colorado and Horizon 2's Southern France. Australia's motoring scene may be associated with Holden and Mad Max, but exotic supercars seem more at home in Horizon 2's French setting. Plus, you would be surprised how long it takes to adjust to driving on the left after years of playing racing games set in America.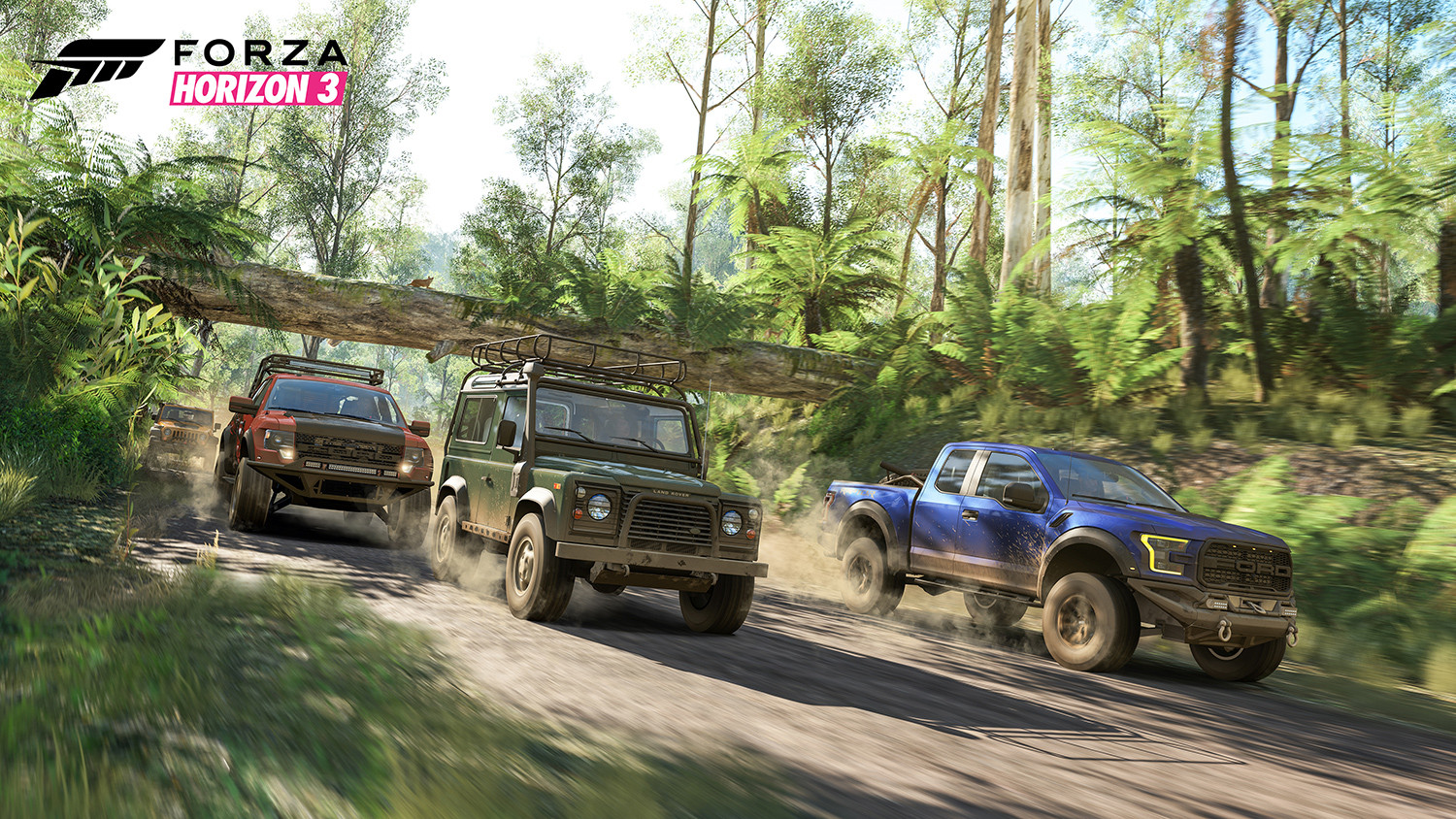 Forza Horizon 2 blew its open-world wide open, removing the restrictive fences of the original allowing you to carve your own routes through fields. This gave the series a refreshing sense of freedom, but while the coastal roads were achingly picturesque, the scenery soon became samey. The same can't be said for Forza Horizon 3, however – this is the series' most diverse driving playground yet.
Split into several distinct areas, there's no shortage of terrain types: you'll be leaving tyre marks on city streets surrounded by gleaming skyscrapers, carving through the dusty outback and sun-soaked beaches, and racing through dense rainforests. The only downside to this diversity is that the abrupt transition between each district can be jarring, creating an OutRun-esque effect. Being compared to one of the greatest arcade racers of all time is hardly a criticism, though.
Driven to distraction
The scale is staggering. Forza Horizon 3's Australian map is twice the size of Horizon 2, but it can't match the magnitude of The Crew's recreation of the United States. And yet Horizon 3's comparatively smaller map is more densely packed with activities and discoveries which makes it more enticing to explore – every road is a new adventure.
Driving to your destination, it's easy to get distracted with the endless supply of side activities: there are speed traps to beat, PR stunt challenges to complete, and secret cars stashed in hidden Barn Finds to discover. It's a completionist's worst nightmare – even after the credits had rolled from completing the campaign, there were still new events and challenges to discover. Not since Burnout Paradise has a racing game world been so packed with distractions.
At times, Forza Horizon 3 plays like a tribute to retired arcade racing game franchises. Surfers Paradise is straight out of Burnout Paradise, the rainforests are reminiscent of MotorStorm Pacific Rift, and it's hard not to look back fondly at Project Gotham Racing when you're powersliding around 90-degree corners in the city environments. Forza Horizon 3 fills the void rather nicely.
Bucket Lists are among the most addictive side-activities, with one-off challenges in specific vehicles that can be brutally tough to beat. One challenge in which you max out a LaFerrari at over 230 mph while weaving through traffic to reach your destination is especially nail-biting and tough to beat without precision driving.
Compared to Horizon 2, the variety of scenery never gets dull, encouraging you to explore – it's telling that the game charges you for fast travelling to festival hubs. With the numerous radio stations cranking out upbeat pop, punk, indie, electro, or even classical music to accompany your journey, it's easy to while away the hours simply cruising around the sprawling map in your favourite supercar and soaking in the atmosphere. Like any idyllic holiday destination, you never want to leave – this is blissful racing game escapism at its best.
It's also hard not to be distracted by just how breathtakingly beautiful Forza Horizon 3 is. Forza games have always been benchmarks for console racing game graphics, yet Forza Horizon 3 exceeds all expectations.
Considering the game is set in a vast open world, the level of fidelity Playground Games has achieved is astounding: draw distances are jaw-dropping, the environments are dripping with detail, and the lighting brings all that sumptuous scenery to life with unbridled realism as blinding sunlight beams through the trees. Even the skyline in the game world is authentically Australian because the developers recorded hours of real-time footage of the sky at the location. Now that's dedication.
Despite all the detail on display in this vibrant open world, slowdown is very rare. While the frame rate is locked at 30fps compared to the buttery smooth 60fps that Forza Motorsport 6 achieves, the fact the game engine has to render detailed open world environment makes it a forgivable trade-off.
Some noticeable foliage pop-in shows up the Xbox One's limitations, but Forza Horizon 3 is undeniably a tremendous technical achievement on a console that's often criticised for being underpowered compared to the PlayStation 4.
If you have a compatible TV, HDR adds another layer of realism by extending the colour range, while PC owners can enjoy the game in 4K resolution if you have a powerful enough machine. Even on a standard HDTV, it's hard to imagine Forza Horizon 3 looking any more fetching. It boggles the mind to imagine what the wizards at Playground Games can potentially achieve with the extra horsepower of the Project Scorpio console, if Forza Horizon is destined to arrive on Microsoft's next-gen console in the future. 
Super off-road
Despite the rich variety of locations, Forza Horizon 3 is oddly lacking in memorable driving roads. There are some breathtaking sights like when you first discover a submerged shipwreck on the beach, but nothing matches the sweeping canyon passes in the original Horizon, or the coastal route to Nice in the sequel. The twisty off-road trails are fun, but you can't help but wish the tarmac routes were given the same attention. The majority of roads are dull to drive, lacking in twists, turns and elevation changes that would make races more exciting.
The same variety can be found in Forza Horizon 3's vehicle selection which is as eclectic as ever. No other series can match the vehicle variety of Forza, and Horizon 3 is no exception, with over 350 vehicles across a diverse range of classes catering for all tastes. Clearly, Playground Games care about the quality of vehicles making up the roster just as much as the quantity.
The striking Lamborghini Centenario cover car star is a clear standout with its sharp handling and exhilerating acceleration, while the ferocious Ferrari 488 GTB and the brutal Bugatti Veyron SS will satisfy supercar fans. Fittingly, there are also an abundance of Australian cars to compliment the setting, with an obligatory selection of Holden muscle cars and classic Aussie touring cars making up the car list, though the majority are stashed away in barn finds for you to discover. Of course, the all-Australian Ford Falcon from Mad Max makes an appearance too, providing you can find it. Volkswagen is conspicuously absent for the first time in the series, however, as is Porsche – though chances are the latter will return in a future expansion pack, just as it did in Horizon 2 and Motorsport 6.
Joining the usual array of exotics is a broader range of rugged off-roaders, from trophy trucks and SUVs, to brash buggies. The Ariel Nomad is a blast to slide around the Outback and one of the most enjoyable driving experiences in the game, while the Meyers Manx was built to jump over sand dunes. There's even a surprise cameo from the Halo Warthog, which is one of the most capable off-roaders in the game.
It's the raft of obscurities you seldom see in racing games where Playground Game's passion for cars is most abundantly clear, however. Many cars make their racing game debut in Forza Horizon 3, but you have to be a hardcore car enthusiast to appreciate the BMW Isetta microcar and the ridiculous Reliant Regal three-wheeler (yes, you can roll it over with some exuberant driving) in a video game. It's a testament to the talented team that Forza's car rosters still manage to surprise us.
Quality monthly DLC car packs have also helped expand the vehicle selection and keep it relevant to today's motoring industry, with industry-defining cars such as the hybrid BMW i8 and the vicious Aston Martin Vulcan joining the line-up before any other racing game, thanks to Microsoft's close relationship with car manufacturers keeping Forza ahead of the pack.
Every car is viewable in ForzaVista too, allowing you to marvel at the meticulously detailed models up close, explore the interior and open the bonnet to reveal the detailed engine bay. If you needed an indication of how far things have come, only 24 cars were viewable in ForzaVista when it debuted in Forza Motorsport 4.
Cosmetic and mechanical customisation options are as extensive as you would expect in a Forza game. The range of available aftermarket parts has been updated, and tuning fans will appreciate the addition of extreme widebody kits from real world manufacturers such as Rocket Bunny and Liberty Walk, as well as preset rally and racing upgrades similar to The Crew's spec system. Only a small selection of vehicles can be fitted with widebody kits, sadly, but it's a step in the right direction for the series that challenges Need for Speed, but it doesn't offer quite the same level of depth as its competitor – you can't modify each individual piece of a bodykit, for example.
You don't need to be a hardcore petrolhead to enjoy Forza Horizon 3 however, and the game is all the better for it. In a genre becoming increasingly saturated with daunting simulators, we need a racing game that appeals to both casual gamers and car fanatics alike.
Realism in Forza Horizon has always taken a backseat in favour of fun compared to Forza Motorsport, and Horizon 3 is no exception – a Lamborghini Huracan can still be driven off-road at high speed with little protest, and you'll be rewarded for performing powerslides, rather than rigidly sticking to the racing line. Chaining together drifts and near misses and smashing up the scenery isn't just fantastic fun, it earns you skill points which can be traded to unlock additional perks such as the ability to fast travel to any location on the map, which arguably should have been unlocked in the first place as driving to events can be a chore if you want to quickly progress.
As with other games in the series, the car handling in Forza Horizon 3 strikes a beautiful balance between authenticity and accessibility. You don't have to be a seasoned racing game fanatic to get to grips with the game, but there's still enough depth in the driving physics to satisfy purists since you can apply real-world techniques such shifting weight to your advantage. Admittedly, Forza Horizon 3 leans closer to the arcade side of the spectrum than previous games, meaning that some cars feel a tad floaty and lacking in grip, but that doesn't make them any less satisfying to drive. Flinging the tail out of an exotic supercar is guaranteed to plant a smile on your face. The looser physics do make Forza Horizon 3 less suitable for wheel users, however.
The sound design is superb, too: exhausts crackle and engines roar with remarkable realism. While it still doesn't compare to the authenticity of hardcore PC racing simulations, the car sounds are noticeably more realistic than Horizon 2, and more aggressive than Forza Motorsport 6. Ambient sound effects also help bring the world to life: listen carefully, and you can hear the sound of lurking wildlife.
Everyone's a winner
Perhaps conscious that the festival format won't be as fresh three games into the series, Playground Games has tried to shake things up in the main campaign. Forza Horizon 3 is still set around a driving festival, but rather than starting out as a rookie racer, you are now the festival boss with the aim to expand and promote the Forza Horizon festival, represented via a selectable player avatar and a voiceover that addresses you by name DiRT 2-style.
If you have a low tolerance for Australian accents, the voiceovers do get grating after a while, and the inability to skip your festival guide Keira or your GPS Anna is frustrating if you're in a hurry to press on. Still, none of the characters are as hateful as the overbearing British organiser in Forza Horizon 2.
As the festival boss, you choose where to set up new festivals and can create custom races with the new Blueprint system, which lets you choose event types and eligible car classes, download custom player challenges, or you can skip it altogether and create an event tailored to your current vehicle. What could easily have been a gimmick in making you feel like a driving god gives the structure some welcome flexibility, since you can stick with your favourite car classes and locations.
There's a serious drawback with this structure, however. Because you've already worked your way up to the top, there's no sense of progression. Case in point: in previous Horizon games, you had to work your way up by starting in a modest car that you'll ultimately grow attached to. In Forza Horizon 3, your given the choice of a Shelby Mustang GT350 or a BMW M4 among others as your first free car.
Compounding this issue is an overly generous reward system, which dishes out prizes every so often just for playing the game. This will please players with short attention spans, but you never feel like you've earned rewards when new cars and cash bonuses are handed to you so liberally. Furthermore, VIP membership owners get free access to the Lamborghini Aventador LP750-4 SV, Koenigsegg Regera, and Ferrari F12tdf among others free of charge, as well as double cash rewards. It doesn't take very long to earn enough credits to buy some of the fastest cars in the game, with the exception of a handful of rare cars that cost 10 million credits each.
The aim is to raise awareness of the festival and acquire fans by winning events; arguably a reflection on today's shallow social media culture where your popularity is measured by the number of FaceBook fans and Twitter followers you have. Reaching fan milestones unlocks new festival sites, expands existing ones, or unlocks crowd-pleasing Showcase events, but progress is entirely superficial. There isn't enough to keep you hooked – ironically, the wristband system in the first Forza Horizon gave a more satisfying sense of progression, and the narrative was more engaging.
Consequently, the the race events get repetitive very quickly. Event types vary from brief circuit, cross country and sprint races which finish far too quickly or you can play the same courses in the rivals time trial mode, while unlockable championships lazily link together the same routes you've already raced in prior events. The forgiving handling and AI also means that race events lack any tension, especially as crashing into commuters has little consequence.
As with past Horizon games, persevering with the campaign rewards you with novelty Showcase events, where you race a variety of land, sea and air vehicles in high octane Top Gear-style events that act as a welcome diversion from the repetitive races. Showcase events are as fun and silly as ever in Forza Horizon 3: you'll be pitted against a freight train, some speedboats and, eventually, a fighter jet and a giant airship. While they're obviously rigged with rubber-banding AI to create the illusion of a close finish, the sheer spectacle makes them thoroughly entertaining. It's just a shame that Showcase events are so fleeting compared to previous Horizon games because they help break up the monotony of the main campaign.
Alas, Forza Horizon 3 is best played at a leisurely pace exploring the map and dipping in and out of events, rather than charging through the campaign in a few sittings – the same can also be said for other games in the series. Its open-ended, yet shallow structure will appeal to casual players, but that vital hook that keeps you playing will be sorely missing for some. Once you've expanded a few festivals, completed a Showcase event, and bought your dream car, you've practically seen everything the main campaign has to offer.
Connect four
While the single player campaign soon becomes stale, things improve when you invite a few friends to your online road trip. Forza Horizon 3's online multiplayer is as comprehensive as it is compulsive.
Once again, AI Drivatars roam the map using data gathered from other players, and can be challenged to head-to-head races on the spot. Drivatars are still too aggressive in races and in free roam though, and have an annoying tendancy to slam into you head-on during a misjudged overtake. Alternatively, you can switch to online free roam which replaces them with live players – but unlike The Crew and Need for Speed, Forza Horizon 3 doesn't require an internet connection to play. Racing game developers everywhere, please take note.

For the first time in the series, the campaign can be played cooperatively with up to four players, and it works wonderfully well, with progression seamlessly integrated with the single-player component, and events are adjusted accordingly to reward you as a team. If you grow tired of the single player campaign, teaming up with online players makes the experience more engaging and helps ease the monotony, as you can enlist friends to help you conquer those hard-to-beat challenges. Of course, the downside is there is less freedom unless you're the server host who acts as the festival boss choosing and starting events for other players.
Online Adventure, Forza Horizon 3's online competitive component, works similarly to Horizon 2's compulsive Online Road Trip, including the return of the fan favourite King and Infected modes, the latter mode seeing you spread an "infection" to other players by crashing into them. It's just as chaotic as it sounds.
Where the Forza series really excels online is how it makes you feel like you are part of a passionate car community, and Horizon 3 continues the trend. You can join car clubs, browse thousands of custom liveries, or bid on rare cars at the Auction House, which returns for the first time since Forza Motorsport 4.
And it's not only car liveries where players can get creative – custom Blueprint and Bucket Lists have produced some unique challenges well worth playing, providing replay value that's lacking in the single player. Likewise, weekly online Forzathon events provide a hook to keep coming back with unique prizes up for grabs.
Three games in, it was perhaps inevitable that Forza Horizon 3 wouldn't feel as fresh as the original, despite Playground Games' best efforts to refresh the formula with mixed results. Ultimately, being the driver of the Forza Horizon festival isn't as rewarding as being a participant, but Forza Horizon 3's merits can't be overlooked.
Our Review
The good
Stunning visuals.
Approachable car handling.
Extensive car selection.
Diverse open world is fun to explore.
The bad
Repetitive events.
Limited sense of progression.
Summary
Feature-rich and visually stunning, Playground Games has crafted a technically stunning racing game that offers something for everyone with finely-honed handling and a diverse car roster, while its excellent online integration makes up for the single player's shortcomings. Sit back and enjoy the game at the pace it was intended, and Forza Horizon 3 is a relentlessly rousing, and often remarkable racing game. It just isn't a very revolutionary one.