There was a time when it was rare to find a track racing game without the Codemasters logo stamped on it. Initially pioneered by the hit TOCA Touring Cars series, TOCA Race Driver became a staple series for avid racing game fans in the previous console generation that cemented Codemasters' reputation for crafting engaging, high quality racing games.
And then along came GRID, a current generation reboot for the Race Driver series
that offered a more arcadey approach which was initially loathed by loyal fans. It soon became a firm favourite in the genre, however, thanks to its rich car variety, wince-inducing crashes and refreshingly gritty veneer – I challenge you to find a game with replays that are more cinematic than those found in GRID.
Four years on, and Codemasters', or Codemasters Racing as I should now call them, new-found focus on only developing racing games has signaled the series' belated return as GRiD 2 plays catch up with the competition. Its absence has been sorely felt – as the likes of Need for Speed and Forza Motorsport continually clogged up the grid in recent years, there's always been a vacant spot where Codemasters' latest track car should be.
Race Driver
Ah yes, the price. As you would imagine, such an extravagant piece of kit comes at bit of a cost. How much, you ask? Well, the D-Box can be yours if you happen to have a spare £17k to spend.
It was all part of a competition hosted by Virgin, in which the player with the fastest time will win the honor of having their name in the game as an AI driver. Shamefully, I struggled to get a clean run but I was told that my best time of around 1.35 was likely to be in the top 20.
There really is no equal to playing a racing game on the D-box. Its sheer ferocity disorientates you initially as the seat vigorously rocks you about (our play-through apparently wasn't even on the strongest setting) as you fight to keep the tail-happy car under control, but it's undeniably intense, intoxicating and immersive.
As I blasted through the nauseatingly narrow California coast in GRID 2's new point-to-point race mode, in this case a one-on-one duel with you behind the wheel of a contemporary Ford Mustang against its beefy '70s counterpart, the car handling felt smooth and responsive on the wheel thanks to Codemasters' TrueFeel Handling system, which aims to find that difficult sweet spot between arcade and simulation physics. It's a tactic that many developers have tried but often failed to implement in previous racing games, but if there's one developer who we're confident can achieve such a tricky balance, it's undoubtedly Codemasters.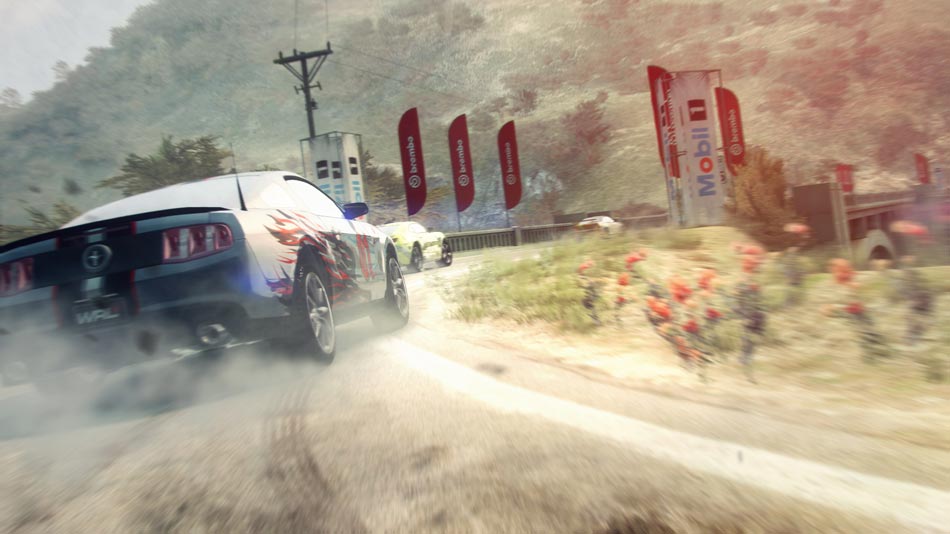 At this early stage of development, the handling feels a little rough around the edges on the wheel, however. It's clear that GRID 2 hasn't been fully optimised for wheels just yet as it felt overly sensitive, leading to a loss of control more often than you would expect. Having said that, the need for aggressive steering to keep the car poised effectively heightened the intensity.
That's not to say it's not great fun to drive – feathering the throttle to overcome the Mustang's oversteer and flick the tail out felt immensely satisfying, but at this point the physics still feel too forgiving for simulation purists.
This was particularly apparent when playing GRID 2 on a controller, which traded the Mustang for a Corvette in a single race set in GRID 2's new crowded Chicago street racing track. Again, the emphasis was on having fun by oversteering around corners as frequently as possible, but traces of the original GRID's floaty feel were present. I barely needed to brake as the cars effortlessly glided around the corners, either, which imiplies that the physics currently veer more towards that of an arcade racer, but the lack of challenge ultimately made the physics feel disappointingly underwhelming.
Don't forget that you can't change the assists to suit your driving style this time round, either. It's a testament to Codemaster's confidence of their physics model if nothing else, a fact made abundantly clear when Executive Producer Clive Moody proudly proclaimed that the physics will run at 1,000hz, but you have to wonder if this will alienate those who want a deeper driving experience that allows you to tinker with the difficulty settings rather than being restricted to a one-size-fits-all model. Time will ultimately tell as the physics evolve up until its final release in a year's time, but, like many other developers nowadays, Codemasters certainly seem to be catering for accessibility.
https://youtube.com/watch?v=K5M3e8AOTI4%3Flist%3DUUEvr879Hns1Ccb_gVaV7-5w%26hl%3Den_US

Wacky Races
Thankfully, GRiD 2's core focus on adrenaline-pumping racing action successfully manages to capture that raw intensity of a heated race, which so many racing games often overlook. After playing GRID 2, it's bewildering how many other games manage to make racing feel so soulless.
The California Coast track was a prime example of GRID 2's unbridled exhilaration: trading paint with a cheeky rival racer on a narrow twisting road where a split second misjudgment will either send you a) plummeting off a cliff edge on one side or b) careening into the trees on the other provides all the thrills and spills you could wish from a racing game within seconds.
Racing across the Chicago street track provided a similarly intense experience. The track was highly reminiscent of GRiD's standout San Francisco track, with an onslaught of tight 90 degree corners making for some enthralling close racing action – the bumper to bumper racing on display wouldn't look out of place in a televised BTCC race, with multiple car pileups practically a given thanks to the aggressive AI.
Indeed, GRID 2's advanced AI plays a pivotal part in the Codemasters' drive for capturing "race day immersion." This new driver ability system will feature up to 60 different parameters which will determine the behaviors of the other drivers to replicate human-like characteristics. So, if you act aggressively towards another driver, their reaction will reflect their driving personality – if they're cautious they may let you pass without incident, but if they're also aggressive then don't be surprised if they instinctively try to take you out.
While my time with GRID 2 didn't allow me to assess these intricacies, there were some moments that supported Codemasters' claims. As I already mentioned, there's a palatable level of aggression during the races if you barge into opponents, and my rival in the point-to-point race seemed to have a distinct driving style. In one instance, the AI car came out of nowhere, swooping out in front of me whilst tauntingly kicking the tail out.
Despite its early stage of development, a fact that you are constantly reminded of by the prominent "pre-alpha build" on-screen label, GRiD 2 is already looking like its pumping every last graphical horsepower out of the current-gen hardware. Of course, this is a Codemasters' title so we should expect nothing less, but GRID 2 showcases the long-running EGO engine at its absolute pinnacle.
https://youtube.com/watch?v=0bzqtiJgWVs%3Flist%3DUUEvr879Hns1Ccb_gVaV7-5w%26hl%3Den_US
The devil's in the detail, which was particularly evident in the Chicago track: realistically dense cheering crowds surrounded the stands as lavish lighting glistened convincingly against towering skyscrapers, while jets soared overhead and sparks sprinkled off the elevated railroad track as a train passed overhead. It all may sound like minor details, but they have a profound effect on creating a believable racing atmosphere. The only catch is that this was of course running on a high-spec PC, so we'll have to wait and see how GRID 2's graphics will fare on consoles.
Before we press on, there's something I can no longer hold off: yes, it's everyone's favourite topic, the removal of the cockpit camera. Many have expressed their dismay over Codemasters' controversial decision, but are they right to be so peeved? Well, having now played GRID 2 I can honestly say I didn't miss it after a few races.
Admittedly, it felt odd at first to be playing a racing game on the wheel without it, not to mention the fact it completely contradicts Codemasters' emphasis on "total race day immersion", but the bonnet camera is still a viable alternative and it's hard to complain if we get a more optimised game as a result.
It's just a shame we can no longer view the race from the cockpit during the replays – speaking of which, GRID 2's replays currently don't hold up to the cinematic excellence of the original GRID, but there's still plenty of time to spice them up. Similarly, the lack of dynamic weather comes as a disappointment, but it's not a decision that Codemasters would have made lightly when assessing GRID 2's hefty performance requirements.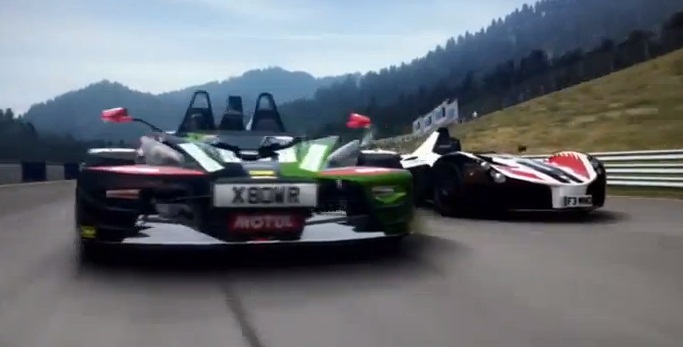 We also attended the developer session where new details about GRiD 2 were unveiled for the first time by Executive Producer Clive Moody.
Until now, we had only seen glimpses of street and point-to-point road racing in GRID 2, but new video footage gave us a glimpse of how circuit racing will look in GRID 2, showing a montage of lightweight BAC Monos tearing round Austria's Red Bull Ring circuit.
Cutting Corners
This optional new system will dynamically change the route of the track over the course of the race, substituting corners and straights to create an entirely new track layout lap by lap. It's an interesting concept that could potentially add a welcome layer of challenge and unpredictability in a genre that many have slated for lacking innovation, and will also work in online multiplayer. On the other hand, you could also argue that many players would have preferred Codemasters to pour their resources into including the omitted cockpit camera and dynamic weather.
GRID 2's lead car handling designer Gehen Pathiraja also took to the stage, delivering a gloriously geeky technical demonstration of the game's impressively intricate damage modelling. Apparently, this ambition to crash cars as convincingly as possible stems from his childhood fantasy of crashing toy Matchbox cars. This guy's definitely on my wavelength.
This isn't exactly new territory for Codemasters, who often pride themselves on featuring the best damage modelling in the business, but GRID 2 looks to take it to another level, with a detailed damage system rivalling that of the crash-obsessed Criterion Games' Burnout and Need for Speed entries.
This was explained via a series of technical diagrams that only the geekiest of geeks could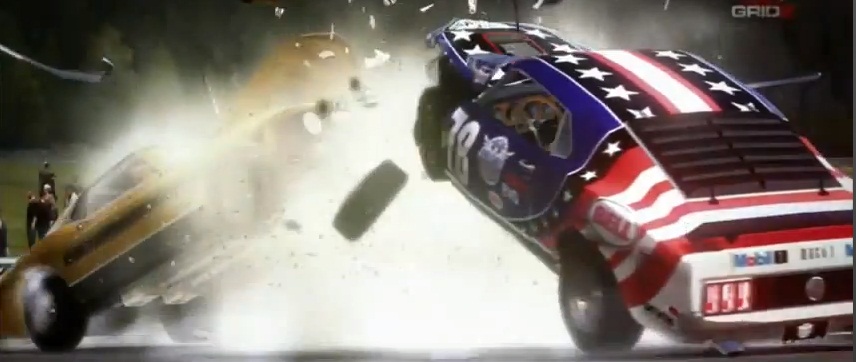 possibly comprehend, including references to nodes, collision meshes, FEM grids and strength boxes that all play a part in determining how the car will crumple in collisions. In other words, the damage modelling will be very, very advanced indeed.
But it was the video demonstrations that did the real talking, showing the cars dynamically deforming in gratuitous slow motion as the chassis buckled from the energy transferring to the precise point of impact. It's surprising that car manufacturers are so willing to allow their pristine cars to be smashed beyond recognition, but Codemasters affirmed that, so long as the roll cage remains visibly intact, they can damage their cars as comprehensively as the hardware will allow them.
Part of me wishes that GRID 2 was a throwback to the early glory days of TOCA when the BTCC license was used to full effect – imagine a modern day equivalent featuring Ginettas, the Clio Cup and all the other racing disciplines affiliated with it.
But considering the licensing costs and Codemasters' current commitment to F1, I know this isn't likely to happen any time soon. Nevertheless, the chassis of GRID 2 is definitely looking strong, and as Codemasters continue to polish it up and fine-tune the handling the end result could put Codemasters back on the track in the race for victory in 2013.