Another week draws to a close, and that can only mean one thing – it's time for another entry into our very own 'Forza Horizon Car Reveal Round-Up' series.
The last two weeks have been very impressive in regards to the vast variety of exotic cars that've been announced so far, and now it's time for the 'difficult third album', so to say. Can the Turn 10 and Playground Games press office folk wow us for a third week on a row? There's only one way to find out…
Ford GT
The results of Ford's shortlived foray into 'Retrofuturism' was by all means a 'bit controversial'. Not everyone was fond of the current Mustang's design, and the revived Thunderbird was, put simply, a rather misguided attempt that chief designer J Mays would like to forget. However, there was one good thing to come out of it: the Ford GT supercar.
Ford had been toying with the idea of making a road-going successor to its iconic GT40 Le Mans winner from the Sixties for yonks, but in 2005 (coincidentally, the year that also saw the 100th birthday of company founder Henry Ford) the car the motoring world had been waiting nearly forty years for finally arrived in all its nostalgic glory.
But it wasn't just something worthy of a museum collection or an art gallery, as under the elegant and uncluttered retro bodywork lay not only a chassis and suspension setup that wouldn't look out of place on a contemporary race car (Lotus allegedly designed the chassis, so the Ford will definitely handle), but also the ferocious punch of a 550bhp, 5.4 supercharged V8.
Make no mistake, the Ford GT is a might and more than worthy addition to the high-speed realms of Forza Horizon.
Lotus Exige Cup 240
In the world of sports cars, everyone seems to be making lighter and faster versions of already light and very fast cars. So, then, it's of no surprise that the 'simplify and add lightness' folk at Lotus would jump on that bandwagon at some point, as it's that ideology that gave us the Exige Cup 240.
As its name suggests. the 1.8 supercharged Toyota-sourced four banger generates 240hp, which is certainly enough for a car that weighs approx 930kg. Couple that with the improved braking, aerodynamic and suspension components that are part of the Cup package, and you have the recipe for something that'll be truly scintillating to drive.
And the best bit about the Lotus Exige Cup? Despite being a machine that was honed on the track, the geniuses at Hethel seem to know how to make a hardcore drivers' car excel on the public road, especially when driven at speed down twisty back roads.
Or, put simply, the Exige 240 should be one of the cars of choice if Forza Horizon has an point-to-point races, especially if they're on narrow sections of tarmac.
Mercedes-Benz ML63 AMG
If you thought the perky yet porky S65 from last week's Round-Up would be the least sporting Merc in Forza Horizon, your assumptions were very incorrect indeed. In fact, it's safe to say that the ML63 AMG Sports Utility Vehicle will be one of the heaviest and most cumbersome cars in the game.
However, despite being such a brute of a car, the ML63 does have the potential to be a very quick car – it may weigh the thick end of two tonnes (so it's actually lighter than the S65!), but behind that gargantuan front grille is a 6.2 V8 with 510hp on tap, so the massive Merc can hit 60mph in under five seconds and storm onto a limited top speed of 155mph.
If we're being honest here, we're hoping that there'll be more of this type of SUV, such as the Porsche Cayenne and BMW X5 M, will find their way into Forza Horizon. Not only would it be ace to thrash the nuts off them on the tarmac, but as they're all capable of going off-road, we hope we can evoke some Test Drive Unlimited 2 memories by racing them down the dirt trails that'll be present in the game.
Nissan Fairlady Z 432
When it comes to car names, the sort of stuff the Japanese come up with is a bit…well…weird for speakers of the English language – after all, why would you call your hairy-chested sportscar a 'Fair Lady'? However, all is forgiven with this rather special 432 version
It's special not just because only 420 were made (which makes it that rarest of things: a limited edition Japanese product), but it's also noteworthy because of what lies under the bonnet. Instead of the 2.4 151bhp straight-six you'd find in every other Fairlady of the era, the 432 had the same 2.0 six-cylinder motor from the Skyline GT-R of the time.
The power difference wasn't that big – it was only about 10hp or so more powerful, and it actually produced less torque, so that means you have to work it a little bit harder. But when you've got a six-pot with a 7,000rpm redline, powering a lightweight rear-wheel drive sportscar, that's not exactly a 'curse' now, is it?
SSC Ultimate Aero
There have been many fast cars over the years, but very few can lay claim to have been the fastest ever road car when they were unleashed onto this world. And one very such car is this: the Shelby SuperCars Ultimate Aero.
Though not associated with the late Carroll Shelby, SSC certainly follows in the the great Texan's mantra of putting as much power as possible in as light a car as possible. In the case of the sub-1,300kg Ultimate Aero, that means it'll pack the punch of either a supercharged 6.3 V8 with over 1,000bhp or (the one we assume will be included in the game) a twin-turbocharged version of the same V8 with over 1,200bhp.
As a result, it'll comfortable break the 250mph barrier if you give it the space to do so, and the combination of light weight and active aero should make it a decent drive along stretches of roads with corners and such. However, given it's rear-wheel drive, we advise you either keep the traction control on or be very careful on the throttle when you set off in the Ultimate Aero for the first time!
Ford Shelby GT500
How apt that, as soon as we mention the late great Texan, the next car on out list is the last car he ever put his name on before his passing earlier this year: the Ford Shelby Mustang GT500.
And my, what a fitting final project this 'Stang was! As with every other car he worked on, the Shelby packs the ferocious punch of a gargantuan engine, and for the GT500 he and the crew at SVT came up with something very special: a 5.8 supercharged V8 that develops a frankly rediculous 660bhp. And all being sent to the rear wheels through a live rear axle. Yikes!
Still, all the real-world road tests say that, despite some of the car's more 'antiquated' mechanicals, it handles the power (and, indeed, handles) fairly well, so the Forza physics engine should replicate that in the game.
However, we're seriously hoping the Camaro ZL1 will feature in Forza Horizon as well. After all, this is the first time these arch rivals have been in a Forza game before, and what better place to pit them head-to-head than the winding canyon passes of Colorado?
Lotus Evora S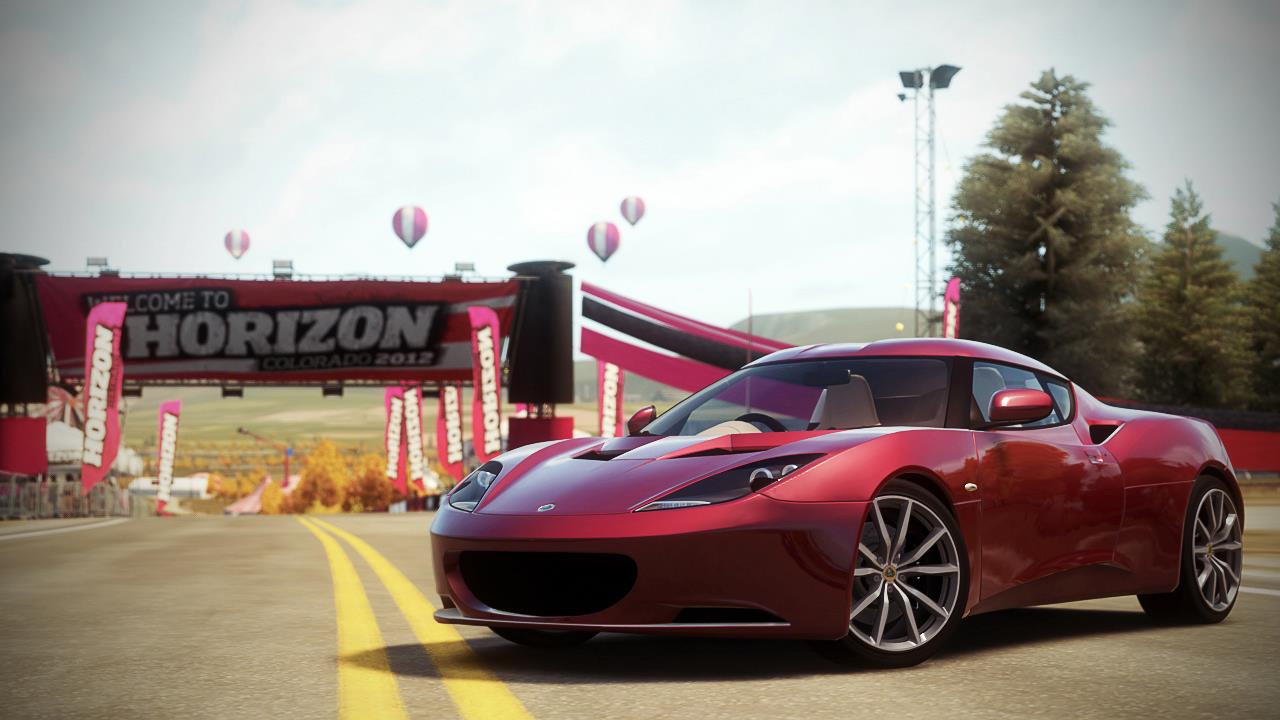 The Lotus Evora – the car that ushered in the iconic Norfolk-based firm's new 'premium' age – has been met with a ton of praise, but there is one recurring complaint in the reports: it's a bit down on power. Thankfully, Lotus has rectified that problem with the Evora S.
By bolting a supercharger onto the 3.5 Toyota-sourced V6 from the standard Evora, power has now been bumped up from 276bhp to 345bhp, which equates into a 0-60mph sprint of 4.6 seconds and a 178mph top speed.
But it's not the speed that's got everyone excited, as the Evora S appears to be an absolute delight to drive in the real world, especially on tight and technical sections of tarmac.
Sure, there'll be faster and, perhaps, more exciting cars in Forza Horizon, but if the game's physics engine has replicated even half of the car's poise and balance, we doubt there'll be much that'll beat the Evora S in terms of 'smiles per hour'!
Ford F-150 Raptor
There are two types of automobile that the stereotypical American adores to bits: the flat-bed pickup truck and the muscle car. So, on that basis, this Ford F-150 Raptor – essentially a mashup of the two – should be the most popular and muchloved car in the whole of America.
To turn a regular F-150 into a Raptor, the guys and gals at SVT (Ford's performance division) have done quite a lot. For instance, the chassis has been thoroughly upgraded, they've beefed up the chassis, and the 411hp from the 6.2 V8 gives the Raptor the pace you'd expect from a machine that's named after a rather speedy breed of dinosaur.
Which should bode well for the Raptor's on and off-road performance. I mean, with that thuderous exhaust and the aggression in the Raptor's face, all you need to do is appear in someone's rear view mirror under full throttle, and the guy ahead will just be intimidated into letting you win the race!
RUF CTR Yellowbird
It's a bit odd, calling your car after an avian creature, but some of the most famous and iconic performance cars of all time have been named after birds. The Yanks seem to have popularised the trend, with the Ford Thunderbird and Plymouth Road Runner being the most obvious examples, but it's safe to say the most well-known out of all the motors in this exclusive group has to be the RUF CTR 'Yellowbird'.
Despite being given a name that, from some perspectives, brings up mental images of Sesame Street and Loony Tunes characters, the Yellowbird should never be underestimated. Yes, it comes from the late Eighties, but its twin-turbo flat six engine has enough poke to send this Porsche 911 on steroids to a top speed beyond 211mph.
But the biggest thrill, though, won't be attempting to see the speedo hit that magic number – we reckon you'll enjoy the car through the bends (it does, after all, weigh a smidge under 1,200kg). However, with huge turbos come huge turbo lag, so be wary of the boost guage whilst you're applying throttle mid-corner. Or even on the exit of corners…
Nissan 370Z
The phenomenal GT-R may be the performance Nissan that everyone's talking about, but it isn't the only speed machine the Japanese company makes. For those who want a more 'traditional'/affordable means of getting hold of a quick Datsun, the 370Z does have appeal.
After all, what's not to like about a sports coupe that looks the business, and packs the rear-wheel drive punch of a muscular 3.7 V6? Heck, there's even an optional feature that automatically blips the throttle on downshifts. How cool is that!?
Sadly, such a gizmo almost certainly won't appear in the game, so if you want to properly match the revs to the appropriate speed, you'll have to learn how to 'heel and toe' by yourself. But hey, it's a car that rewards you when you commit to it, so every time you get those little driving techniques right, you'll feel like a driving superstar.
Unless you get it wrong. Because then you'll most likely end up crashing. No pressure…

Honda S2000
The Nissan above may be a great sports car, but if we're honest, it's a bit…well…blunt at times. However, if you want a Japanese performance car with more 'precision' and 'delicacy', it's likely you'll feel right at home in the Honda S2000.
Everything about the JDM roadster seems, on paper at least, to be just right. It's lighter and smaller than the 370Z, has a snickety-snick six-speed manual transmission and a 2.0 four-pot with 230hp and a stratospheric 9,000rpm redline.
Of course, some may prefer the more 'hairy-chested' and 'manly' characteristics of the Nissan over the 'back-to-basics' Honda, and we won't decide which one is the best overall. Instead, we'll let you make your mind up for yourselves. By trying them back to back. On a twisty canyon road.
As far as test drives go, they don't get much better than that!
Mitsubshi Evo X
Last week, it was revealed that the Mitsubishi Evo VI – widely regarded as one of the best of the Evo breed – would be included in the game, providing an exceptional blend of on and off-road performance that hardly anything else in Forza Horizon can offer. However, if you're not into the classics yet still want a road-legal rally car wannabe, there's always the Evo X.
The latest entry into the lengthy Lancer Evolution family tree, the Evo X sticks close to the formula that has underpinned previous generations – four wheel drive, a 2.0 turbocharged four-pot, a huge rear spoiler and clever software that keeps you on the straight and narrow. There are, though, some tweaks to the recipe that gave us the Evo V1, such as a 300-360 hp power output (we haven't been told which model will be in the game!) and a paddleshift gearbox.
With such statistics and gizmos to its name, we wouldn't be surprised if the Evo X becomes one of the more popular cars to use on tha tarmac and the dirt trails. Oh, and if there happen to be any Subaru Imprezas as well, also expect to see them in 'unoffical' fanboy destruction derbies!
Pagani Zonda R
We already know there'll be a few 'non-road legal' cars in Forza Horizon – such as the Lamborghini Sesto Elemento and the Shelby Daytona Coupe – but, if we're honest, we're actually surprised by the inclusion of the Pagani Zonda R in the game. Heck, it's even illegal on some race tracks, so what's it doing in a game that focuses on an open world street-based racing title!?
Don't get us wrong, though: it's still mega to hear that the ultimate Zonda will be ready to race in Forza Horizon. I mean, with its aero package, light kerb weight (it only weighs a whisker over a tonne) and an updated, 740hp version of the 6.0 twin-turbo V12 that saw use in the Mercedes-Benz CLK GTR, how could you not get excited by the Zonda R?
And, of course, now it's been included in Forza Horizon, we can now have 'do the impossible' and take the Zonda R out for a spin on 'public roads'. Or, more precisely perhaps, scare ourselves to death by spinning in a cloud of tyre smoke and a cacophany of V12 wail on 'public roads'!
That's this week's worth of Forza Horizon car reveals done! Be sure to check back next week, for our fourth installment in our Horizon Car Reveal Round-Up!