Rally fans who own the Digital Deluxe Edition of WRC 8 can play the game today some two days before the game goes on general sale.
To celebrate the launch of the Digital Deluxe Edition of WRC 8, Bigben has released a new trailer showcasing the game's different classics cars which span several decades from the 1973 championship-winning Alpine A110 to the more modern Volkswagen Polo R.
Check out the newly released trailer below.
WRC 8 features the following iconic rally cars:
Alpine A110 – 1973 Champions

Lancia Stratos – 1974/1975/1976 Champions

Ford Escort MkII RS1800 – 1979 Champions

Lancia 037 – 1983 Champions

Lancia Delta HF Integrale Evolution – 1988/1989/1990/1991/1992 Champions

VW Polo R WRC – 2013/2014/2015/2016 Champions

Lancia Fulvia HF – 1972 International Makes' Champions (precursor of WRC)

Porsche 911 GT3 RS RGT (997) – Iconic Rally GT car
As a bonus, the Proton Iriz R5 is exclusively offered to players as it will join the WRC competition next year.
Proton Iriz R5 – First drive of the WRC 2's newest homologated rally car
The Lancia Fulvia HF, Lancia Stratos, VW Polo WRC 2016 and Proton Iriz R5 will be available in-game from September 5. The Lancia 037 and Porsche 911 GT3 RS RGT (997) are available as a preorder bonus. The Alpine A110 1973, Ford Escort MKll 1800 and Lancia Delta HF Integrale Evoluzione are available as Day One DLC or via the Legendary Cars Pack.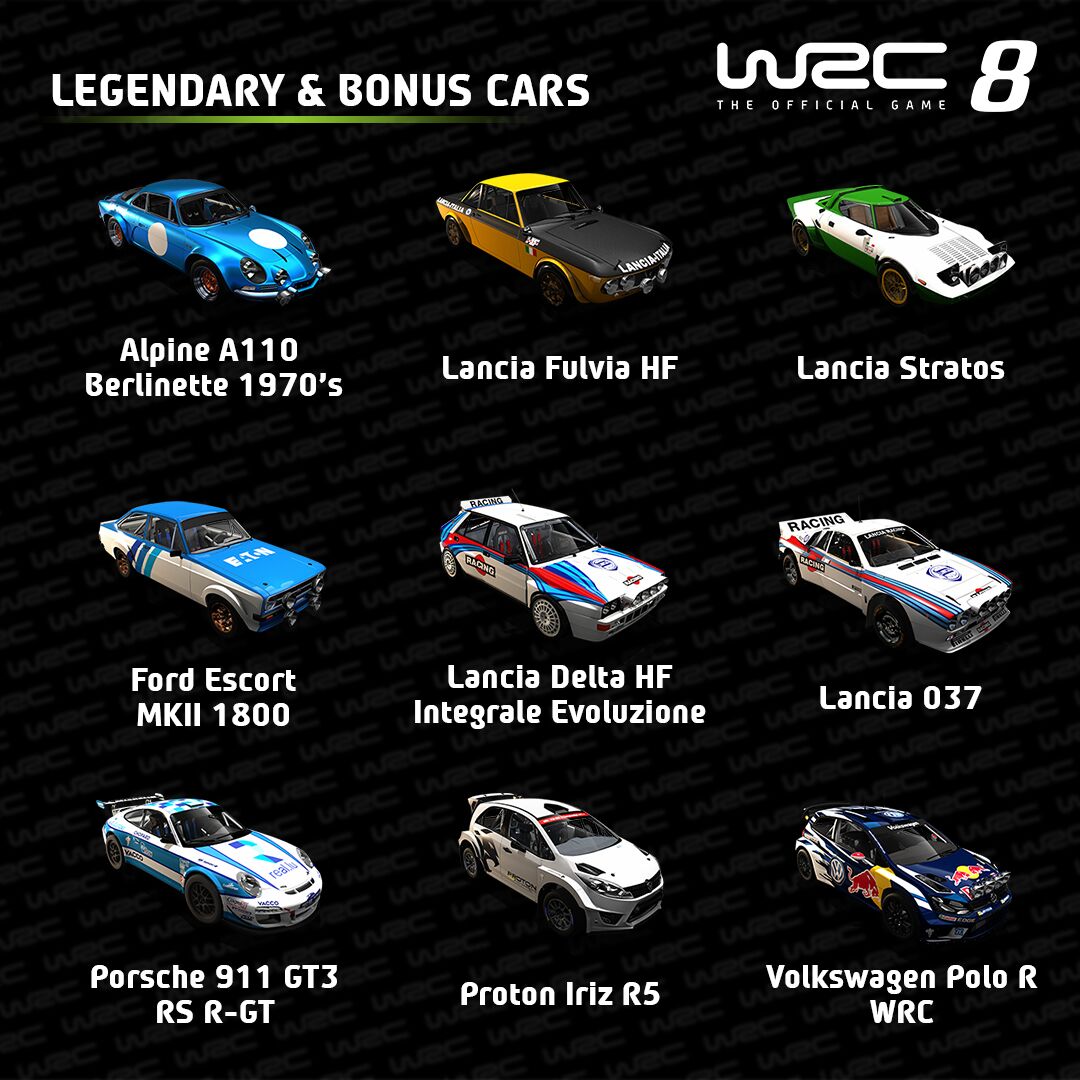 All of the cars are available in each game mode in WRC 8. In the career mode for instance, you'll be able to get behind the wheel of a classic car through one of the many historic events found throughout the calendar.
The general release of WRC 8 will happen on Thursday, September 5 across the PlayStation 4, Xbox One, and PC – with a Nintendo Switch release slated for October.
WRC 8 features new off-road physics for all surface types, a redesigned Career Mode, extreme and dynamic weather conditions, 52 teams, 14 countries, over 100 special stages, weekly challenges and an eSports mode.