Kylotonn Games has detailed the long-awaited console patch update for WRC 5, confirming a release next week on December 4th for PS4 and Xbox One.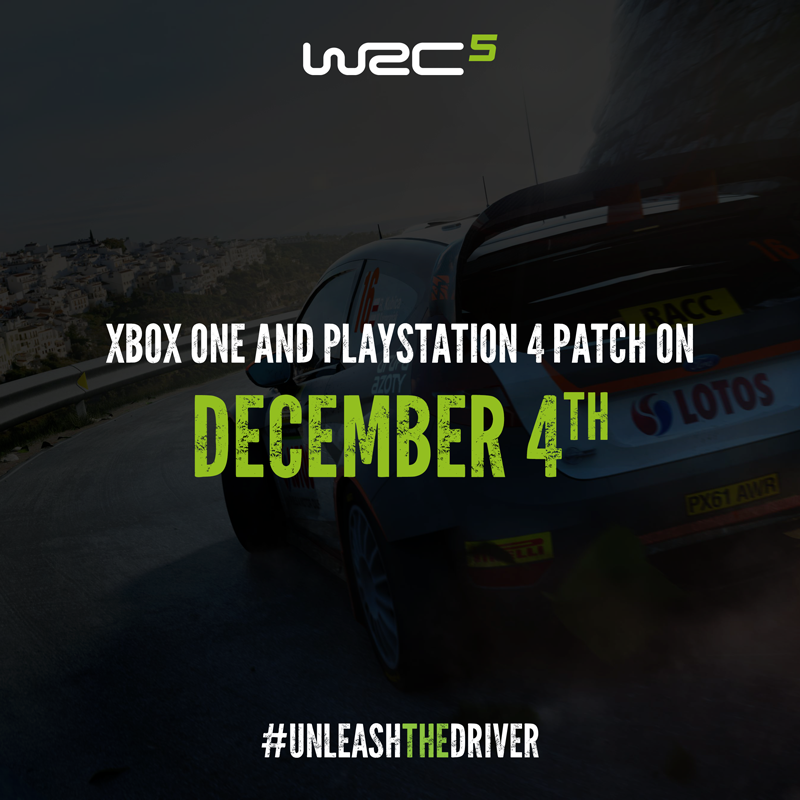 The v1.00 patch will address a number of longstanding issues highlighted by the community: chief among which the lack of wheel support, which will be improved and extended to more peripherals such as the Logitech G29.
"Feedback from the WRC and racing community is very important for us as it helps to understand what they are expecting and where we did not achieve the best results," admits Alain Jarniou, Game Director of WRC 5 in an official blog post. "One of the major issues we encountered at the launch concerned steering wheel compatibility on Playstation 4 and Xbox One, which is going to be solved with this update."
The patch will also correct other minor bugs in order to improve the racing experience. The PC version has already received several updates, but consoles workflow and validation systems make things a little bit longer and we're sure game players will notice the big improvement. Of course, we do not forget Playstation 3 users who will receive an update as well but later,"
While several updates have already been released for the PC version of WRC 5, this will be the first update on console since WRC 5 was released last month: "console's workflow and validation systems make things a little bit longer and we're sure game players will notice the big improvement" says Jarniou acknolwedging the delay, before revealing that a PS3 update is also in the works for a later release.
Here's a list of all the fixes you can expect:
WRC 5 – Xbox One and Playstation 4 Patch 1.0 – Release notes
Common to all platforms:
Inputs:
D-Pad can be used for steering.
Add option to configure steering wheel rotation angle.
Wheel max angle set in real time when modifying value in menus.
Fix UI actions not being bound on steering wheels.
Gameplay corrections:
Penalty system changed: Penalty is no more a 30s malus on the first mistake but is now a smaller cumulative time malus.
SS2 Monte Carlo time corrected: this stage is now easier to win.
Force feedback bug fix when going in reverse.
Disable codriver shock voice event.
Pad vibrations are stronger and redesigned
Respawn system correction: to avoid exploits, « back on track » system now teleports on the last road section left and not the closest.
Sound enhancements: more drifts / public / surfaces feedbacks.
Fixes:
Crash fix with non-ASCII characters in nickname / multiplayer name.
Fix Chardonnet helmet.
End replay bug fix: rankings do not change anymore when replay is finished.
Vehicle and Copilot sounds bug fix after a replay.
PC Specific:
Crash fix (keyboard/game pad conflict).
PS4 Specific:
Fix Thrustmaster steering wheel Force FeedBack (FFB) management.
Add Fanatec steering wheel support.
Add Logitech G29 support.
Xbox One specific:
Microsoft FFB API integrated, should work on every wheels Xbox One compatible.
Like what we do? Support TeamVVV on Patreon: www.patreon.com/teamvvv